Updated 2016: View the Labor Day Events page for all of the fun end of summer activities happening this year! Also check out our updated blog.
It seems like yesterday kids were running through the doorways of their school buildings and into the warm embrace of summer vacation. Those lazy, hazy days we've quickly become accustomed to are drawing to an end. The weather's a little cooler, the days a little shorter. Soon the school bus will again be stopping to collect children with backpacks and lunch boxes. Even though life's routine is on the verge of returning, there's still time to savor that last bit of summer with events in Corning.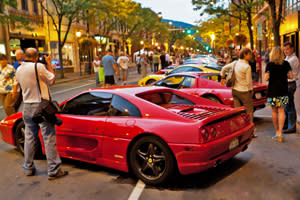 Ferrari - courtesy of Kris Kumar & the Gaffer District
Labor Day Weekend is one of those bitter-sweet times of the year. You feel that impending end of so-called "vacation." You want to relax one last time (or your summer has been so busy, you need to relax for the first time). Instead of mourning the end of summer, enjoy all the Labor Day events sure to make the transition into fall a little easier.
On Friday, September 2, Corning's Historic Market Street will see an unusual amount of speed when the first annual Crystal City Ferrari Show arrives in the Gaffer District. View several Ferraris and rare sports cars which will be displayed along the street from 5:30 - 9:30 p.m. Talk to the vehicle owners about their passion for automobiles. Cast your vote for your favorite Ferrari and also have a chance to win Ferrari merchandise and gift certificates to Gaffer District businesses.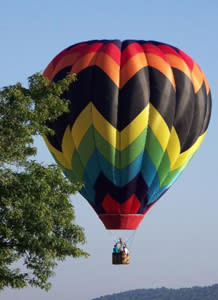 Courtesy of NYS Festival of Balloons
For thirty years, people have been waving goodbye to summer by watching hot air balloons fly high over Dansville. In 1997, the Dansville Balloon Festival became the New York State Festival of Balloons, and now has six scheduled launches, beginning Friday, September 2, at 6 p.m.and running through Monday, September 5, at 6 a.m. There is an entrance fee of $5 per person, and children under 12 are free. The festival also features arts and crafts vendors, free entertainment, rides and amusement for children, a car show, and the 2nd Annual Vintage/New Snowmobile Show, taking place Saturday at 10 a.m. Whether you plan to spectate or take flight, the festival is sure to be a highlight of your summer.
Perhaps you desire nothing more than to spend Labor Day Weekend at the lake. Pass the days playing on the water or relaxing along the shores of beautiful Keuka Lake. Pack a picnic and spend some time appreciating the beauty of the outdoors. Then on the evening of Saturday, September 3, summer's last sparkle will be seen all around the lake.
When I was little, I traveled to my aunt's house on Keuka Lake the Saturday of Labor Day Weekend every year to watch the Ring of Lights magically form around the lake. Starting at 9 p.m., residents build bonfires, light torches, or set off fireworks and spectators can observe tiny lights twinkling along the perimeter of the lake. I remember helping my uncle line part of the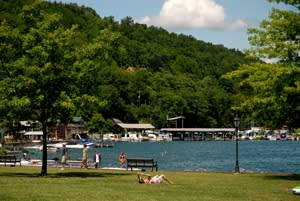 Depot Park
beach shore with flares, then we'd light small candles in pie tins and set them adrift on the water. It was always such a perfect, satisfying end to my summer vacation.
"It all goes back to the Iroquois celebrating their appreciation for a successful harvest," said Marybeth Hafner of the Hammondsport Chamber of Commerce. "It also signaled to the year-round lake residents that summer was over and all the 'cottagers' would be leaving and heading home." Hafner says the best places for viewing the ring are high above the lake, either at Heron Hill or Bully Hill wineries, both on the west side. If you plan to light a few of your own flares around the lake, they can be purchased at most area convenience or grocery stores.
Don't let the end of summer get you down. Send it off with a celebration in Corning & the Finger Lakes!