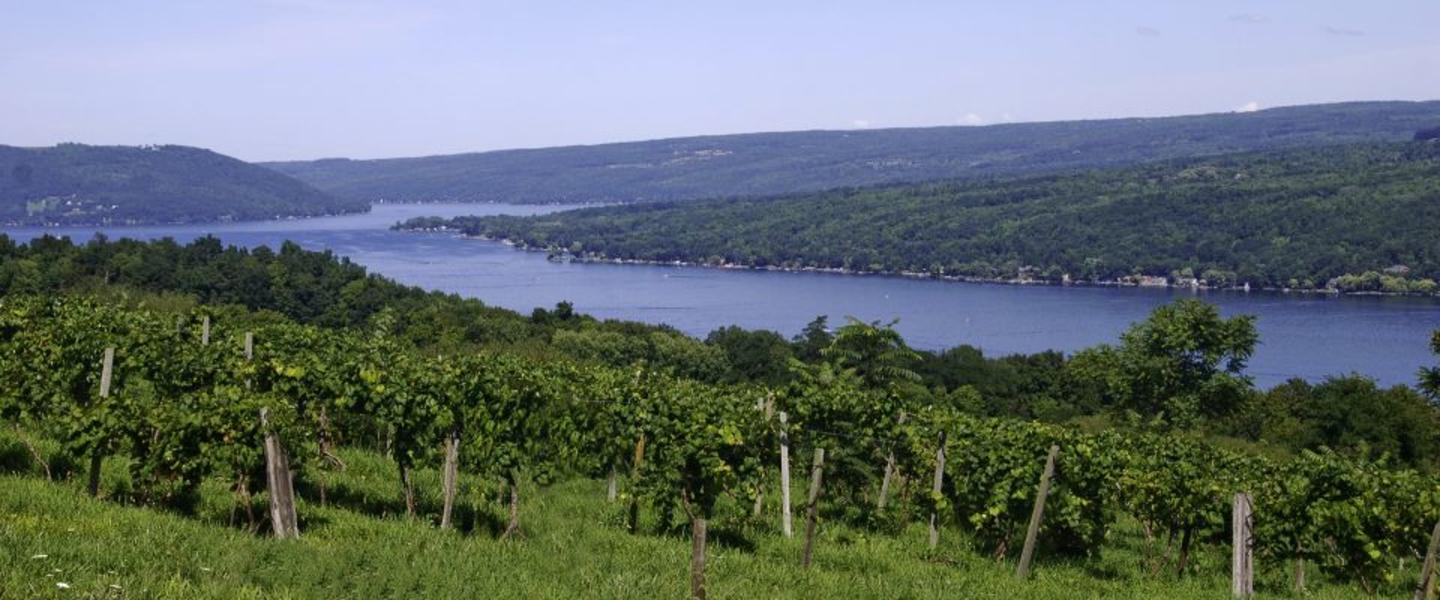 This Summer we invite you to live the Keuka Lake life. The laid-back atmosphere and beautiful scenery will give you the relaxing vacation you deserve. Spend your days soaking up the sun on a boat on the shimmering waters of Keuka Lake, dine in restaurants and visit shops tucked into the small towns, and sip and savor your way through the wine and craft beverage trails.
You can't visit the lake without getting out on the water in some way. Luckily, there are a few ways to do it. Take the whole family out for the day on a boat where you can sit relax and enjoy, or the more adventurous can waterski, tube, and go wakeboarding. For your boat rental needs check out Keuka Watersports. If a slow scenic trip on the lake is what you are looking for a kayak or canoe might be just what you are looking for Keuka Lake Kayak can help set you up and even bring your equipment to you.
Wake Boarding courtesy of Chris Brooks
Quaint towns filled with locally owned shops and restaurants are a staple for the perfect relaxed lake life feeling. The Village Square in Hammondsport is just that. In the center of this square is a small park where you can often find live music in the gazebo, or another activity. Wander the shops to find unique items and keepsakes to take home. Restaurants like The Union Block Italian Bistro is serving homestyle Italian and Mediterranean-inspired food. Timber Stone Grille features locally sourced ingredients and meats, and serves local wines and craft beers. Of course, there are a few options if you wish to dine lakeside. Waterfront Restaurant, The Switzerland Inn, and Lakeside Restaurant all offer dining on the lake.
Lakeside dining at The Waterfront Restaurant courtesy of Stu Gallagher
Speaking on local wines and brews, you can't visit the Finger Lakes and say you've experienced the full Keuka Lake life until you've paid a visit to some of the wineries and craft beverage producers on the lake. Savor the superb wines while taking in spectacular views at many of the wineries on Keuka Lake. Heron Hill Winery, named one of the ten most spectacular tasting rooms in the world by Travel + Leisure magazine, boasts beautiful views of the lake while you sample their wines. Down the road you'll find Dr. Konstantin Frank Vinifera Wine Cellars, where Dr. Frank advancements in wine making helped make the Finger Lakes what it is today. Do a classic tasting in their tasting room overlooking the lake, or for a more enhanced experience book a tasting at the 1886 Reserve Tasting Room. A 30 minute in depth viticultural or cellar experience, followed by an educational wine flight paired with small foods that complement each wine make for a more personal and unforgettable experience.
Wine tasting at Dr. Frank
Craft Your Adventure while visiting craft beverage producers. You'll find the Steuben Brewing Company is the perfect spot to sit back and relax while taking in views of Keuka Lake and enjoying a handcrafted beer. Relax on the patio with a flight, or enjoy frequent live music. Krooked Tusker Distillery is a new farm distillery turning their hand made small-batch spirits into handcraft cocktails. Enjoy the lively tasting room that looks out onto the lake.
Steuben Brewing Company courtesy of Stu Gallagher
Keuka Lake is the perfect destination for laid-back, relaxing getaway. Enjoy a piece of the Keuka Lake life on your next vacation to Corning and the Southern Finger Lakes.
Keuka lakeside
For information on all things Keuka Lake when you get here download the Keuka Lake App!