Having a large family, my parents spent a lot of time shuttling the six of us to piano lesson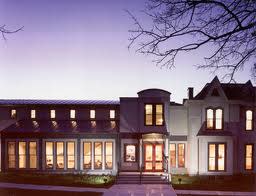 171 Cedar Arts Center
s, dance  lessons, drum lessons, voice lessons, football practice, volleyball practice, banjo lessons, rehearsal for the musical at both schools, etc. Unfortunately, all of these lessons took place at different locations and at overlapping or conflicting times. With all of this activity,you can understand my Mom's reaction when I told her that I had always wanted to learn to tap dance. "Of course you took tap with your sisters," Mom said. "Don't you remember that parade and the horse pile that Karen nearly tapped into?" I had heard the story many times, but no, Mom, I was not in that particular carpool drop off. I really can't fault her for confusing the flurry of activity - we were six very active kids. However, I could tease her mercilessly about how she loved the other five more because she never let me learn to tap dance.
If we had grown up here in Corning and the Finger Lakes, my parents would have had only one stop to make for all of our artistic outlets - 171 Cedar Arts Center! 40+ instructors teach a variety of classes and educational programs in visual arts, music, dance, ceramic arts, drama, and the culinary arts to more than 2,000 regional students annually. Students range from little ones taking first ballet classes to adults desiring an artistic outlet. 171 also provides a forum for professional artists to show their work.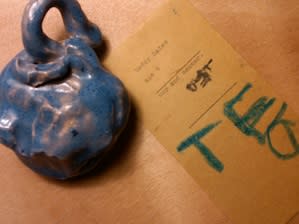 171 Cedar Arts Center
I spoke with Lynn Dates, Executive Director of 171 Cedar Arts Center, to learn the history of this wonderful community arts center. While the history of 171 is really interesting, it was Lynn's very personal experience that shows how 171 has impacted so many people personally and permanently. "I love hearing the stories from people/friends/family that have taken classes or had their first arts experience at 171. I love seeing the 'art'ifacts that surface. My mother-in-law gave me a ceramic mug that my husband Ted made when he was 5 years old. He made it in the old ceramic lab in the basement of the Bruce house in 1972 - it is one of my most cherished objects." Did I mention that in addition to being the very capable Executive Director, Lynn is a working artist as well? "I took my first painting class outside of high school in 1985 with Marty Poole. He taught watercolor painting and really helped inspire me. There were a number of artists in Corning at the time who helped me remain on my artistic path. I was so fortunate to have a strong community arts center and a community filled with artists to inspire and encourage. 171 is still all of that and more..."
Also, 171 Cedar Arts Center can be rented for special events and meetings! Almost every space in the buildings has been and can be utilized by others - for creative activities, meetings, and special events. My first experience at 171 Cedar Arts Center was to see Cherish the Ladies, a wonderful band of women performing Celtic music. I've also seen amazing student exhibits there as part of the Glass Art Society's annual international conference.
171 Cedar Arts Center truly is our community arts center. Explore it. Enjoy it. Invite your Mom to take those long overdue tap classes together.