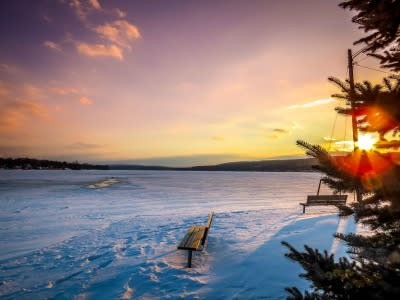 Icy Keuka Sunrise. Photo courtesy Jeremey Henries Photography.
No one can deny the fact that this has been a rare and interesting winter weatherwise. We've all learned lots of new terms (Polar Vortex, anyone?) and experienced more snow and arctic temperatures than any year in recent memory. Although we're a hardy people here in Upstate New York, day after day of sub-zero temperatures can wear on you after a while. But the fine folks who live on and around Keuka Lake see it a bit differently.
It's no shocker that lakes are freezing over for the first time in decades. We've seen the stories in the news lately. Lake Superior set a new record for ice cover this year, currently sitting at 92 percent frozen. Hikers are enjoying a rare frozen path leading to a cave that is normally accessibly only by boat. In another bizarre and fortuitous story this week, Lake Huron's thick ice provided the perfect place for a small passenger plane to make an emergency landing when its engine quit.
A little closer to home, Keuka Lake is nearly frozen over. Although there is still water visible down near Hammondsport, the bluff and northern branches of the lake might as well serve as a giant skating rink. Although there seems to be no information to verify this, a lot of folks remember that the last time Keuka Lake froze over was in 1994. I believe it, since that was also the year that Lake Superior set its old record of 91 percent frozen.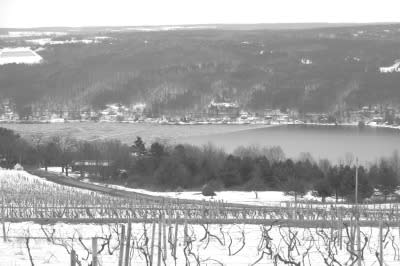 Keuka ice as seen from Bully Hill Vineyards.
Some people are certainly taking advantage of this once-every-twenty-years occurrence, and are rushing out to play on the solid surface. Let me be very clear. I am not encouraging anyone to go stand on Keuka's relatively thin ice. I'm simply stating the facts. People are doing some interesting things on the frozen lake this February. 
I threw a post up on a Keuka Lake Facebook fan page several days ago, asking if anyone had fun stories to share about the lake being frozen over. I've seen lots of comments from people saying they haven't seen the lake like this since they were kids. Many remember their parents or grandparents talking about it. It seems everyone has a story to share about the frozen beauty that is Keuka Lake. But never did I expect someone to send me this!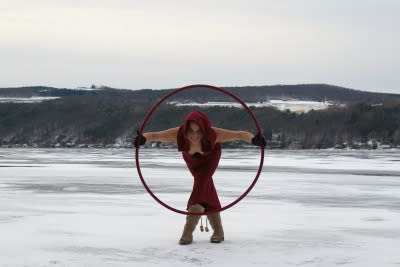 Hooping on Keuka Lake. Photo courtesy of Jess Lang.
Jackie Nixon is the resident hooper in Hammondsport. What's a hooper you ask? I'd never heard of it before either. As Jackie described it, it's basically a modern hoop dance that she first saw at the Finger Lakes Grassroots Music Festival in Trumansburg. She became mesmerized by a woman essentially dancing with a hoop for a partner. Jackie was instantly hooked and practiced hooping every chance she got, eventually becoming a certified Hoopnotica teacher. But she's taken this sport/dance to a new extreme this winter!
It's truly too difficult to describe the epicness that is this video, so you just need to watch it: Fire Hooping on Keuka Lake.
Awesome, right?
The thought of fire hooping on Keuka Lake first crossed Jackie's mind several years ago. "The Farmer's Almanac predicted this winter would be absolutely frigid, so I started to solidify real plans to be able to hoop on the ice," Jackie said. She made a safety plan and went for it. "Sliding around on ice added a real challenge to fire hooping, but it was so much fun. I'm glad I'll be able to say I did it!"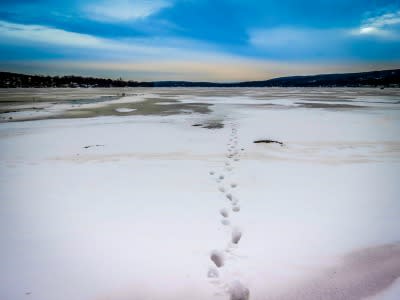 Crossing Keuka. Photo courtesy Jeremey Henries Photography.
In addition to extreme hooping, Jackie took part in a unique activity that was happening on Keuka Lake last weekend. She, her mom, and many other locals, made the ¾-mile trek across the frozen lake - and back again. Jackie's mom said that in 35 years, she'd never seen the lake solid enough to consider walking across - and she wasn't about to miss her opportunity!
Many others are feeling the same way. Lee Peterson has never seen the lake this close to "lock up," as he put it, and has enjoyed his first season ice fishing at "truly decent depths." He and his kids had a great day catching fish earlier this week.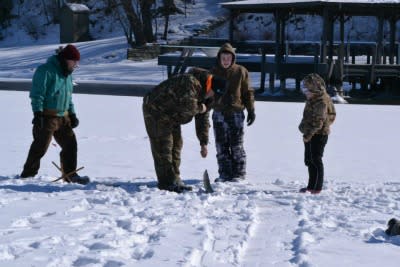 Ice Fishing on Keuka Lake. Photo courtesy Marigrace Papagni.
Although this may be one of the coldest, snowiest seasons on record, when I talked with Kirk House at the Steuben County Historical Society, he shared all kinds of fascinating tidbits that involved locals counting on the lake to freeze over each winter. In fact, Hammondsport's great aviator Glenn H. Curtiss built and used an ice sled to test engines and propellers on the frozen lake. Fellow inventor, Casey Baldwin, helped design the Red Wing aeroplane and, on March 12, 1908, flew it 319 feet from the ice of Keuka Lake during a public demonstration.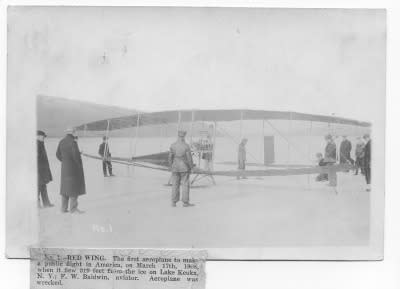 Red Wing Flight on Keuka Lake, 1908
One of my favorite stories Kirk shared was the tale of a boat builder from Hammondsport who had a business meeting in Penn Yan. Since the lake was frozen, he skated from one end to the other, attended his meeting, then skated back. As Kirk says, this would have been a 42-mile round trip in one day, so you can draw your own conclusions. But it's interesting, nonetheless!
Remember, while it's fun to talk about all the things people have done on the ice lately, it's important to be smart about it. These next few days are going to be warmer, and the waterways won't be as frozen as they have been. Don't venture out unless you're sure it's safe to do so.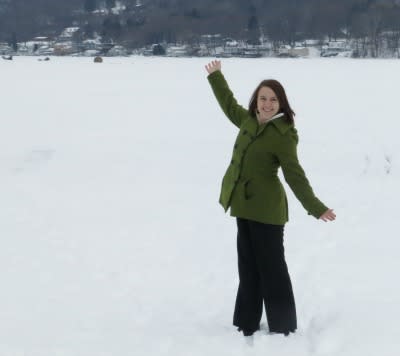 Standing on snowy/icy Keuka Lake!
With that said, I want you to share your stories! Have you ever walked on a frozen lake? Ever tried ice fishing? I'm a big baby, so when I visited Keuka the other day, I made sure to only go out so far that if I fell through, I'd be up to my knees. I'm not really sure why I was concerned, since people were ice fishing - and snowmobiling! - way out beyond me. Tell me about your (safe) adventures!