Merciless cold. Weak, watery sunshine that brings no relief from the chill. Monstrous prehistoric fish with razorlike teeth lying just below the ice, waiting to snap your foot off at the ankle. Wait...that last part never happened. But being the ice fishing newbie that I am, I certainly imagined they were down there waiting for me.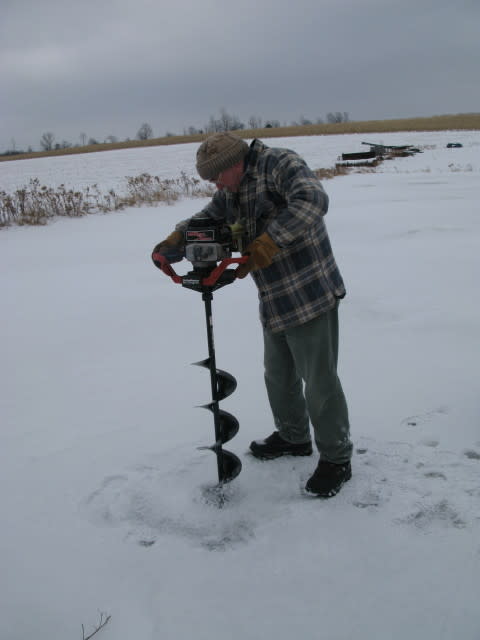 Randy with auger in the Finger Lakes
Actually, it was a pretty nice day last week when my ice fishing guide, retired physician Dr. Randy Weidner, met my colleague Erin and myself at a large farm pond near Kanona in Steuben County. The sun wasn't out but the temperature was almost 30ºF. Not much wind, and the previous weeks' low temperatures guaranteed that the ice would be strong enough to hold us. (Despite Randy's assurances that "you could land a plane on this ice," I was terrified of falling through). This adventure came about when I started to write an article about ice fishing and realized that internet research only goes so far. In order to write coherently about ice fishing, one has to experience the sport. That's how Erin and I came to be standing in the middle of a pond on the Dana Robinson farm, swaddled to the eyeballs in layers of winter wear, armed with cameras and absolutely no knowledge of ice fishing. All we knew was that Steuben County is a mecca for ice fishers, with the sites, equipment, accommodations, restaurants, and everything else a visiting ice fisher requires for an enjoyable trip.
The first job was to set up our equipment. Randy towed everything in a handy little sled that actually turned into a hut when he lifted the poles and set the cover in place. We found a spot and unpacked the gasoline powered ice auger. I had vaguely assumed that somehow we would hack a hole in the ice. I didn't realize that 10-12-inch ice doesn't break up easily. Some fishermen use a manual auger but luckily we had our big gas-fueled tool that made short work of the frozen surface. Randy made it look easy but when I tried it, the auger spun fitfully, throwing ice bits around but not making much of a dent in the ice. Augering requires some upper body strength.
After the hole was made we had to clear the opening of ice debris, using a flat slotted implement to trap and drain the ice. Randy explained that we needed to determine the depth of the hole we were fishing. As I pictured plunging my arm into the hole with a yardstick, Randy brought out what looked like a flashlight but turned out to be a depth finder. Turn it on, stick it into the water, and viola! 10.9 feet deep. Somewhere down there were the perch, the sunfish, the pickerels that we would catch and bear home triumphantly!
This hole was going to be fished with a tip-up, a device in which a fishing line is held by a wooden crosspiece set over the hole. A small orange flag is attached that springs up when a fish is hooked, alerting the fisherman, who may have several other lines going at the same time.
We moved on, drilling more holes. Randy brought out his ice fishing poles (which the female in me wanted to exclaim were "the cutest little things ever!"). But although short, the poles were clearly strong enough for the job. We baited the hooks with various shiny and colorful lures and "mousies", which were basically maggots with long tails. Because fish keep to the bottom of the pond where the water is warmer, Randy explained, we needed to attract them with something flashy. Periodically we brought the lines up a bit, giving them a few twists and shakes - called jigging - to hopefully make the fish aware of the bait. Randy set up the mobile hut which was actually quite comfortable. Ensconced in the protective cover and out of the wind and chilled air, it was pleasant and almost soothing to sit and wait for the fish to take the bait. The light inside the hut made the ice translucent. It was fascinating to look down into the dark water and see gently moving shapes - Randy said they were weeds - and imagine early settlers doing this very same activity, although for food, not recreation.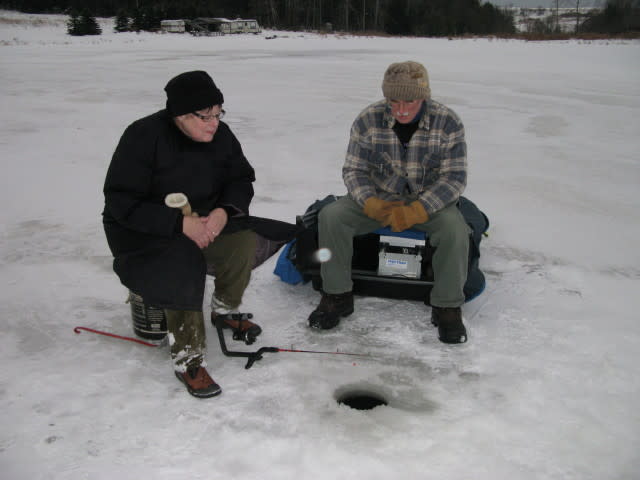 Robin and Randy ice fishing
After approximately three hours without a nibble Erin and I decided to take our leave. Randy would stay awhile longer, convinced that it was only a matter of time before he reeled one in.
Steuben County has more ponds and lakes than one can count. Many of them are perfect for ice fishing. This is an activity that offers up a large dose of contemplation and relaxation besides the actual sport of fishing. With the right gear and a little care it can be an exhilarating time spent alone or with friends in the beautiful hills of Corning and the Southern Finger Lakes.
Many thanks to Dr. Randy Weidner for his time, effort and patience in making this experience so pleasurable!