Hammondsport, NY - 2012 Coolest Small Town

Post a comment below to tell us why you think Hammondsport should be America's "Coolest Small Town!"
How cool is this? Hammondsport is a top-ten contender for America's "Coolest Small Town!" The Budget Travel competition began last fall with Hammondsport gaining the most votes in the first round. Hammondsport received 8,036 votes in the initial round. The next highest contender was Weaverville, CA, with 999 votes, followed by Beaufort, NC, with 468.
At the beginning of the competition, Budget Travel said it was looking for towns with "that indescrib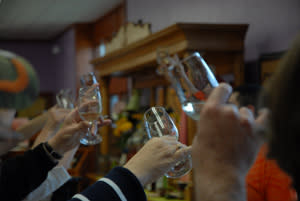 Bully Hill wine tasting in Hammondsport
able something. In other words, cool doesn't necessarily mean quaint: We want towns with an edge and a heart." If it's trendy they want, or if it's charm they're seeking, Hammondsport is the clear winner.
And heart? Well... the hundreds of comments left on the Budget Travel site during the first round of voting speak for themselves.
"Hammondsport, NY has that unmistakable, but rare SERENE feeling that only special places have. Spectacular sun rises and sun sets. It exudes that vineyard atmosphere only grape growing areas have. Yep, it's a keeper!!"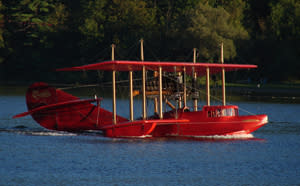 Glenn H. Curtiss Plane
"Every day is like a Norman Rockwell painting."
"Paradise... plain and simple! This is the COOLEST small town in America."
"It's peace. You find serenity everywhere you look. Deep greens, and the brightest blues you can find by just sitting on a bench. Time has stopped and life is pure again."
"Hammondsport is a charming small town that has a lot of history and a big heart. Water, Wings, and Wine says it all."
"Hands down this little town should win. Hammondsport, NY, is the place where this nomad found her soul... the place where this wanderer realized this world is as beautiful as beauty itself. The lake raised me, the people made me, and the town saved me."
Now it's your turn to share your story! Leave a comment and tell us why you think Hammondsport is the "Coolest Small Town!"
Have a favorite Hammondsport photo? Send it to me, and we might use it on our new Vote Hammondsport page!