We're excited to bring you another blog series, this time highlighting the "cool and fun" aspects of Corning & the Finger Lakes, featured in the new 2013 Steuben County Travel Guide! Check back the every month this year to read more about the gems we've found in Corning & the Finger Lakes! To request your free copy of the Travel Guide, e-mail our Sales and Office Assistant, Kevin Peterson, or call 607.936.6544.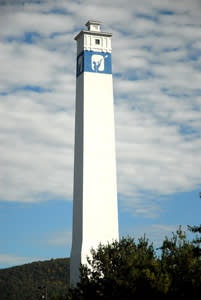 Little Joe Corning
As you drive into Corning, there are a few things you'll undoubtedly notice. For one, it's beautiful. The rolling hills, the charming communities nestled in the valley, the picturesque historic district. You'll also see a tower that adds height to an otherwise horizontal landscape. Upon closer examination, you'll notice a man at the very top. What is he doing? Well, seeing as how you're basically in the glass capital of the world, he's blowing glass, of course! He's a gaffer, and his name is "Little Joe."
The Little Joe tower stands today as a monument to Corning's technological innovation. When it was built in 1912, the tower represented a great step forward in thermometer tubing production technology. By using a process called "vertical draw," hot glass was pulled up the 196 feet by cable, creating a continuous tube. It was then cooled and cut to length.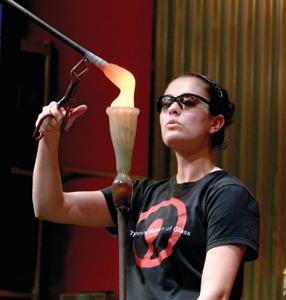 The Corning Museum of Glass
Today, thermometer tubing is done using the "horizontal draw" method, thus Little Joe is no longer in use. The tower was restored and is now a historical landmark, and fixture in the heart of Corning's Gaffer District.
It is debated whether the image of "Little Joe" was meant to portray someone in particular. The symbol itself dates back to 1880. It was taken from a sketch made by an itinerant painter who visited a glass factory in Pittsburgh. The symbol has undergone a series of graphic modifications, and today is a Corning trademark, according to a plaque that sits below the tower.
When you visit Corning, make sure to find Little Joe in the skyline and take a picture of him! He represents just the beginning of so much glassmaking history that Corning holds. After you've spotted him, make sure to visit The Corning Museum of Glass where you'll be able to browse 3500 years of glassmaking history. Be sure to catch a Hot Glass Show, and get inspired to make your own glass project to cherish forever, and serve as a reminder of your fun trip to Corning.