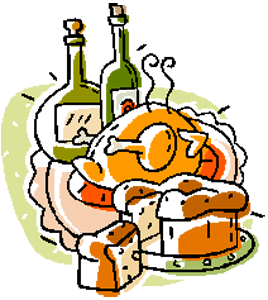 Thanksgiving Clip
We all know that Thanksgiving is a time to slow down a bit and appreciate all the wonderful things that fill our lives. I find it a bit ironic that the next day (and even that night, in some instances) begins a month-long holiday shopping craze, but that's another story for another day. This time of year always astounds me, though. You start to hear amazing stories about the genuine goodness found in people. Amid the dozens of Black Friday sales ads come stories about what it means to give back
One that truly touched me this year came from the owners of Holmes Plate 54 - a restaurant in Corning's Gaffer District. When life presented an opportunity in 2006, Brendan and Kim Holmes moved to Corning from Manhattan to start a restaurant. In October of 2008, Brendan was driving by a Salvation Army on his way to work and couldn't help but notice the line that stretched for more than 200 yards. People were lined up for the monthly food giveaway. He knew right then that his family was blessed, and needed to share those blessings with others.
With this in mind, the Holmes family ultimately decided to put their own spin on Thanksgiving with their "Feed the Need" program, inviting those who could not provide a Thanksgiving meal for their families to come to the restaurant. The meal is by invitation only, with invitations distributed through various organizations including The Salvation Army, The American Red Cross, The United Way, and The Veteran's Administration of Bath. Since its first year in 2008 when they fed 38 people, the attendance has grown to more than 100.
But how does Holmes Plate 54 pull this off, you ask?
Holmes Plate
"We ask for assistance from the community as we believe that this is truly an event that should be shared by the community," said Brendan. "Some people who cannot come on Thanksgiving stop in the night before to help us peel potatoes, etc."
Brendan explained that in the past, the number of volunteers far exceeded the number of guests. The first year, there were 60 volunteers and only 38 guests. Last year, however, there were 108 guests and 50 volunteers. Brendan now has to start turning away volunteers, overwhelmed by the outpouring of support. "The community really rallies behind this event," he said. "It's amazing to see those as young as 6 years old to those in their 90s serving those in need."
In addition to the three types of turkey (roasted, smoked and fried) served at the "Down Holmes" Thanksgiving feast, there are also 150 pounds of mashed potatoes, carrots, stuffing, dressing, cranberry relish, bread, soup and salad. Sam's Club of Elmira has always donated the desserts - and will be donating 20 pies this year. Many community businesses donate turkeys and other food items to help offset the cost of the event.
Clearly, the Holmes family and the staff of Holmes Plate 54 should be proud of the amazing work they do to provide those in need with a home-cooked Thanksgiving meal, but there's more to it than that.
"We've been blessed with an opportunity to become a small business owner," said Brendan, "and we believe that since we take from the community every day, we can give back to the community. If it weren't for the community, we would not be in business."
Here are a few comments the Holmes family received last year after their Thanksgiving feast:
"Thanks you kept me from eating a frozen turkey dinner- by myself"- CE
"Thank you so much; It was our first year everything was great" TT
"Made our Day!" MR
"Thank you God Bless you. Mr. & Mrs. Holmes, the love and kindness you've shown me and my family will never be forgotten." JW
Happy Thanksgiving from your friends in Corning & the Finger Lakes!