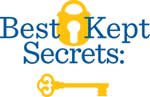 Best-Kept Secret
We're excited to bring you another blog highlighting one of the "best-kept secrets" featured in the new 2012 Steuben County Travel Guide! Check back the fourth week of every month this year to read more about the gems we've found in Corning & the Finger Lakes! To request your free copy of the Travel Guide, e-mail our Sales and Office Assistant, Kevin Peterson, or call 607.936.6544.
When you pull into the parking lot of the Erie Depot Museum in Hornell, you see the seldom-used tracks alongside the museum, which is housed in the old train depot. In 1915, there were 32 tracks there, but today only two remain. For me, I felt a certain sense of sadness when I thought of this place's glory days gone by. However, when I stepped inside the museum, I realized those days may be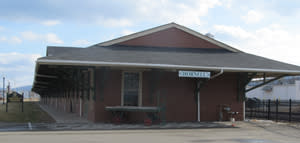 ErieDepot
gone, but they are certainly not forgotten. History is alive again, right in the place it lived and breathed so long ago.
When I was younger, I'm told I was absolutely the worst child to get to sleep. I'd hear my bedtime story, then say, "one more, peas!" Several hours and many stories later, I'd finally nod off. Now, I can't remember any of the characters in the books or anything about their great adventures, but I do remember all the stories my mom used to tell me about her childhood. I loved listening to stories about my grandparents and my aunts - all the people I knew so well. It was those that really caught my attention and stayed with me.
That's what struck me when I visited the Erie Depot Museum last week. It's one large room full of stories. No, I didn't know any of the men who worked on the Erie Railroad, but the people who love to visit the museum certainly did. Everything inside that building tells the stories that captivate their attention and urge them to dedicate it to memory.
"The majority of people come in just to see if their family is featured," said Collette Cornish, director of the Erie Depot Museum. "They want to see if the names are listed on the roll call, or see if they can maybe find an old picture of their parents. They want to honor their memory."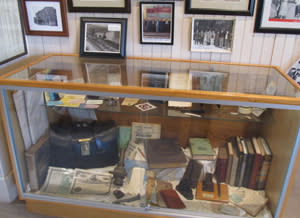 ErieDepot
The majority of Hornell families have some sort of connection to the Erie Railroad, which ran from New York City to Buffalo and Chicago. With a major locomotive repair shop for the Eastern District of the railroad and the main accounting office for the entire Erie system located in Hornell, it's easy to understand how so many local lives were touched by this industry.
"It's not just history, but personal history," said Cornish.
Just look in any case and you'll not only learn the story of a bygone era, but about a man who dedicated his life to the railroad. "Here's Mr. O'Dell," said Cornish, pointing toward a picture. "He had a leather satchel his family donated to the museum. He traveled with his log books which are also displayed here."
When you visit the museum, you just might be lucky enough to speak with docents Gene Baker and Doug Smith who between them have more than 100 years of railroading experience. They can distinguish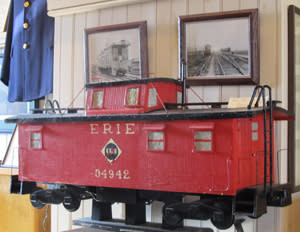 ErieDepot
each face in any photo. They can explain the use of every piece of equipment. And they share the stories that belong to the history of the Erie Railroad - the stories of good times and of bad, of struggle and of heroism. It is those stories that breathe new life into the artifacts and pictures displayed in the cases.
Gene and Doug love telling their stories to groups of young school children who visit the museum. Their mesmerizing tales transport the children to another time. Just as I learned and remembered the stories of those close to me when I was younger, I can only hope these children dedicate these stories of their town's great history to memory. The personal anecdotes, the fun facts, and the amazing, adventurous tales are what will keep the museum's artifacts alive for generations to come.
Since it was established in 2005, the Erie Depot Museum has grown from about 700 artifacts to house thousands of pieces of local, personal history. Visit the museum at 111 Loder Street on Wed. - Fri., 6-8 p.m. and Sat., 12:30-3 p.m.