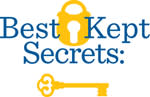 Best-Kept Secret
We're excited to bring you another blog highlighting one of the "best-kept secrets" featured in the 2012 Steuben County Travel Guide! Check back the fourth week of every month this year to read more about the gems we've found in Corning & the Finger Lakes! To request your free copy of the Travel Guide, e-mail our Sales and Office Assistant, Kevin Peterson, or call 607.936.6544. Also make sure to request your Let's Go Hike and Bike cards!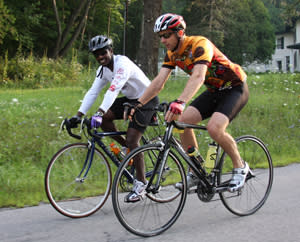 Cycling in the Finger Lakes
Now that the days are getting longer and the weather is turning warmer, we feel this urge to get outside. We can't sit indoors when the warm sunlight is streaming through the windows. Corning & the Finger Lakes is a haven for the outdoor enthusiast! It offers a chance to escape completely. There is perhaps no better way to experience the great outdoors during the spring months than by following the trails in our Let's Go Hike and Bike program!
"Growing up in Steuben County I have had the opportunity to hike and bike through the Finger Lakes region," said Brett Smith, who works at the Rockwell Museum of Western Art. "The backdrops of the Finger Lakes are just as enjoyable as the activity itself. Whether I am looking for a causal stroll, biking trip, or a rigorous hike, I can always find what I am looking for in the Finger Lakes."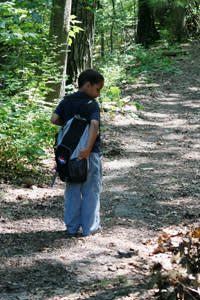 Spencer Crest Nature Center
Whether you're pedaling through quaint towns or breathing in the lake air as you breeze through one of our parks, you'll know you've found a sense of peace when you're riding the wind. You'll be exhilarated as you hike along footpaths that take you through the most scenic parts of the Finger Lakes Region. Here in Steuben County, we have 14 Let's Go Hike and Bike trails, which vary in difficulty and theme.
"Even though the scenery is wonderful, you still need to be prepared," said Smith. "All I can say is to do your research on where you are going and always bring water. Knowing what to expect can keep a good day from turning bad. When you are looking to get outside, take advantage of the many hiking and biking trails the Finger Lakes has to offer."
Take a hike at Kanakadea Park in Hornell. Varying between .5-1.75 miles, this hike is fairly easy, winding you around beautiful Almond Lake. Plan a picnic or make a weekend out of it and go camping at the park. Want to have a real adventure? A spur tail connects Kanakadea Park to the Finger Lakes Trail, which stretches 950 miles throughout New York State.
"The Finger Lakes are noted for their stunning scenery and rural vistas," said Yvonne Allen, owner of Halcyon Place B&B, which is situated along the Cycling and Antiquing Tour: Savona-Coopers Plains Loop. "There are many gently rolling hills that provide some challenges, but most routes are accessible for novice riders. The bike trails often pass historic sites and interesting small towns filled with unique shops and restaurants."
When you set out on the 22.1-mile bicycle route through Savona and Coopers Plains, you're in for a day of exploring quaint antique shops along charming country roads. You'll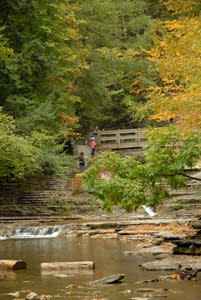 Stony Brook Hike
find quirky consignment shops nestled in small villages. Stop by Halcyon Herbals and Antiques or spend the night in Allen's beautiful circa 1840 Greek Revival B&B. Also along the route is Camp Bell Campgrounds. A stay at either is sure to make you feel revitalized for the next leg of your journey.
"There is very little vehicle traffic, but you may pass a tractor," said Allen. "The route is bordered by the Conhocton River in places, and it provides a chance to see blue herons and other waterfowl. If you like horses, you will pass a number of them along route. On some days you may even see a team of horses learning to pull a plow."
Another option is heading to Hammondsport and spending the weekend at the Black Sheep Inn, which offers a great package encouraging you to enjoy the great outdoors. When you book "Hike and Bike the Finger Lakes," you'll receive a two-night stay, an indulgent organic breakfast each morning, and a locally-written book on hiking or biking Keuka Lake and the surrounding areas. Chef Debbie will send you on your journey with a signature Inn cooler filled with a wide selection of local, organic meats, cheeses, breads and dips - sure to keep you energized and eager to discover more of the beauty of the Finger Lakes. Book this package May - October.
So much beauty, and all the time in the world to experience it. Wherever you go, whatever you do, you'll love exploring the great outdoors here in Corning & the Finger Lakes. 
Remember to e-mail our Sales and Office Assistant, Kevin Peterson, or call 607.936.6544 to request your Let's Go Hike and Bike cards!