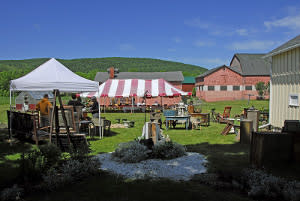 Halcyon Herb Festival
A green thumb, I do not have. I remember helping my mom in the garden when I was little, and picking all the pretty flowers. I never had the patience to care for and nurture the growing plants. And, of course, I'm not much of a cook, either. I don't have the first clue what to do with the likes of tarragon or rosemary. My poor husband suffers through many a bland meal. That's why something like the Halcyon Herb Festival is a godsend for people like me - but can also be enjoyed by herb enthusiasts.
Last evening, I had the pleasure of visiting with Yvonne Allen, owner of Halcyon Place B&B in Campbell. She told me all about the Halcyon Herb Festival she organizes every year. It's a celebration of all things organic. In years past, the focus has been on medicinal and healing herbs, but this year, she decided to take advantage of the culinary bounty found in Finger Lakes Wine Country and make the theme "Herbs, Food and Wine."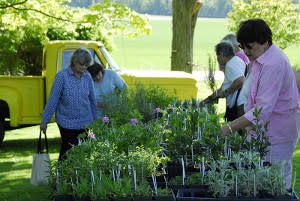 Halcyon Herb Festival
The 7th Annual Halcyon Herb Festival will be held on May 18 from 10 a.m. - 4 p.m., and Yvonne couldn't be more excited to tell visitors about herbs. "I'm an educator," said Yvonne, who teaches music in the Horseheads School District, "so I definitely like to provide an education to people and help them understand how easy herbs are to grow and use."
This year's line-up of speakers will certainly do just that. The morning starts with a plant walk with Matthias and Andrea Reisen of Healing Spirits Herb Farm in Avoca. They will teach visitors how to "Eat What's Under Your Feet," by walking through a field nearby Halcyon Place B&B, and discovering which herbs are edible and which are not. Shortly thereafter, Helga Loncosky with Backyard Chicken Basics will present a starter guide to raising your own poultry for eggs and meat. In the afternoon, Kathy Halm of Leo's Honey House will talk about the health benefits of honey and its use in food, followed by Jen Maffett of Lucky Dog Farm, who will talk about CSAs. The day will wrap up with a presentation from Yvonne herself, demonstrating recipes that showcase spring flavors with the addition of artisanal cheese. Enjoy the food paired with wine from GCP Liquors.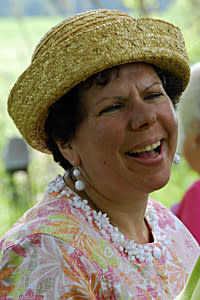 Halcyon Herb Festival - Yvonne Allen
In addition to all these talks, guests will love perusing the herb plant sales and speaking with vendors, including antique dealers. Live music will be provided by Southwind, a group of women who are part of the Crooked Lake Fiddle Club. They'll sing and play acoustic instruments - including the old-fashioned auto harp. Dance Troupe from Ithaca Community School for the Arts will also be performing.
A special addition to the herb festival will be Yoga for Gardeners with instructor Sue Pirozzolo, who will show gardeners some secrets to help tired knees and backs.
Yvonne loves seeing people come to the Halcyon Herb Festival and spend the day appreciating the great outdoors and all it has to offer. "The event is free, so families bring their children and have a picnic in the herb garden," she said. "People get to taste and smell the herbs, and I love introducing people to herbs they've never heard of before."
Visitors will also be able to participate in a raffle and even take home a bag of delicious herbal cookies, including such delicacies as rosemary walnut and lemon thyme jelly cookies.
For all the latest information, "like" Halcyon Place Bed and Breakfast on Facebook. Also view this great video!