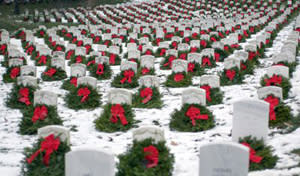 Wreaths Across America
Looking for something special to do to give back this holiday season? This Saturday, Wreaths Across America Day will honor veterans at the Bath National Cemetery, and invites the public to attend and show their appreciation as well.
Beginning at 11 a.m., members of the community will gather to pay tribute during the holiday season by laying donated wreaths on the headstones of veterans buried there. At 12 p.m., a ceremony will be conducted, during which seven ceremonial wreaths will be placed to remember members of the Army, Marines, Navy, Air Force, Coast Guard, Merchant Marine, and POW/MIA. This is done in thanks and remembrance, but also to teach the younger generations about the high cost of our freedoms.
This ceremony once occurred solely at Arlington National Cemetery, but it is because of volunteers like Padraic O'Hare that it became a national celebration. This Saturday, it will be held at more than 750 veteran cemeteries and war memorials nationwide.
Wreaths Across America
As the current Commander for the Steuben County American Legion, and a veteran himself, O'Hare took it upon himself to make sure Wreaths Across America remained a tradition at the Bath National Cemetery.
"It makes me feel great that I can help honor my fellow veterans at Christmas time," said O'Hare, "and also help let the children involved with the Bath National Cemetery and the veterans laid to rest here learn more about their sacrifices and what their significance is for the present-day life of these children."
O'Hare says 350 wreaths were donated this year, up from 200 last year. Donation were accepted until the Monday after Thanksgiving through the national website, http://www.wreathsacrossamerica.org.
It is projected that over 400,000 wreaths will be placed nationwide, by over 150,000 volunteers as part of the Wreaths Across America mission to "remember, honor, and teach."
A little history: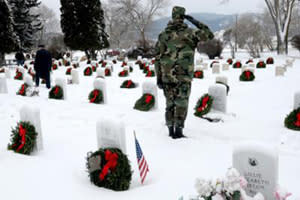 Wreaths Across America
The Wreaths Across America story began over 20 years ago when the Worcester Wreath Company from Harrington, Maine initiated a tradition of donating and placing wreaths on the headstones of our Nation's fallen heroes at Arlington National Cemetery. Recognition of the service and sacrifice of our veterans, and their families, is especially poignant during the traditional holiday season.
Worcester Wreath Company continues to be a major supporter of the project, donating over 30,000 total wreaths in 2011. Over 400,000 wreaths will be sponsored by individuals, businesses, and groups from communities Nation-wide. Wreaths will be placed in all 50 states from Maine to Alaska and Hawaii, and at 24 national cemeteries on foreign soil.
For more information about the Wreaths Across America event at the Bath National Cemetery on December 15, visit www.facebook.com/waa.BathNationalCemetery.