In every charming small town, there's a most idyllic part—a main street. It's a hub of sorts. It's got arts and culture, fantastic shopping, and amazing dining experiences. It's the home of countless festivals and happenings throughout the year. It's a gathering place for locals and tourists alike. It's essentially the heartbeat of the town.
Anyone who has visited Corning, NY unabashedly proclaims their love for Market Street. It really does have it all: charming cafes, elegant restaurants, inspirational art galleries, beautiful antiques and glass, and hands-on experiences. People say it's big-city quality in a small town. Any season of the year, it's the hot spot for events like Cabin Fever, GlassFest, Sparkle, and even a Ferrari show! There's always something going on.

Events in Corning's Gaffer District
Right in the heart of Market Street is Centerway Square, which Travel & Leisure named one of the most beautiful town squares in America, giving a special nod to the brick-paved pedestrian plaza and period street lamps.
But Market Street has been gaining some more attention lately. A conference focusing on making downtowns more environmentally friendly was recently held in Corning. In attendance was the director of sustainable communities for the Natural Resources Defense Council, Kaid Benfield. He's an expert when it comes to urban solutions and sustainable planning and development. Something about Market Street struck a chord with him—and he's experienced many a main street in his line of work. He wrote a blog about his visit that was featured in the Huffington Post.
Benfield pointed out some things that make a "main street" like Market Street thrive—one of which was a great pedestrian experience where walking, browsing, and lingering are encouraged. Another was viable local businesses, of which Market Street has many. They give a certain authenticity to the area, which is hard to come by in chain stores and shopping malls. Make sure to check out Benfield's entire article.
While Market Street is a fantastic place to spend an afternoon—or several days—that wasn't always the case. In the early 1970s, Market Street was a classic example of urban decay. That's not exactly something the Corning Glass Works, headquartered in Corning, wanted when they were trying to recruit new employees. It was said that spouses of prospective employees cried when first driving down Market Street. The flood damage produced by Hurricane Agnes in the summer of '72 only added to Corning's woes. Thus, in 1974, the Market Street Restoration Agency was created to improve Corning's appearance and stabilize the downtown commercial area. It was so successful in this mission that the Corning example, along with several other National Trust projects with other cities, lead to a national Main Street program, aimed at economic revitalization and preservation of existing buildings.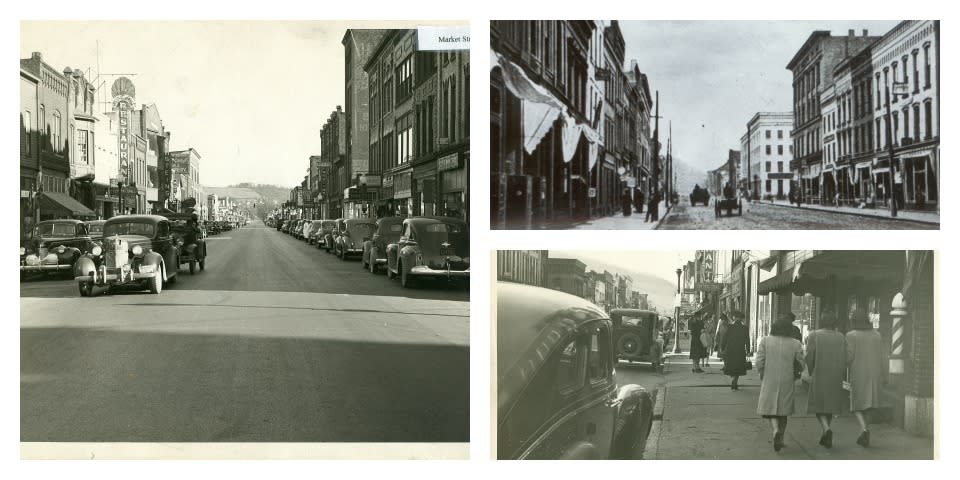 Historical photos of Market Street
Long gone are the days when anyone cried driving down Market Street—except perhaps on their way home from a fun-filled vacation. In fact, Market Street was recently named one of the "Top Great Place in America" by the American Planning Association. Corning was also featured as May's downtown of the month by the International Downtown Association. And, of course, Market Street is at the very heart of the "Most Fun Small Town in America" (Rand McNally). If you haven't checked out the video that won us the title, you really should!
Whether you want to attend a festival, shop the day away, or simply sit and listen to the music that fills Centerway Square, make sure to visit Market Street during your next Finger Lakes trip. Discover for yourself why so many other small towns try to model their own after our charming historic district.
Do you have any great memories or stories to share about Market Street? Please leave a comment below!