There is simply nothing more breathtaking than fall in the Finger Lakes. Everywhere you look, you're surrounded by beauty, whether it's the blaze of color on the hills, or in the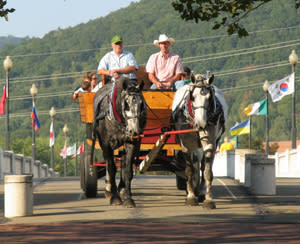 Jazz & Harvest
pristine blue of the waters. While Christmas may be "the most wonderful time of the year," fall is arguably the most beautiful time of the year in Corning & the Finger Lakes - and that calls for a celebration!
"The 16th annual Jazz & Harvest Festival has remained one of our most popular events from year to year because it celebrates the bounty of the Finger Lakes Region in the beautiful autumn season," said Mike Melaro, director of marketing and communications for the Gaffer District. "From wine tasting and jazz music to a farmers market and scarecrow contest, there's something for everyone!"
Held on September 23-25 on Market Street in Corning, the festival kicks off Friday night with wine and beer tastings from many Finger Lakes wineries. Keuka Lake wineries Dr. Frank's and Heron Hill are among the participants, as are Seneca favorites Glenora, Lakewood and Hazlitt 1852 Vineyards. Also try some Cayuga wines from Long Point and Knapp wineries. The tasting will run from 5-8 p.m. at various business locations, and is $15 per person. The fee includes a collectible beer and wine glass. Arrive for your tasting in style with complimentary limousine shuttles with pickups at Bottles & Corks and the Radisson Hotel Corning.
Participants must be age 21 or older to taste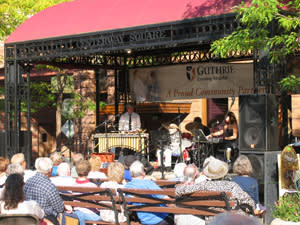 Jazz & Harvest
. To purchase tickets, visit one of three checkpoints: Centerway Square, Radisson Hotel Corning or The Site Cyber Bar and Grill. Also be sure to pick up a flyer with featured specials from Gaffer District businesses, available at the checkpoints and at the Information Center.
What better way to taste Finger Lakes wine and beer than with jazz and blues background music? Enjoy Rick Wahlers and The Boogiemen from 5:30-6:30 p.m., followed by New Orleans Jazz Artist, Peter Novelli from 7-9 p.m., both in Centerway Square.
On Saturday, explore the Corning Farmers' Market in Riverfront Centennial Park from 11 a.m. - 6:30 p.m. Find food and craft vendors, while enjoying the carnival held there from 11 a.m. - 5 p.m., and listening to several different bands in Centerway Square. From 12-1 p.m., the Elmer Darlin' Duo will perform, followed by Reunion (former members of Fireball Express) from 2-4 p.m.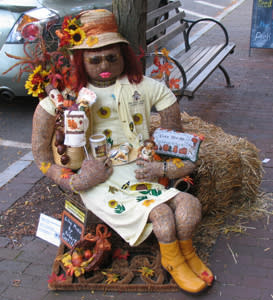 Jazz & Harvest
Saturday night is sure to be filled with fun when country music star Sammy Kershaw headlines on Centerway Square at 5 p.m. Corning's Gaffer District, along with Elmira Savings Bank, welcomes this recording artist, whose songs include "She Don't Know She's Beautiful" and "I Can't Reach Her Anymore." According to his website, Kershaw has often been referred to as the "heir apparent to the legendary voice himself, George Jones." Due to the nature of the venue, admission for the Sammy Kershaw concert is free and seating is limited. Guests are encouraged to bring lawn chairs.
Many Gaffer District businesses will be participating in a scarecrow contest throughout the weekend. Be sure to pick up a ballot at the Information Center and cast your vote during the festival.
Once you attend the Jazz and Harvest Festival, you'll understand why there's something special about fall in Corning & the Finger Lakes. It's more than just the stunning colors blazing on the trees. It's the festivities, the people, and the liveliness of harvest time and all it brings with it to "the world's most beautiful wine region." Soak it up for yourself!