After a long day of pet-friendly activities in the Finger Lakes, Baxter, Kosar and I needed a clean and comfortable place to relax and refresh. There are so many hotels in Steuben County that will welcome you and your four-legged children – these are our favorites:
America's Best Value Inn Lodge on the Green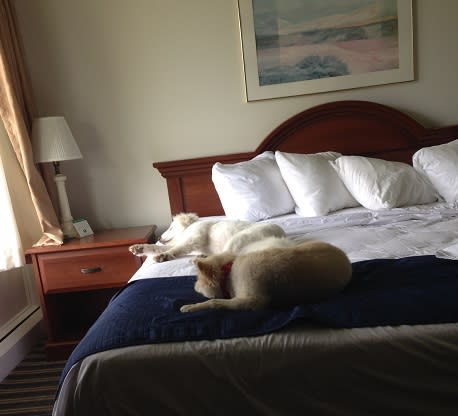 Baxter & Kosar napping on our comfy bed at Lodge on the Green
Pet Fee: $10 per stay
Pet Restrictions: none
Lodge on the Green is my (and Baxter and Kosar's) top pick for pet-friendly hotel in the Southern Finger Lakes. Located in Painted Post, less than 5 miles from the heart of Corning, Lodge on the Green offers cozy and clean rooms at a great value. Several buildings make up the hotel complex, with nice paved paths and a ton of grassy areas between each – away from busy roads and perfect for early morning / before-bed walks. Each room has a door leading directly outside, so no hallway noise to upset your pups in the middle of the night. Other amenities include an outdoor pool, in-room fridge and microwave, free breakfast, high-speed wireless internet and air conditioning.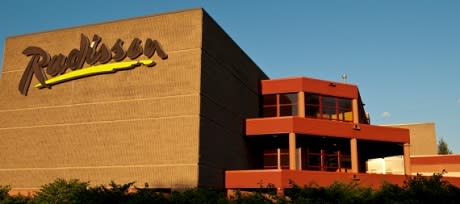 Radisson Hotel in Corning, NY. Photo courtesy of Finger Lakes Wine Country.
Pet Fee: $75 per pet, per week
Pet Restrictions: none
If you and your dog are looking for contemporary style and tons of amenities, you'll find it at Radisson Hotel Corning. It offers an on-site restaurant and bar, room service, indoor heated pool, Jacuzzi spa and fitness center. Located in the middle of the Gaffer District, there is quick access to paved sidewalks and you're just a few blocks from Centennial Park. The high-end style and service makes this choice a bit pricier, but if you're planning on an extended stay in the Southern Finger Lakes it's well worth it.
Pet Fee: none
Pet Restrictions: none
Location, location, location! Days Inn Bath Hammondsport is only 12 minutes from Hammondsport and Keuka Lake, and 20 minutes to Corning, so if your planned activities are spread throughout Steuben County (which is larger than the state of Rhode Island) then Bath is a great place to serve as home base. The free breakfast is earning rave reviews on Trip Advisor, and offer all of the basic amenities you need for a comfortable stay.
Happy Tails Daycare & Pet Resort
If you want to bring your dog along, but s/he is uncomfortable in hotels, check out boarding services offered by Happy Trails Daycare & Pet Resort in Corning. Your pup will be very comfortable in their roomy suites, complete with air conditioning and radiant heat in the floor.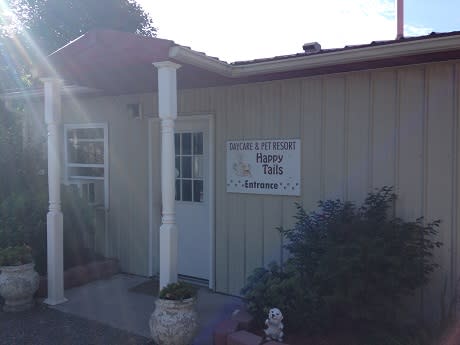 Happy Tails Daycare & Pet Resort in Corning, NY
Need a safe place for Fido to go for just a few hours while you explore the awesome museums in the area? Happy Tails also offers doggie daycare seven days a week, with tons of outdoor time with furry friends of similar size and activity level.
If your pup needs to release some energy off-leash, Happy Tails also has a HUGE dog park. Baxter and Kosar were able to check it out during our last trip – they absolutely loved it!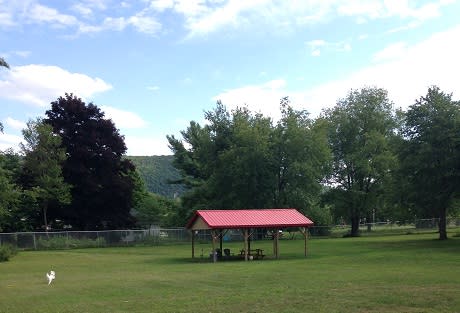 Dog Park at Happy Tails Daycare & Pet Resort. (That white blur on the left is Baxter.)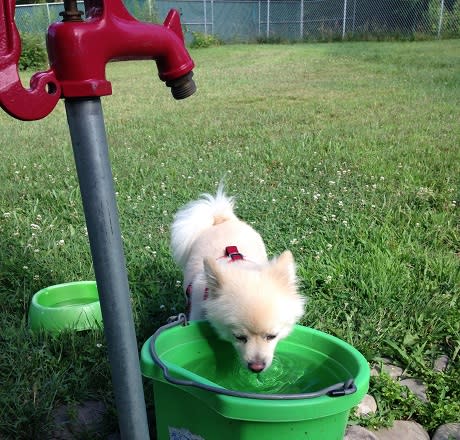 Kosar taking a break at the Happy Tails Dog Park.
Whether you and your dog are looking for a clean room at a great deal, or prefer luxurious accommodations with tons of amenities, you'll find the perfect pet-friendly lodging property for your Southern Finger Lakes vacation!