To me, the best vacations are about who you are traveling with just as much as they are about where you're going. My trips are always infinitely more fun when my two favorite travel companions join me – my dogs Baxter and Kosar.
I absolutely love the Finger Lakes, especially Corning. I travel here frequently for work, and was excited that there were so many dog-friendly vacation experiences in Steuben County that I could share with my pups.
Hiking is our favorite activity, and we set out with a goal of clocking as many miles as possible during our weekend getaway – and we succeeded. Here were our favorite dog-friendly hiking spots:
Stunning doesn't even begin to describe the beauty of the rugged cliffs and deep gorge at the center of this park.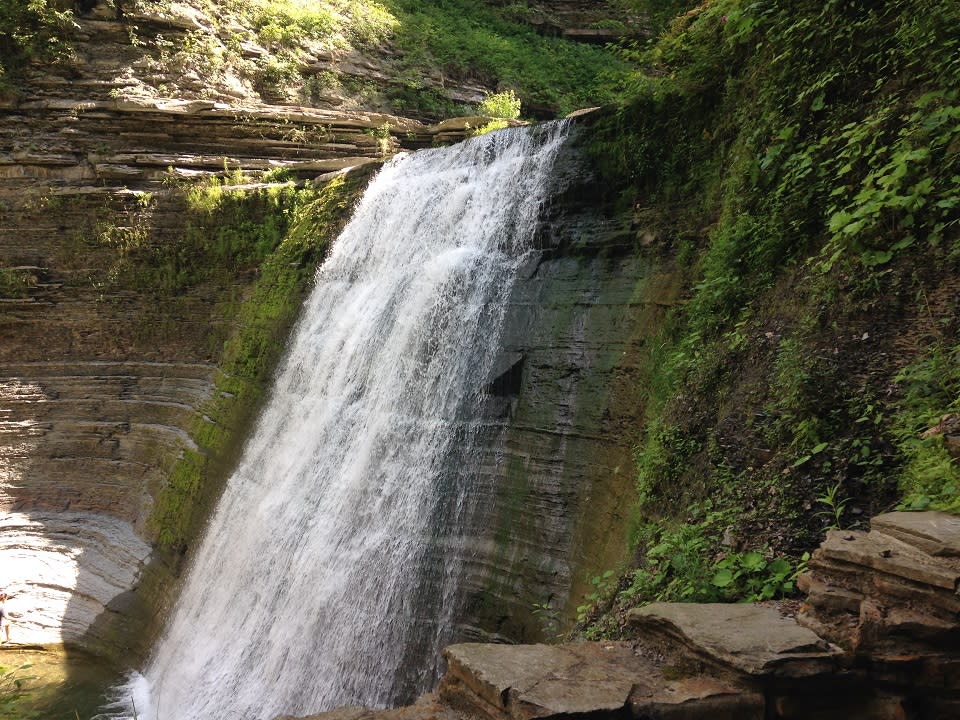 View of a waterfall from the Gorge Trail at Stony Brook State Park
Our hike started on the West Rim Trail. Don't let the steep steps scare you – even Kosar's little legs were able to carry him up without issue, and the stunning views of the gorge below are worth the extra effort in the beginning. At the end of the West Rim Trail, we cut down to the Gorge Trail and walked alongside the rushing waters of the brook taking in the beauty of each of the three waterfalls.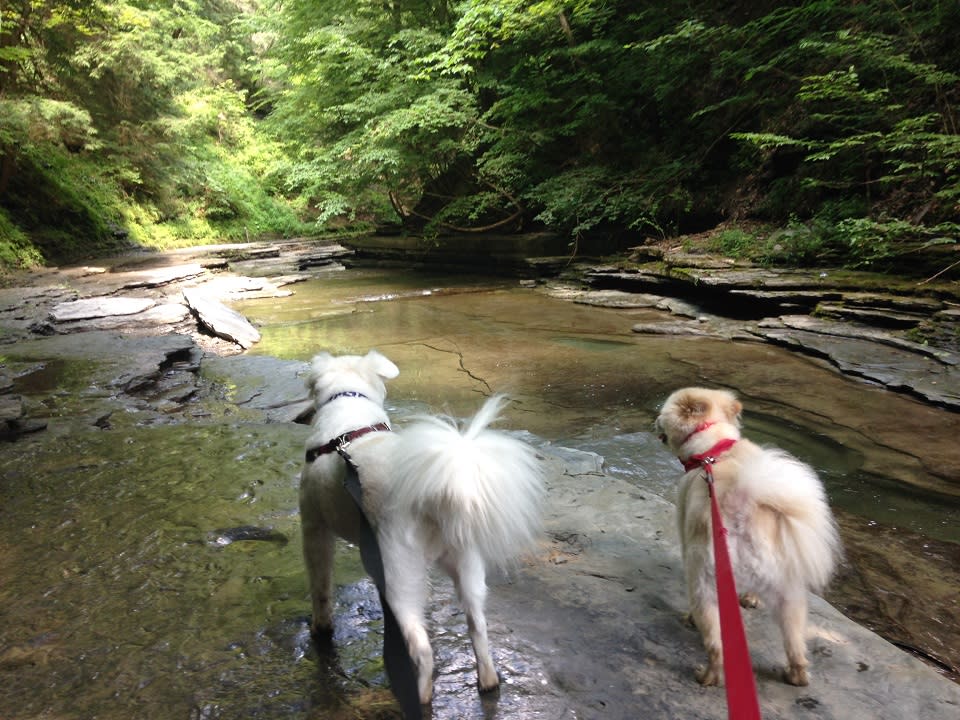 Baxter and Kosar on the Gorge Trail
The dogs and I spent almost 4 hours at Stony Brook, and could have spent much more time if we had come prepared and brought a lunch. Beyond the gorgeous trails, Stony Brook has a swimming hole with lifeguards, playgrounds, ball fields, tons of picnic areas with grills, even a snack bar. There is a small fee to enter the park, but the well-maintained trails and amenities make it well worth it!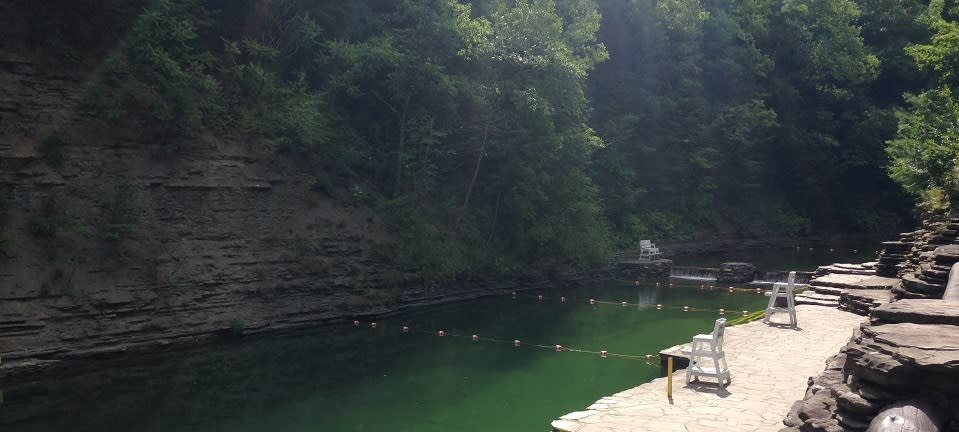 Early morning view of the swimming hole at Stony Brook State Park
It's hard to believe a large preserve like Spencer Crest Nature Center is just 5 minutes from the hustle and bustle of the Gaffer District. The three of us enjoyed exploring the vast trail system, which included a wooden Sensitivity Trail and lush flora everywhere you turned.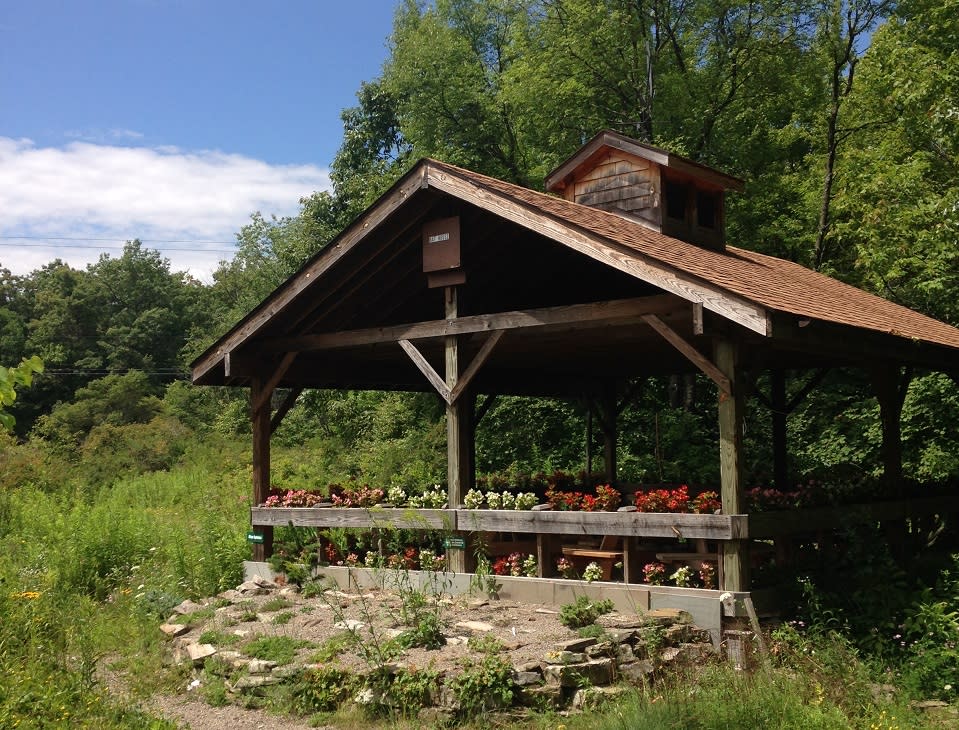 The Rockwell Pavilion at Spencer Crest
The dogs and I weaved through many of the trails, including the Sensitivity Trail, Laurel Lane, Deer Run and Ridge Run. We made our way back to the Nature Center via Maples Run, which took us by Amelia Pond where Kosar decided to go for a swim.
Kosar cooling off in Amelia Pond at Spencer Crest Nature Center
There were so many dog-friendly trails in Spencer Crest we didn't get to explore, but the boys were ready for a nap. A return trip is in our future!
Birdseye Hollow
Birdseye Hollow is a great rustic park about 15 minutes from Hammondsport and Keuka Lake. The single trail is short – less than a mile – but does connect to the Finger Lakes Trail if you are looking for a longer hike with your dogs. For us, the nice, easy walk was a great way to start our day!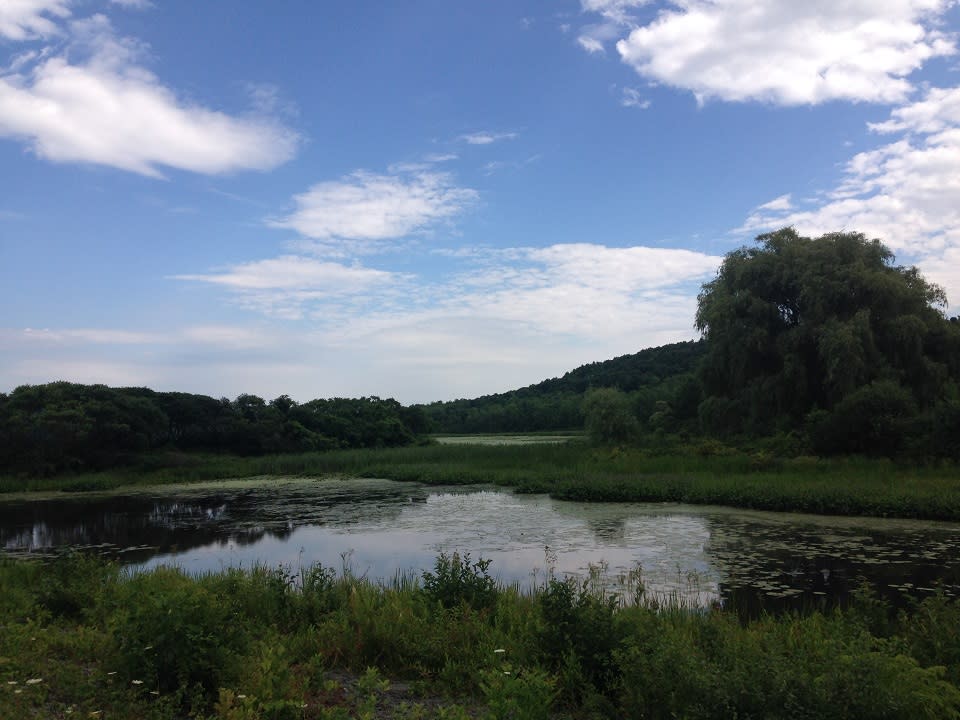 Birdseye Hollow Pond
Gaffer District / The Centerway
If pavement is more your style, take your dog for a stroll in the Gaffer District – Corning's Main Streets. We strolled along the wide sidewalks, window shopping at the variety of boutiques, galleries, and glass shops. After resting a bit in Centerway Square, we headed over Centerway Bridge which connects Market Street to the Corning Museum of Glass. While Baxter and Kosar didn't enjoy the maze and finding the animal prints as much as I did, you can't beat the views of the rolling hills and Chemung River.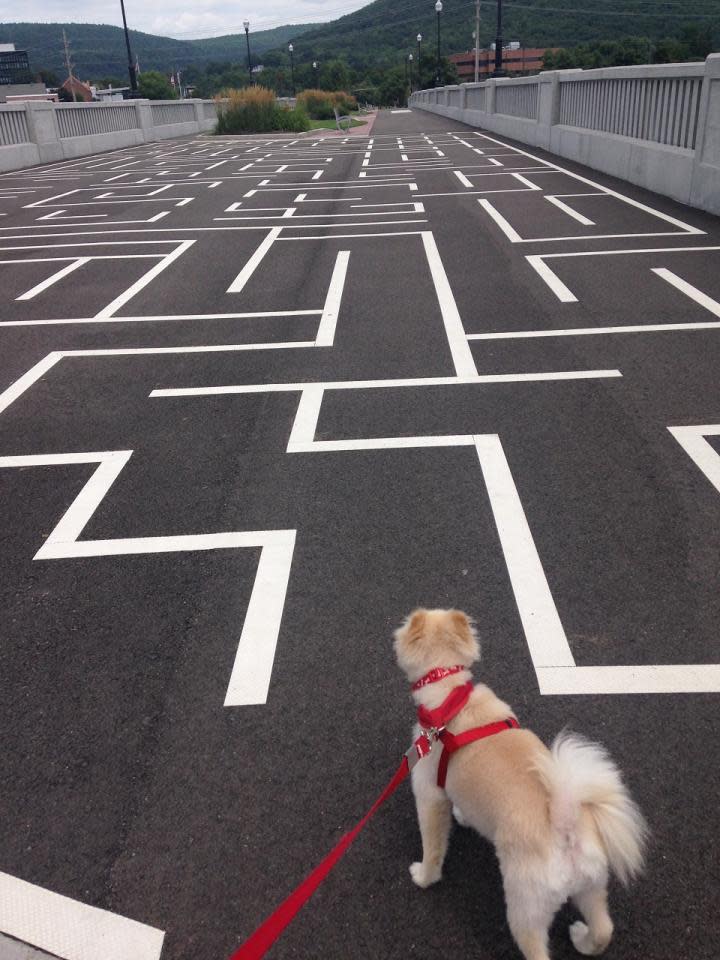 Kosar strategizing his path through the maze on The Centerway
We could have easily spent 2-3 more days in the area - there were so many other great parks in the Steuben that we didn't have time to explore. I know we'll be back to discover more Finger Lakes dog-friendly hikes. If you're traveling with your pups during the dog days of summer – or any other part of the year for that matter – Baxter, Kosar and I hope you'll enjoy our favorite hikes!
     A dog-lover and outdoor enthusiast, Apryl also wrote a guest blog post about dog-friendly hotels.
Other wonderful dog-friendly trails in Steuben include the Mitchellsville Gorge Trail and Huckleberry Bog Trail—two sections of the Finger Lakes Trail—and Mossy Bank Park which also has a challenging mountain bike trail, picnic area, and playground nearby. 
Please Note: Most, if not all, of the trails mentioned above require dogs be kept on a leash and ask that you please clean up after your dog.
Stewardship
Good stewardship is really pretty simple, but can have a big impact on the environment, on wildlife, and on other people. Please be considerate of others, respect wildlife (wild is in the name for a reason), dispose of waste by taking with you what you bring in (most parks and trails follow the "Take-In, Take-Out" philosophy), and leave what you find (please do not remove vegetation or wildlife from its natural setting). 

Whether exploring a wilderness footpath, rustic trail, paved path, park setting, we hope you take advantage of the remarkable landscape and beautiful outdoor spaces in Steuben. Help us preserve these wonderful natural resources by being responsible stewards of the land and waterways you enjoy.