Alright, so you know where you are hunting and when. Or don't you? I admit it is difficult to choose from the 28,000 acres of public hunting land available in Steuben County,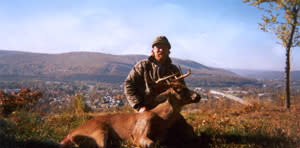 Deer
where more whitetail deer are harvested than in any other county in the state. Steuben County has even been called the "perennial chart-topper" by New York Game & Fish magazine. No, the decision to hunt in Steuben County certainly isn't a hard one!
What's next?
Gear, of course. I have been told by my friends and family that I over pack, and they are not referring to clothes. I like to think of it as being prepared, but that's just me. There is nothing worse than planning for a big hunt and having things go awry because you didn't have the right gear. Deciding what to bring is just as important as where and when you are going. I have seen too many people head into the woods unprepared. On the other hand, you don't want to weigh yourself down and scare away anything and everything around you.
I always ask myself what is the bare minimum I need to keep my day on track? In other words, what do I need to avoid being put in an undesired situation? The next question is if the situation does go wrong, what is the bare minimum I need to spend an unexpected night in the wilderness? Below is my "go to" list for Steuben County hunting: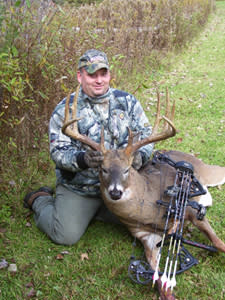 HuntSteuben
-Rain Gear-Your first defense against hypothermia.
-Synthetics and/or wool-Always choose synthetics or wool for your clothing.
-Navigation-You need some form of navigation. (e.g-GPS, map and compass)
-Fire-A fire starting device is necessary, such as flint, matches, or a lighter. Be sure to bag them!
-Water-Be sure to pack water along, but it is even better if you have some way to treat your water.
-Sharp Knife-A sharp knife has countless uses and is necessary after the kill.
-First Aid Kit-You never know what could happen.
-Shelter-Make sure you know how to build a sturdy, dry, and warm shelter.
-Rope or Sling-A must to drag a big buck and several other uses as well.
-Gun or Bow-Need I say more?
-Ammunition-Keep an extra stash in case you forget some.
-Plastic Bags-It's amazing how many times I have found a use for a plastic bag.
-Fluorescent Orange-It saves lives.
Those are my essentials to having a successful and safe day in the woods. Looking at my list, it didn't seem over the top, so I consulted a Steuben County native who has been hunting deer for decades. I wanted to really see if I brought too much. Bill agreed with my "go to" list and threw in his two cents as well.
Bill told me about his most recent buck and what he used to successfully harvest it. He hunts with a .35 Remington rifle with a Redfield peep site, and uses a 200 grain .35 REM soft nose. His most recent kill was a monster eleven point that he shot from 80 yards. The kill was made on opening day. As Bill explained it, he started the morning out sitting in a tree stand, but decided it was time to still hunt, though many hunters would disagree with this method. Slowly working his way through semi-swamp land,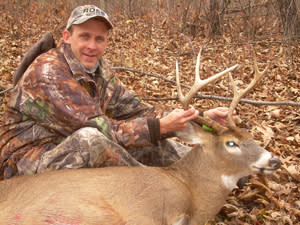 HuntSteuben
loaded with hemlocks, he suddenly spotted the rear of a big deer extending from behind an oak tree, the deer stepped forward, looked to have a great rack and turned to look at him and it was too late for the deer. The shot was taken a little high on the shoulder in order to save the heart. He used a classic 3.75" Stainless Schrade + Uncle Henry Folding Lock Blade to dress the deer in the field. Although starting to become a rare tradition, Bill harvested the heart for a nice meal. There is nothing like pickled deer heart (well-cooked and pickled to be safe)!
One philosophy he has always lived by is to try and use every part of the animal. I haven't quite met anyone more meticulous about harvesting venison than Bill. His nickname, "the surgeon", speaks for itself. I have seen the process first-hand as he makes a day of removing roasts, steaks, and cutlets from the bone. There is always something to learn when a professional is at work!
I hope my gear list provided you with some insight as to what is needed for a successful and safe day in the woods. A day such as the one Bill had is possible for any eager hunter. Steuben County has more deer than any other New York State county and enough public land to make them accessible. For more information on New York State hunting rules and regulations please visit the New York State Department of Environmental Conservation website.
Happy hunting!