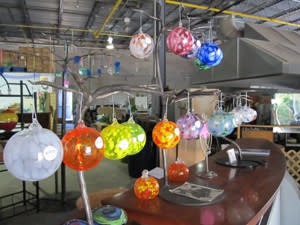 Hands-On Glass

We're excited to bring you another blog highlighting one of the "best-kept secrets" featured in the 2012 Steuben County Travel Guide! Check back the fourth week of every month this year to read more about the gems we've found in Corning & the Finger Lakes! To request your free copy of the Travel Guide, e-mail our Sales and Office Assistant, Kevin Peterson, or call 607.936.6544.
One of my very favorite places to visit in Corning & the Finger Lakes is Hands-On Glass. Perhaps it's seeing the hot shop bustling with activity; perhaps it's discovering the passion of the owner and her dedicated workers. Whatever it is, there's something extra special about Hands-On Glass, and the upcoming holiday season is the perfect time to experience it.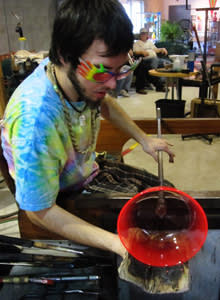 Hands-On Glass
To fully appreciate Hands-On Glass, you have to know the back story.
Although Rodi Rovner only spent a few days in Corning for a conference in the early '80s initially, she was captivated by its charm. "Corning just struck me as a really pleasant place," said Rodi. "I really feel people have a lot of pride being connected to the glass heritage here. To me it's a privilege to be a part of it."
When Rodi moved to Corning in 1988, she worked with many Market Street glass studios, but felt something was needed to make the Crystal City's sparkle brighter. "I just kept thinking we should have a teaching program here," she said. "I took it on as my mission to start that."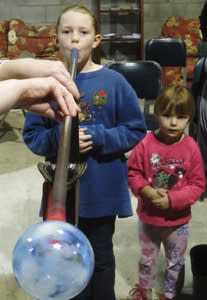 Hands-On Glass
Hands-On Glass began as a not-for-profit project of 171 Cedar Arts Center. Although they closed it three years later, Rodi re-opened it within two months.
Rodi has been described as the "driving force" behind the hands-on movement so prevalent in Corning today. Many of the employees at The Studio of The Corning Museum of Glass have volunteered in Rodi's studio. "It's such a huge compliment to me," said Rodi. "We planted the seed."
Today, Rodi welcomes visitors to her hot shop for an unforgettable experience. Children as young as two years old can blow their very own glass ornament. What a special gift that would be for a parent or grandparent - to have a beautiful glass piece made by their tiny loved one. Of course, people of all ages delight in creating their own masterpiece, with the help of the fun, knowledgeable team.
While you're in Corning to enjoy all the festivities associated with Crystal City Christmas, be sure to visit Hands-On Glass. Imagine - you could have a fun, memorable experience making holiday gifts that your family members will cherish. What could possibly be better?
Make an appointment to blow your own ornament and discover why Hands-On Glass is such a hidden gem. Phone: 607-962-3044.