What better way to see the Southern Finger Lakes than to go on a Points of Inspiration Geocache Adventure and view some amazing scenery and architecture that we take for granted. Launching this weekend, you and your family will be able to go out and discover all of the great places worth the visit that may get overlooked. It's like a treasure hunt where not only do you receive a glass token at the end for visiting the sites, but also discovering new and exciting places along the way. With over 30 sites on the trail, there is a wide variety of places to visit to earn your special token. It's easy just grab your passport and you're on your way!
Scenic beauty is not lacking here in Corning and the Southern Finger Lakes. It's everywhere around you look. From the gorgeous state parks, to unique buildings and art, to hillsides and a glistening lake, you just can't seem to escape it. Beautiful waterfalls sit among deep woodlands and a deep gorge with rugged cliffs at Stony Brook State Park. Mossy Bank Park and Nature Center's family-friendly stop is a great place to picnic, play, hike, and get your next passport code! Check out the scenic panoramic overlook of Bath and the Cohocton River.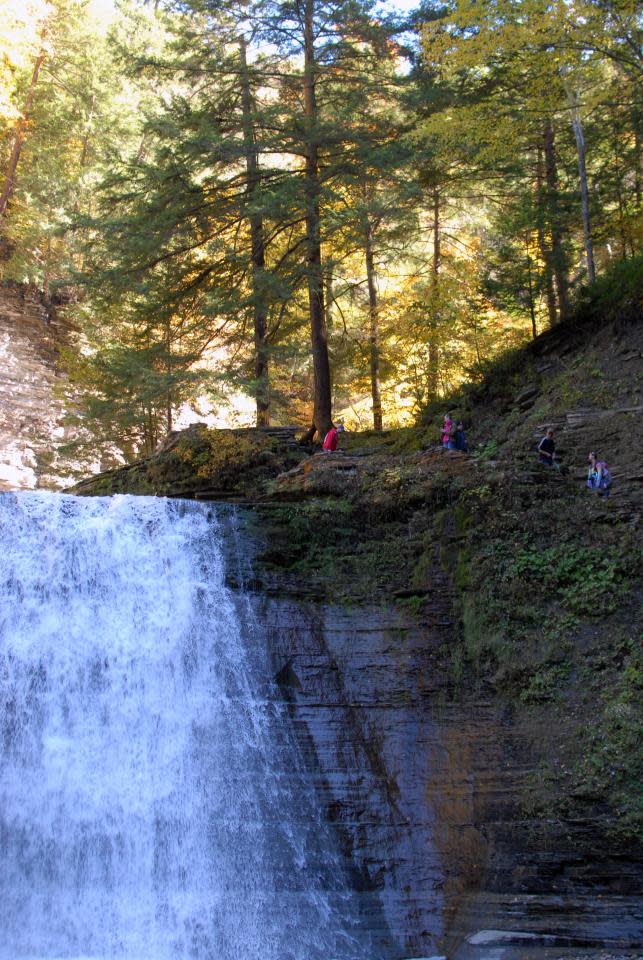 Stony Brook State Park
One of the most unique stops on the trail is the Canisteo Living Sign. The sign spells out "CANISTEO" in 217 trees. Originally created in the early 1930's this historic site has been a favorite for many years. Due to time and weather the sign had started to show its age and was starting to lose is shape, so just a few months ago the sign was replanted and now stands tall and proud as it did in the beginning.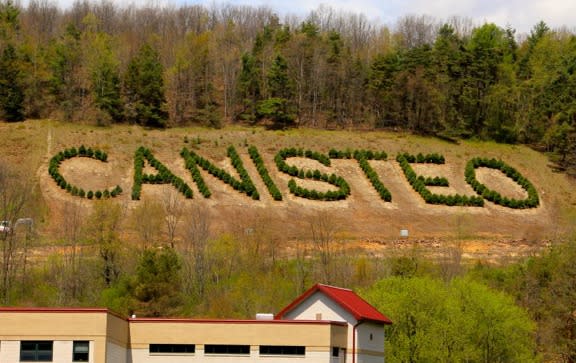 Canisteo Living Sign courtesy of John Babbitt
Architecture is so versatile that is can inspire in many ways. It can be new and modern like the Corning Museum of Glass or old and tell stories like Pleasant Valley Wine Company. Blending the old and the new makes for a well-rounded experience on your geocache adventure. Historic buildings can be found almost everywhere you turn in the Southern Finger Lakes. The Finger Lakes Boating Museum has a story of its own, but it lives within a story being that it is housed in an old Taylor Wine building. Heritage Village of the Southern Finger Lakes gives visitors the feel of life in the 1800's. The museum is one more of the buildings themselves boasting a 1796 Benjamin Patterson Inn, an 1878 one-room schoolhouse, an 1850's log cabin, and more.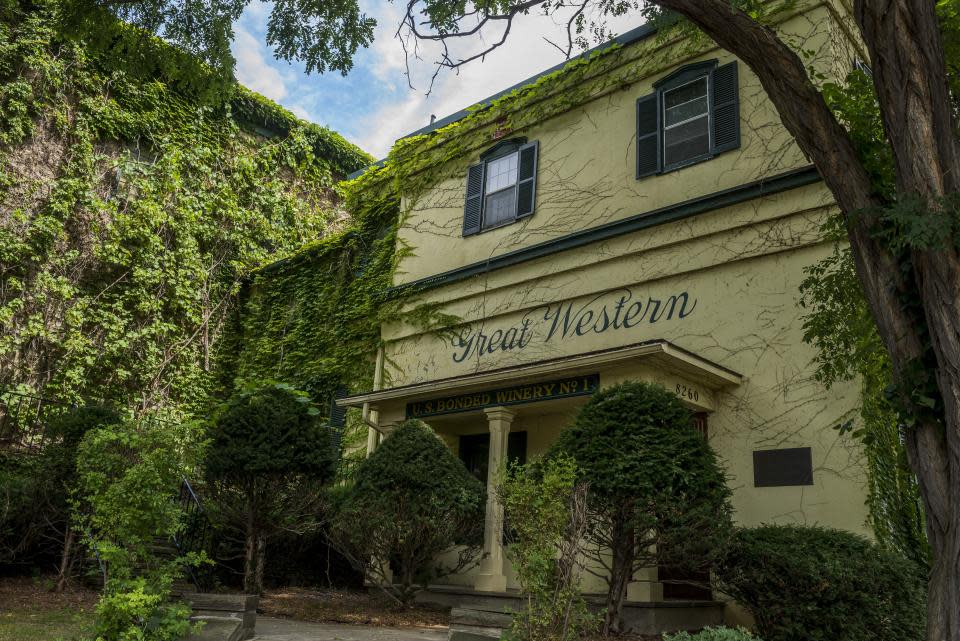 Pleasant Valley Wine Company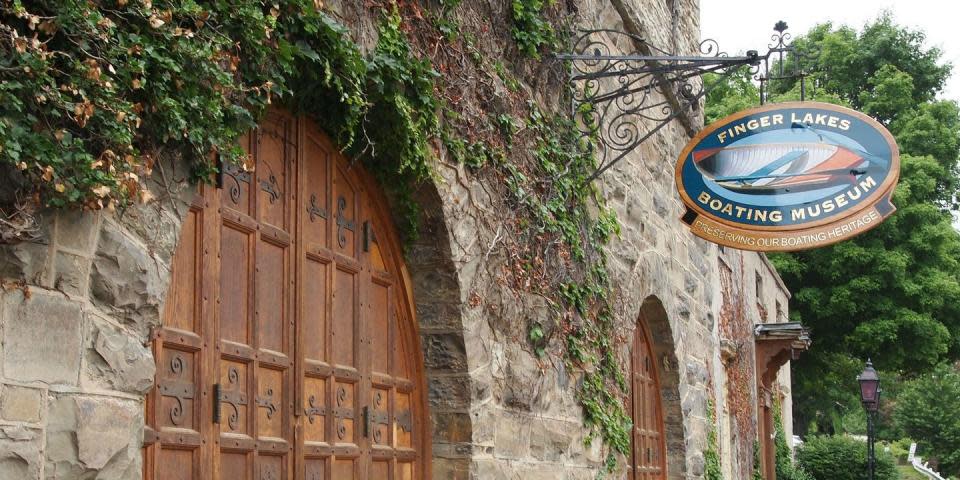 Finger Lakes Boating Museum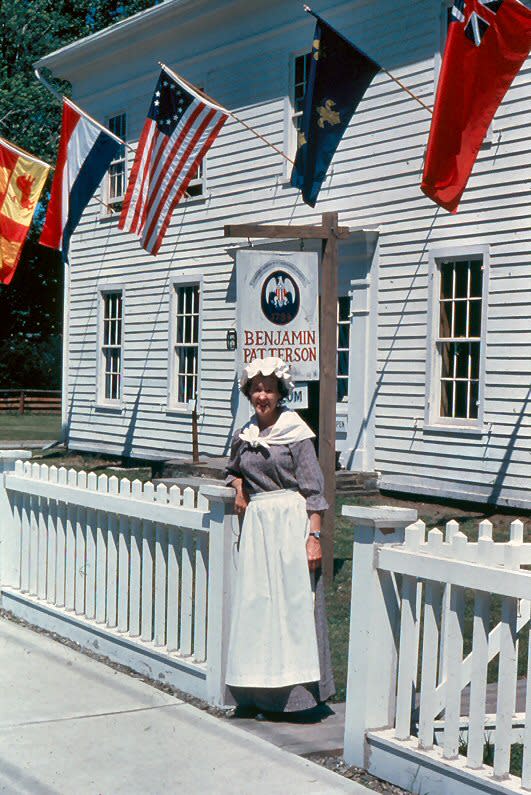 Benjamin Patterson Inn at Heritage Village of the Southern Finger Lakes
The Gaffer District may not seem like a first thought when it comes to architecture. You think art, shopping, and dining, all which play an integral part in the appeal of the Gaffer District. But have you ever looked up and around at the buildings themselves? There is history and beauty in all of them. Sit in the square by the clock tower and just soak up the beauty and small-town charm.
Clock Tower in Centerway Square courtesy of The Gaffer District
There is beauty everywhere you look in Corning and the Southern Finger Lakes, whether it be in the form of scenery or the buildings and architecture that surround us. Take some time to notice and enjoy what is around you and the perfect way to do that is to geocache. Grab your passport online and set out on an adventure that will have you looking high and low in some pretty incredible places and experiencing the Finger Lakes in a new way. Happy Hunting!