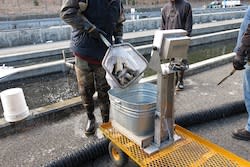 Bath Fish Hatchery
Today I did something I never imagined myself doing - that's for sure. A co-worker and I got up bright and early to catch up with the Bath Fish Hatchery and tag along on a fish stocking adventure! If you had asked me two days ago, I would have thought "stocking" meant refilling the shelves with groceries at Wegmans. I wasn't really sure how to describe it to my husband when he asked me what I'd be doing today. I told him it was the "opposite of fishing!" But let me tell you, what an eye-opening day I had!
I never realized how much went into fishing. I always saw it from a leisure perspective. Go to the lake, cast in your line, wait a while, pull up a little fishie, and have someone else take it off the hook! But what I witnessed today was a whole community of people who appreciate fishing so much they begin to see it as an art form.
It's very evident that the folks at the Bath Fish Hatchery love their jobs. Ken Osika has been working there for more than 20 years, and even as he stood by the fish tanks early this morning in 30-degree weather, he talked about his work with such passion.
"I love this job - I really do. It's something new every day. It's interesting, and you get a lot of positive feedback," said Osika. "I just enjoy raising (the fish). It's kind of fun to watch them go from a helpless little egg to a stockable-size fish."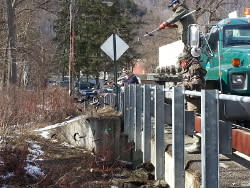 Bath Fish Hatchery
We looked on as the fish were sucked up through a chute where the water flowed down one tube and the fish veered off into another, splashing into containers of water onboard a truck. It was very entertaining to watch, let me assure you! (Enjoy the video below!) Today, the Bath Fish Hatchery was stocking parts of Cohocton River, putting 440 fish in one section (but in six different spots), and another 1460 in another section of the river. Now believe me, they don't have the time or the patience to sit there any count every single fish, so they use a formula. They figure out how much these one-year-old brown trout weigh - which turned out to be about 4 fish to the pound. They know that 80 pounds of fish displaces one inch of water as they fall into the container, so they are able to keep track of how many fish they have by knowing how much water has been displaced. Confused? Yea, I was at first, too.
I guess the "how" isn't quite as important for you to know as the "why." The lakes and rivers need to be restocked each season, as the natural reproduction rate isn't enough to sustain the population. The Bath Fish Hatchery will raise brown, lake, and rainbow trout from egg state to one-year, and then begin the releasing process each spring.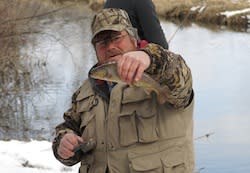 Bath Fish Hatchery
Fishing in New York State officially begins April 1, but several rivers allow fishing year-round in Steuben County, and thus avid fisherman were already making appearances along the banks - and today was certainly their lucky day! After the folks from the fish hatchery, along with volunteers from local Trout Unlimited chapters, released the fish into the various parts of the river, it certainly turned a lazy fishing day into an eventful experience. There's nothing that puts a smile on an outdoor enthusiast's face quite like reeling in a trout!
But the part of the day that really amazed me was our larger stocking trip further down the river. They had planned to use a process called "float stocking" which would involve rafting to spread out the fish, but there was too much debris in the water. However, there must have been at least 30 volunteers who showed up to help take buckets of fish down to the river. We met up with a family that was very familiar with the stocking process.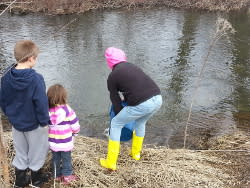 Bath Fish Hatchery
"We've been doing this for years," said Dominic Lisi, of Corning. "This is a good event." Lisi has five children in total, and has brought them all at one time or another. The three who came with him today thoroughly enjoyed helping release buckets of fish into the wild.
With the first day of fishing season rapidly approaching, and the rivers freshly stocked, now's the perfect time to plan your fishing adventure! Book within the next month, and you may be able to participate in more stocking throughout the region as well. Give Ken Osika a call at 607-776-7087 to find out where they'll be on specific dates.
When asked what he thought separated the fishing in Steuben County from others surrounding it, Osika said, "It's very wild. There's a lot of undeveloped area. You can actually go somewhere and get away from people if you want to. It's just pristine."
After spending the day watching the fish enter their natural habitat, I have certainly gained a deep appreciation for the Bath Fish Hatchery and what they do. If you want to take advantage of the freshly-stocked lakes and rivers, why not give one of our fishing guides a call to make the most of your trip? Read my Q&A with Mark Moskal of Summit to Stream for a little inspiration, or check out our fly fishing adventure with Conhocton River Fly Shop. Of course, you can always browse our website for more information on our local guides and how to plan your trip.
Happy fishing season! Here's a few videos to get you excited!