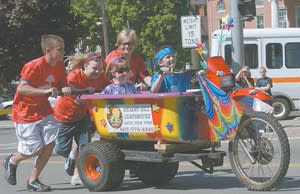 BathTubRaces
Looking for something fun to do next weekend? Why not check out the Bath Community Days Expo in Pulteney Park? Enjoy good food, great vendors, live music and more from 8 a.m. - 5 p.m., Saturday, May 19, and from 8 a.m. - 4 p.m., Sunday, May 20.
For many, the highlight of the event will begin at 9:30 a.m. Saturday when a parade kicks off, followed by the Bath Tub Races at 10 a.m. These races have been part of the tradition since the '90s. Once held during the village's "Christmas in July" event (now Community Days), the races feature decorated bath tubs with two riders, and three people steering, all of whom must complete creative obstacles on the way to the finish line.
Obstacle One: One pusher must locate the large "X" on the street, pick up the hula hoop and hold it aloft. One of the riders must throw a bar of soap (wet) through the hoop and the soap must be caught by another pusher, positioned behind the hula hoop. Once the stunt is completed, leave the hula hoop behind and continue to the next obstacle.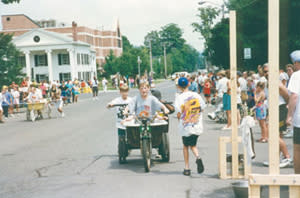 BathTubRaces
Obstacle Two: One rider jumps out of tub and picks up rubber ducks in a pond until the one with the "X" is found. Put duck back and proceed to next obstacle.
Obstacle Three: A seated rider must toss a roll of toilet paper through the toilet seat, making a ringer of a basket. A pusher must retrieve the toilet paper before proceeding to next obstacle.
Obstacle Four: One seated rider will attempt to throw a toilet seat from the tub and make a ringer on the toilet plunger. A pusher must retrieve the toilet seat from the plunger before moving on.
"It's a unique event," said Rhonda Sweet, President of the Central Steuben Chamber of Commerce. "People like to come and cheer on their favorite tub."
Businesses often get creative with their tubs. Sweet works for Five Star Bank, and said their tub has been turned into a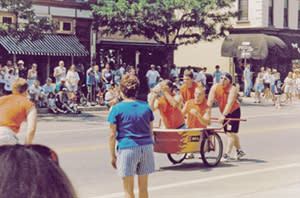 BathTubRaces
bank vault with "money" dangling over the brim of the tub, and the riders dressed up like bank robbers. She remembers one year Betty-Kay Bake Shop in Bath designed their tub with a wedding theme in mind and dressed up like a wedding party.
There is a full line-up of musical entertainment on Sunday. From 12:30-5:30 p.m., there will be seven different performers, including Brad Ordway, Buck Settlement Singers, and even a puppet show presented by Michael Delio. Also enjoy the Classic Car Show: Ride In from 10-3 p.m. Sunday.
For more information about the Bath Community Days Expo, contact Kristen Stewart at the Central Steuben Chamber of Commerce. She can be reached by e-mail or phone: 607.776.7122.