When I told my mom I'd be fly fishing this week, her immediate response was, "Really? Who's bringing the flies?!" Having a passionate disdain for anything with wings and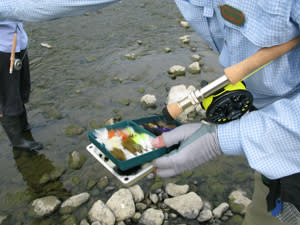 Fly fishing Chemung River
more than four legs, I got a bit nervous. To my great relief, I learned that our trusty guide, Greg Heffner, makes his own "flies," or lures - and they are a thing of beauty.
Although he said mine resembled a leech when it got wet, I was delighted that it was made of feathers. My co-worker Erin's fly looked wonderfully girlish, in different shades of pink and black. Once we all had flies that somewhat color-coordinated with our river-going outfits, we cast off for our afternoon of fishing fun!
Greg opened Conhocton River Fly Shop in 1991 as a custom fly tying business. In 2004, he got licensed and became a guide. He averages about two fly fishing trips per week in the spring months.
Fly fishing refers to an angling method which uses an artificial "fly" to catch fish. Using a fly rod, reel, and specially-weighted line, the fly is cast into the water. Casting this nearly-weightless fly requires a bit of technique beyond what is needed for casting with a standard fishing pole.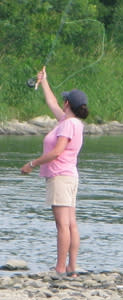 Fly fishing Chemung River
Before the flies are attached to the fly lines, it's a good idea to practice casting a few (hundred) times. You can't be afraid to use your whole arm, not just your wrist. Bring the pole back, but not too far - the 10 o'clock position is just about right. Then cast it forward, but let the line do the work - the pole shouldn't go below the 2 o'clock position. Is it obvious I was corrected on more than one occasion?
After the umpteenth time of casting my pole with my rigid arm to roughly the 5 o'clock position and connecting with the water, I finally loosened up a bit and let it fly. Of course, the process began all over again when there was a hook involved, but eventually I got the hang of it.
Fly fishing turned out to be quite zen-like. Just keep repeating to yourself, "Cast, let out some more line, repeat. Let it float down the river. Pull the line in. Start all over again."
"I think the biggest misunderstanding about fly fishing is that many people think it's so difficult," said Greg. "In fact, like many hobbies, it's really just as complicated as you want to make it. Once you learn basic fly casting, you're ready to start."
The Conhocton River is filled with smallmouth bass, brown and brook trout, pan fish and carp. The Chemung River, which flows from the Conhocton, contains pickerel, walleye, rainbow trout and carp. Although no one caught anything (except Greg, who cast his line into the water to show me the technique and pulled out a fish), we all spent a peaceful afternoon casting the day away. And you can, too!
Steuben County is filled with rivers, ponds and lakes perfect for a relaxing sport such as fly fishing. With a bit of practice, technique and patience, fly fishing can be an invigorating way to enjoy Corning & the Finger Lakes.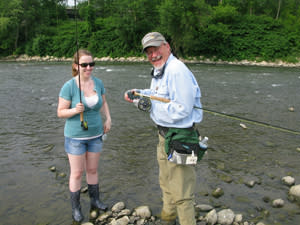 Fly fishing Chemung River
Many thanks to Greg Heffner for his time, effort and patience in making this such an enjoyable experience. To go on a fly fishing adventure of your own, contact Greg by phone at 607-776-4968, or by e-mail at gregflies@verizon.net.
To see more photos of our fly fishing fun, check out our Facebook page!