Everyone knows the Finger Lakes is a perfect vacation spot during the summer months. Just check out a recent blog for a few of the best ways to soak up a Finger Lakes summer! The lakeside allure, the fabulous wines, the up-and-coming beer scene—they're all great draws to the region in the warmest of months. But did you know that the Finger Lakes is quite the shopping mecca? Especially when it comes to antiques—it's a treasure hunter's paradise!
The Hammondsport Area Antique Shop Hop is the absolute perfect time to explore the many treasure troves that surround Keuka Lake. From 10 a.m. – 5 p.m. on June 14 and 15, visit six antique shops and browse everything from antique furniture and hand-woven rugs, to glass and jewelry—and everything in between!
These shops include Crooked Lake Antiques & More (8428 State Route 54); Opera House Antiques (61-63 Shethar St.); Hammondsport Mercantile (57 Shethar St.); Lime Berry, Art & Antiques (64 Shethar St.); Aroma Coffee Art Gallery (60 Shethar St.); and Wild Goose Chase Antiques (10266 County Route 76).

"The antique shop owners of the Hammondsport area truly love the synergy of all of the shops working together to help their clients find the perfect treasures for their home," said Melissa Carroll, owner of Lime Berry. "The idea of having the event focused around visiting each of the shops and seeing each shop's offerings and style is a fantastic way to connect all of the businesses together!"
Diane Albright with Wild Goose Chase Antiques echoes Melissa's sentiments:
"This event gives the antique shops a chance to work together to promote the area and gives the customers an opportunity to experience the diversity that the Hammondsport area has to offer in the way of antiques shops. In the process, customers get to experience the beautiful views of Keuka Lake as well as a wide variety of other businesses and restaurants."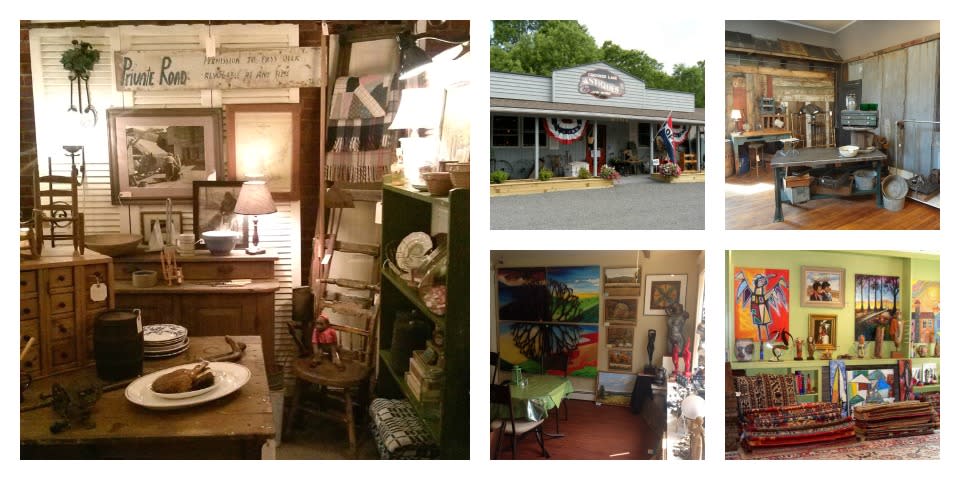 Make sure to check out the Antique Shop Hop to enhance your antique collection, or perhaps start a new one. You'll find pieces from around the world, but you'll also discover a lot of local history represented—from vintage Finger Lakes wine collections to lake and boating memorabilia.
Rediscover the past through antiquing around Keuka Lake! While you're here, make sure to check out our Tiffany & Treasures Trail where you'll discover the best of the fire arts of yesterday and today.