Thanksgiving: a time for family, friends, and food! No doubt you've already thought about how you'll be celebrating and who you'll be doing it with next Thursday. You're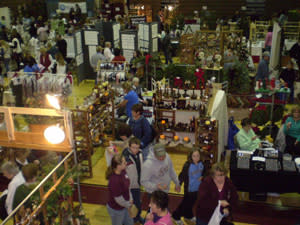 Holiday Family Festival
pondering what dish to bring to your aunt's house to contribute to the feast - or perhaps you've just been told! Me? I've been required to show up with some of my famous "cake balls" shaped like turkeys - or else!
Perhaps your mind has skipped right over Thanksgiving and it's completely focused on what comes after. It's easy to get distracted from the upcoming holiday when department stores are glowing brightly with the colors of Christmas. And all those ads! Black Friday deals are infiltrating our newspapers, e-mails, and Google searches! Temptations abound! I'm already laying out my plan of attack for that early-morning shopping spree. (I absolutely refuse to go out Thanksgiving night!)
But see? I'm getting ahead of myself. It's so very easy to do.
Thanksgiving isn't even for another week. Stop worrying about the logistics of Turkey Day and do something fun this weekend. Why not come to the Holiday Family Festival: A Tradition of Arts & Crafts at Corning-Painted Post East High School? Aside from shopping for everything under the sun, you might even be able to pick up a few tasty treats for your Thanksgiving dessert table! (Yes, my family really has a whole table dedicated to desserts!) From 10 a.m. - 5 p.m. this Saturday, come and see the work of many talented vendors and get a little (or a lot!) of your holiday shopping done. In Corning &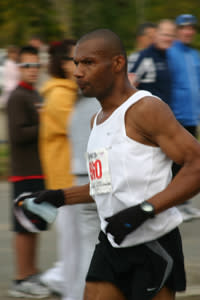 Wineglass
the Finger Lakes, there's no excuse not to have a unique gift for everyone on your list. From handmade jewelry to alpaca fiber products, you'll be amazed by what you can find! I'll be there getting a few people crossed off my list.
Whether you're looking to buy gourmet chocolates or pet some friends from the Ross Park Zoo, you'll be able to do it all this weekend at the Holiday Family Festival. There will be plenty of crafts and activities for kids, too!
But what about Thanksgiving Day? Are you starting to feel guilty about all the calories you know you'll consume? Hey, why not run a race that morning? The 18th annual Pie and Glove 5K Race, sponsored by the Wineglass Running Club (Wineglass Marathon), will begin at 9:30 a.m. in Corning's Denison Park. Registration begins at 8:30 a.m. and is $15. Register early and run for $10. Pies will be awarded to the first three places (or more) in each category, and all entrants will receive running gloves.
Perhaps you've decided that the hassle of making a meal is simply more than you want to deal with this year. There are plenty of places to go to get your Thanksgiving dinner with all the trimmings here in Corning & the Finger Lakes. The Stockyard Grill and the Heritage Restaurant & Meeting Place, both in Painted Post, will be serving turkey and ham dinners from 1-4 p.m. and 2-5 p.m. respectively. Grill 1-2-5 at Radisson Hotel Corning will be serving turkey, prime rib, and ham from 1-5 p.m. Why not make a weekend of it and stay right at the Radisson and "Discover the Gaffer District." You'll be within walking distance to shops on Market Street, the Ro
ChristmasCMOG
ckwell Museum of Western Art, and isn't far from The Corning Museum of Glass.
Holmes Plate on Market Street in Corning will be having its fourth annual Feed the Need Thanksgiving Day dinner. They are now accepting reservations and donations by phone at 607.377.5500. Christ Episcopal Church in Corning is also doing a free community Thanksgiving meal at 11:30 a.m. Reservations are required and may be made by phone at 607.937.5449.
After having a hearty meal, you'll be all ready to go out and shop during the weekend. Remember, here in Corning & the Finger Lakes we have something that's not easy to come by - we've got wonderful local businesses with unique and often custom items, just waiting to be given as special holiday gifts. Remember the GlassMarket at The Corning Museum of Glass opens early Friday morning, giving you plenty of time to find a glimmering gift for someone special. Take advantage of Small Business Saturday and discover hidden treasures that will delight all who find them beneath the tree this year.
Make this Thanksgiving weekend one to remember. Come to Corning & the Finger Lakes where you'll find good food, great wine (Dr. Frank's is offering a gift-wrapped bottle of Dr. Frank 2012 Gewurztraminer and Dr. Frank 2008 Pinot Noir for $29.99!), and fantastic shopping. Start your stress-free holiday season here. With the relaxed atmosphere, great deals, and exceptional opportunities, you'll find plenty to be thankful for!