Explore. Experience. Savor. Inspire.
Today's blog is going to be a bit more personal than the ones I typically write. After three years, it's time for me to leave the Steuben County CVB. I've learned so much here, and have fallen head over heels in love with the Finger Lakes. I always knew it was a special place, having grown up in Painted Post, just a few minutes from Corning—but I, like so many naïve young folks, never appreciated what was right in my backyard. I recall saying to my parents on more than one occasion, "There's nothing to do here!" I quickly realized how wrong I was when I started working in tourism for Corning & the Southern Finger Lakes. I now believe with my whole heart that the Finger Lakes is one of the greatest undiscovered gems left in the world today. And here's why:
Diversity of Experiences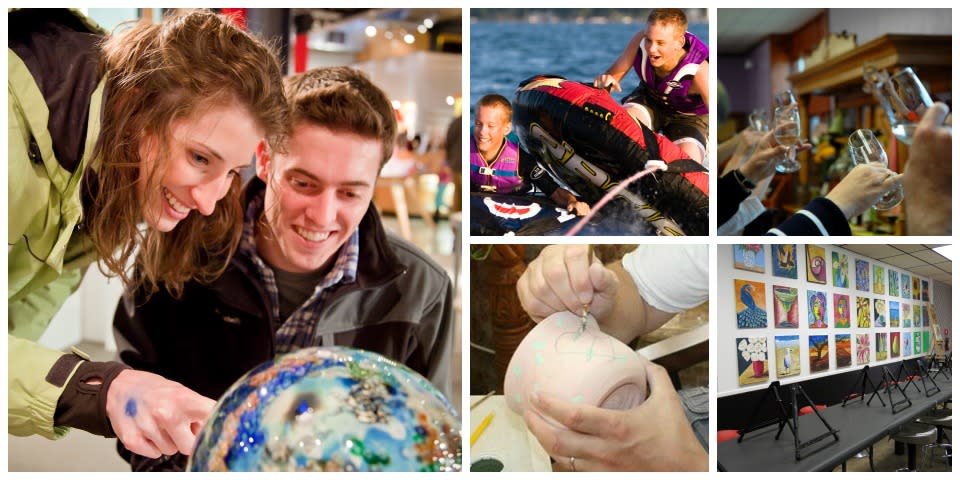 I've traveled pretty extensively, and have yet to come across a region that is more beautiful, down-to-earth, and diverse when it comes to experiences. It's one of the things I love about helping people discover the Finger Lakes for the first time. They may have heard it's a great wine region, but they have no idea it's a world-class center for arts and culture, and has fantastic outdoor activities. The Finger Lakes is probably the most well-rounded region I've ever been lucky enough to explore. You can visit a world-class museum in the morning, have lunch by the lake, rent a kayak or go for a hike in the afternoon, following it up with wine and beer tasting, and then try a painting or pottery class in the evening. Really, what other place can you do so many different things in the very same day?
Glass, Buffalo and Airplanes: A Classic Combination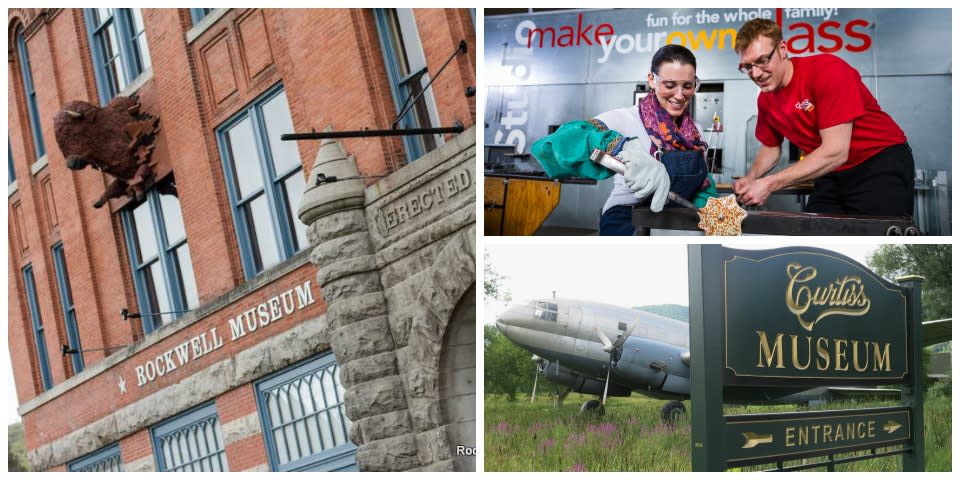 Speaking of the varied experiences, let's touch on some of the attractions we have here, shall we? I have always had a very special place in my heart for glass, having been a tour guide at The Corning Museum of Glass during high school and college (and it's coincidentally where I'm now returning). As the world's largest glass museum, it allows visitors to not only explore the 3500 years of glassmaking history, but to see glass being made at the Hot Glass Show, and then make glass themselves! It is a fantastic museum, and an essential stop on any Finger Lakes itinerary.
But there are other truly exceptional museums in the area, as well. Take the Rockwell Museum, which houses the largest collection of Western Art east of the Mississippi. Who would think you could experience the Wild West in Upstate NY? Look for Artemus the Buffalo on the Rockwell's façade. I love how his name embodies the Rockwell's—and perhaps Corning's—philosophy: "Art is a must."
The Glenn H. Curtiss Museum is another treasure, telling the story of Hammondsport's favorite son. He had his hand in everything with an engine, from motorcycles, to RVs, to airplanes. He manned the first pre-announced public flight in history, flying above Keuka Lake in 1908. The museum has an astounding collection of motorcycles, planes, boats, and more local history artifacts.
More than a Wine Region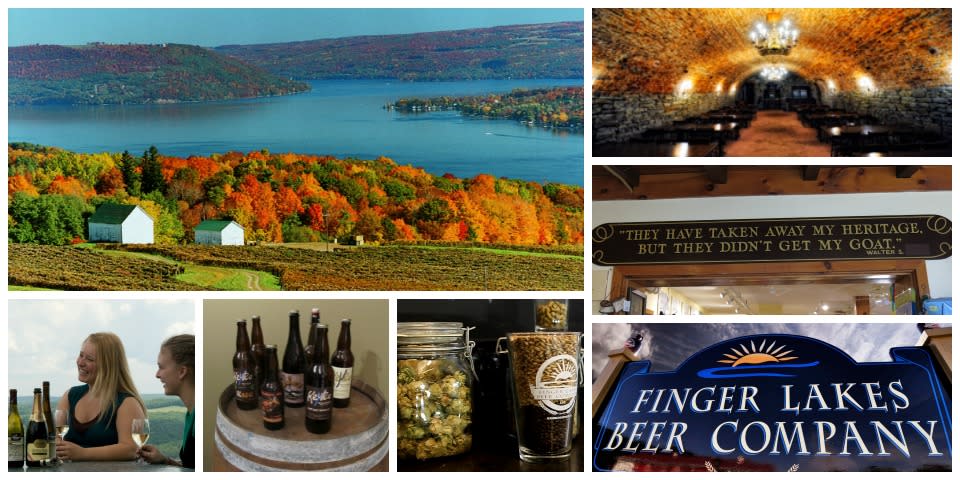 I knew very little about wine before coming to work at the Steuben County CVB, but I have earned an education I will appreciate for a lifetime. I could ask for no greater classroom than Finger Lakes Wine Country, where you can sip and savor the flavors from more than 130 wineries. The Finger Lakes was voted the "World's Most Beautiful Wine Region" by readers of Budget Travel (2010), and it was listed in Sherman's Travel's Top Ten Value Destinations (2011), making it the world's most affordable wine region, as well. Keuka Lake is home to some incredible wineries—and it's really the beginning of the story when it comes to Finger Lakes wine history. Visitors can explore the wine caves at Pleasant Valley Wine Company (U.S. Bonded Winery No. 1), and see why past presidents have served the champagne made there. You can taste the history at Dr. Frank Vinifera Wine Cellars, where founder Konstantin Frank first introduced vinifera grapes into the Finger Lakes' cold climate. You can even hear the story of Walter S. Taylor and his epic battle to keep his name—visit fun-filled Bully Hill Vineyards, where they have a distinct wine pairing: "Wine with Laughter."
Many people know about the award-winning Finger Lakes wines, but they may not realize the plethora of breweries that can be found here. There are more than 50 micro-breweries that have popped up in recent years, adding to the flavors coming out of the region. And the breweries are starting to make a name for themselves—just look at Keuka Brewing Company, which recently won the F. X. Matt Memorial Cup at the TAP New York Craft Beer and Food Festival, declaring it the Best Craft Brewery in New York State! (I, personally, am not a beer fan, but certainly appreciate the fine flavors I've sampled at the many breweries I've visited—and I can vouch for the awesome root beer than many of them make!)
Small Towns with Big Hearts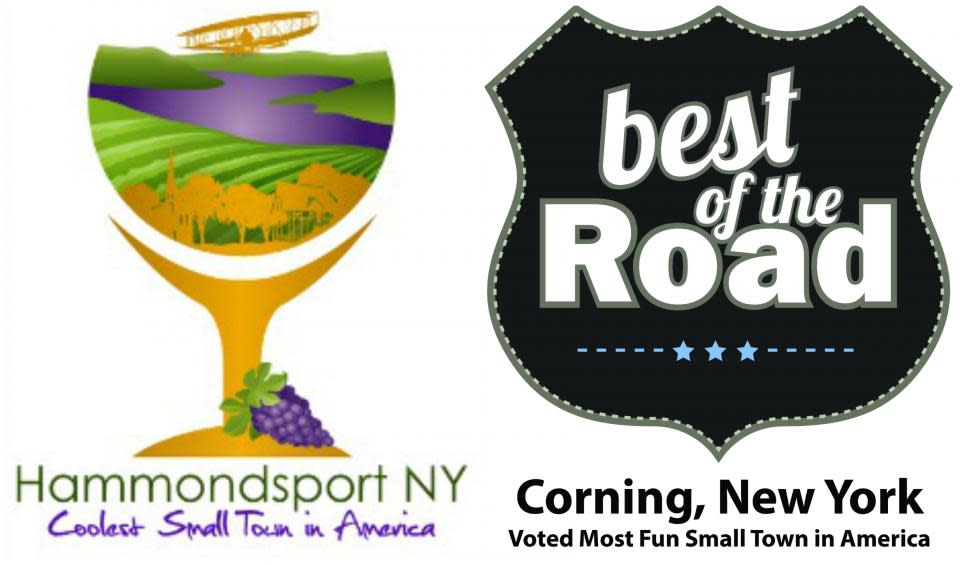 Idyllic Hammondsport, located at the head of Keuka Lake has often been described as something out of a Norman Rockwell painting. Before I started working at the CVB, I'd never been there. It didn't take long for me to realize there was something special about this little town built around "wine, wings, and water." When it was nominated for the "America's Coolest Small Town" contest through Budget Travel in 2012, it just made sense—Hammondsport's cool factor would finally be discovered. Although it was a hard contest to win, the title fit Hammondsport like a glove. The following year, Corning also received a big accolade when it was named the "Most Fun Small Town in America" in the Rand McNally Best of the Road contest. Have you watched the video yet? I loved being part of these contests. Watching everyone rally together to support these towns was truly inspiring. And I feel so privileged to call the Coolest and Most Fun Small Towns in America home.
I could go on for days about all the reasons I love the Finger Lakes, but this post is already far too long! I hope I've helped you discover a few reasons why your sights should be set on Corning & the Southern Finger Lakes as your next vacation destination! It truly is a remarkable place—trust me! Request a travel guide to help you plan your trip, and remember to check back for new blog posts about great events and more reasons to visit the Finger Lakes.
Thanks for reading along. Cheers!