Guest Blogger: Erin Rafalowski - Marketing Manager ar Heron Hill
It still surprises visitors and locals to learn that wineries see the largest crowds of the year on October weekends. With that said, it's a lively time to visit with much of the vinifera grape harvest peaking during the month of October. It's a wonderful time of year to plan an overnight getaway to the charming southern end of Keuka Lake. When you're on the lake or cruising the hillsides with your windows down in late September and October, sometimes you can pick up the scent of grapes in the air.
For those looking for something beyond a traditional wine tasting, Hammondsport area wineries offer a few fun and educational experiences through the harvest season.
Dr. Frank Wine Cellars' new 1886 Tasting has been a big hit -- visitors spend time in the vineyards/cellar/or winemaking area and then sit-down for a wine & food pairing flight in a renovated historic stone building. The talented chefs from Snug Harbor prepare the food. September's theme is Unique Varieties and in October the theme will focus on Red Wines. You should allow an hour and half for the visit. Reservations are recommended a week in advance because certain time slot will fill-up fast. For details, pricing, and reservations:
Dr. Franks Wines
Along with a standard wine tastings, Ravines Wine Cellars offers tastings that match Ravines wines with samples of Hedonist Artisan chocolates or a curated selection of some of the best local cheeses. Under the name Ravinous Kitchen, located below the tasting room, a casual cafe setting has delicious locally-focussed small plates created by French-trained chef Scott Riesenberger -- autumn vegetable tart, charred summer albino eggplant spread, and pressed pork belly sandwich. Sometimes it's most enjoyable to just skip the tasting and sit-down a savor a well executed food and wine pairing. The Ravinous Kitchen at Ravines Wine Cellars on the east side of Keuka Lake is typically open Saturday & Sunday, 12 to 4pm, but call to confirm seasonal hours.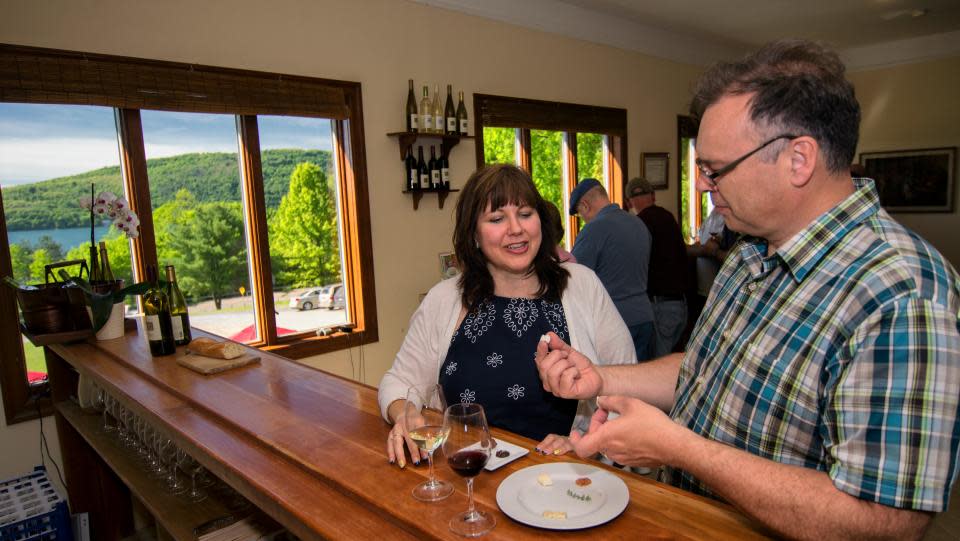 Ravines Wine Cellars tasting courtesy of Stu Gallagher
For those that enjoy the intimate boutique winery setting, check out Keuka Lake Vineyards on the west side of the lake. Weather permitting in the fall, they conduct tastings inside and on the patio outside of their rustic white barn. If you're interested in something hand-on, contact them to inquire about their annual Riesling Harvest Day and dinner. It happens when the grapes are ready, this year they anticipate October 1 or as early at September 24. Contact Keuka Lake Vineyards and let them know that you would like to participate in the Riesling Harvest Day and they will fill you on details: 607-868-4100.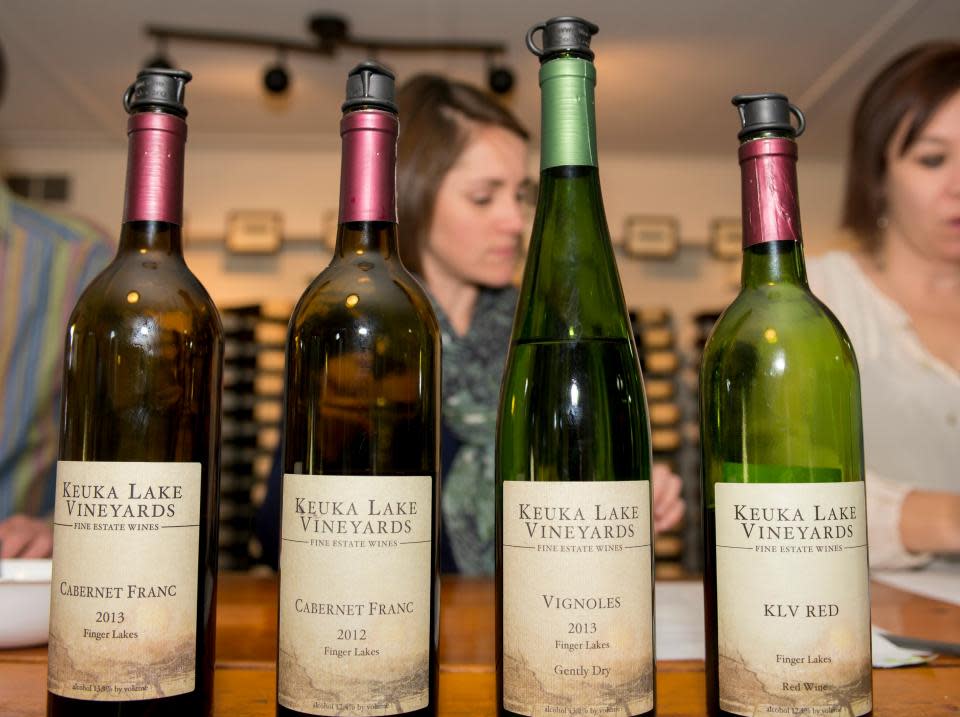 Keuka Lake Vineyards courtesy of Stu Gallagher
Heron Hill Winery continues its popular Tower Tasting Experience on Mondays at noon or 2pm. This is an intimate wine tasting option, perfect for those enjoying a long weekend. Relax and see the elevated views from the perspective of Heron Hill's tour. The guided tasting with one of Heron Hill's seasoned staff members includes a flight of reserve and single vineyard wines. Reservations can be made easily online.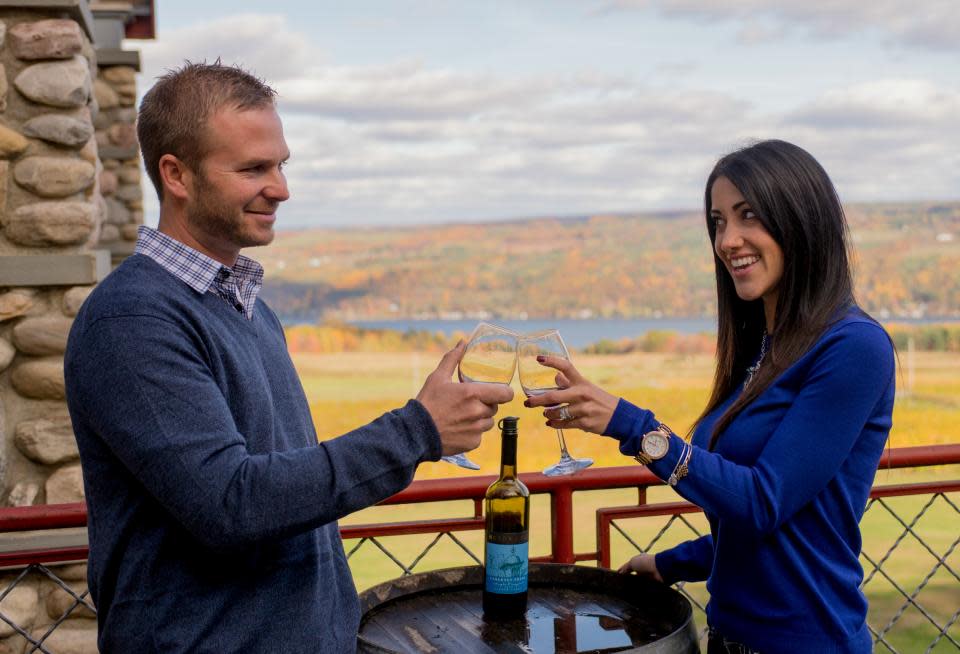 Heron Hill tasting courtesy of Stu Gallagher
Tips on wine touring in September and October:
Many restaurants & cafes close for lunch during the week after Labor Day, but still serve lunch on the weekends.
Most wineries require a reservation for groups of 8 people or more.
Saturday afternoon in October are the most popular time at wineries, so expect a short wait.
It's a good idea to bring non-alcoholic beverages and snacks to enjoy between stops, some wineries have picnic tables and there are parks in Hammondsport.
Guest Blogger: Erin Rafalowski - Marketing Manager ar Heron Hill