Guest blogger, Brett Smith, talks about his experience with maple syrup production.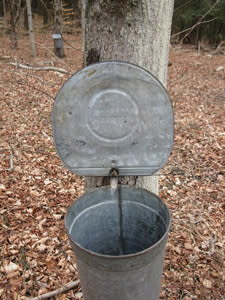 Maple Sugaring
There are not many in Steuben County, New York, that would consider February and March their favorite time of the year. Some, however, look forward to these months all year. For those that boil maple sap, this is the season to be anticipated!
In late winter, the nights are cold and the days are warm. When this change occurs, the dormant maple trees build pressure and sap starts to move, and depending on the season, can flow with great abandon.
As a child growing up in Steuben County, maple syrup season was something to look forward to all year. We would pull the buckets and spiles (a small wooden peg or spigot for stopping a cask) from the garage and start cleaning them while my dad would map out what trees to tap. Tapping the tree was the next step. This involved drilling a minor hole in the tree and inserting the spile. We since have upgraded, but originally began using Sumac tree spiles. The inside of a Sumac branch is very soft and can easily be hollowed out to allow for sap to flow through. After it was all said and done, the buckets would be hung, and we would hopefully hear the music of sap tinging on the bottom of the metal buckets. Over the next week, the buckets would need to be emptied as they filled with sap.
When we gathered enough sap we would start to boil. Some people say we are primitive, but it works. We always boiled over a wood fire and in the elements. It was part of the fun, and from time to time involved snowball fights and snowmen. Some boils went quicker than others, but typically took the better part of the day. After filtering the almost-finished maple syrup, we brought it to the stove for a final boil and waited for the beautiful amber color and perfect consistency. We would filter it one more time and fill as many quart and pint jars as needed. We didn't do this without taste testing it once or twice!
The experience alone was worth the work, but having your own batch of maple syrup is something special and tasty!
Want to experience it for yourself? Neil Yoder, who coordinates Maple Family Weekend at Watson Homestead in Painted Post, explains how you can get involved from March 16-18!
We started our Maple Family Weekend 10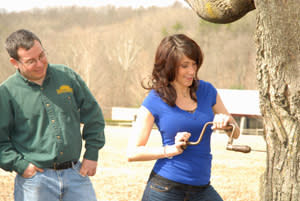 Maple Sugaring
years ago after being given maple syrup buckets and spiels from a camp that no longer had use for them. With the help and knowledge of a few local men, a small evaporator was set up and more buckets added to the count. At this point we have approximately 200 trees we tap, using buckets and a small set of tubing.
We started the event and continue it today for many reasons, including the fact that it provides many visitors that are here an opportunity to connect with our environment in a very authentic and hands on manner. For some of our visitors, it is the first time they have ever experienced this and they are amazed not only by the process, but also at the work and time involved in making pure maple syrup. It allows us to interact with our guests in a very meaningful way and hopefully provide a great memory.
We will begin tapping our trees here Saturday with the help of students from the Alternative School for Math and Science in Corning. In one morning, with their help, we will tap 200 trees and split and stack all the firewood needed for the season. From that point, myself and volunteers will begin boiling sap each day when it runs, and then on March 16-18 our Maple Family Weekend takes place.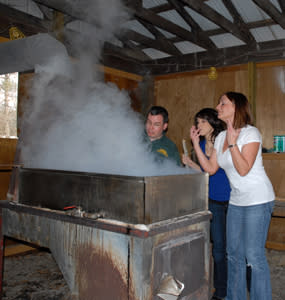 Maple Sugaring
The 16th is really dedicated to families having an opportunity to stay the weekend for the sole purpose of spending time together making family memories as they learn about maple sugaring. We usually have 30 or so stay for the weekend. We divide up the time between learning about how maple syrup is made and then having folks help in the entire process from tapping, gathering buckets, and boiling. We even try our hand at making maple sugar candy.
Besides taking part in the maple festivities, folks get a chance to enjoy crafts, swimming and other activities during their stay. In addition to this weekend, and our normal guests, we have had local schools, home school groups, and others come in to experience maple sugaring.
Our main goal is to provide authentic and memorable experiences to folks that come and not to make money selling our syrup. We do sell what little we make in our gift shop throughout the year, but that is not our main objective.
I could write a book, and folks already have, on the technical side of maple sugaring, but as you have learned we are about the experience rather than the process. Maple sugaring can be quite complex and scientific, especially for those commercial producers. But here at Watson Homestead, it's always fun!
For more information, visit Watson Homestead's website, or call (607) 962-0541.