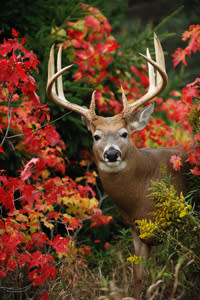 @CharlesAlsheimer.com
Let me start by saying I am not a hunter. I have never even held a bow or riffle, and my "shooting skills" come from destroying zombies in video games. All that being said, if I were a hunter, I know Steuben County would be the place I'd want to go. I can't tell you how many times I wave at "Bambi" (and his dad) way off in the distance while I'm driving. Steuben County has the #1 whitetail deer population in New York State. There are more whitetail deer harvested here each year than any other county in the state. It's a hunter's paradise.
If you ask Jeff Causer, who owns Wildlife Outdoor Enterprises, that statistic is true for two reasons. One reason is just plain geography. Steuben County is larger than the state of Rhode Island. There's ample space for whitetail deer. However, it's reason number two that really puts us ahead of the pack. The quality deer management practiced here ensures there are big bucks to be found.
"The agricultural base, food, and habitat in the Steuben County region is phenomenal for fostering whitetails," said Causer. He credits the abundant food sources, such as the oak acorn crop, for keeping the deer happy. "They love it," he said.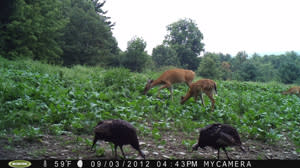 Wildlife Outdoor Enterprises
Hunters can contact Causer to lease private land for hunting. He offers exclusive land access to hunters who otherwise wouldn't be able to find something similar. It all started because he was a "hunter who saw a need." Years ago, he and nine friends decided to lease a property for hunting, but three of them backed out. Causer took out an ad in the Pennysaver looking for three more interested hunters to split the cost. He received 26 calls. "I thought, 'Wow... I could do this as a business!' There was a need and I created a supply." And the rest, as they say, is history.
A lot of the land owners Causer works with are very interested in managing their own property. They practice personal property habitat management, even putting out food plots. Causer thus calls Steuben County the "best habitat in the Northeast, in my opinion."
Causer also enjoys setting up cameras on some of his properties, catching wildlife in action. Here are some of his photos!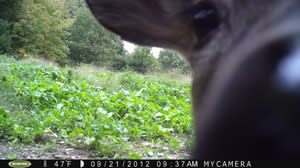 Wildlife Outdoor Enterprises
To contact Jeff Causer, visit http://www.wildlifeoutdoorenterprises.com/, or call 607-368-4868.
Enjoy these venison recipes from your friends in Corning & the Finger Lakes:
Venison Italian Sausage
5 lb. Venison
1 lb. Pork Butt
5 tsp. Salt
3.5 tsp. Ground Red Pepper
4 tsp. Paprika
6 tsp. Fennel Seed
1.5 tsp. Black Pepper
Mix well. Fry small sample to taste. Vary red and black pepper for hotter sausage.
Corned Venison
#3 Venison Roast
4 Cups Water
1 Cup Ten. Quick Salt
1 tbsp. Pickling Spice
1 Med. Onion (Chopped)
Sprinkle onion and spice on meat. Mix water and salt. Pour over meat, making sure it's covered. Soak 48 hours, turning once. Soak in fresh cold water overnight.
Venison Roast
2 Sliced Onions
2 Cloves Garlic, Minced
6 Whole Cloves
2 Bay Leaves
6 Med. Potatoes
6. Sm. Carrots
6 Cabbage Wedges (1 Head)
Place roast in Dutch oven, barely cover with hot water. Add onions, garlic and seasonings. Cover and simmer for one hour per pound of meat. Remove meat, add potatoes and carrots. Cover, bring to boil for 10 minutes. Add cabbage, cook 20 minutes. Serves 6.