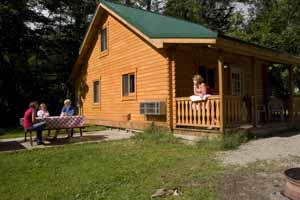 Hickory Hill Family Camping Resort
I remember how I used to dread it - seeing those "Back to School" sales and signs that always interrupted my lovely summer vacation. Just when summer got underway, my mom would drag me out to buy notebooks, pens, and new sneakers for gym class. It just never seemed fair. The entire month of August - my last few weeks of freedom - would be spent in preparation for an early-September morning when I'd return to the classroom.
Looking back on it, I suppose it's my own fault. I'd get so caught up in the thought of going back to school that I'd forget to enjoy the rest of the free time I had left. There is so much fun to still be had in Corning & the Finger Lakes during the late-August weeks. Whether it's spending time lakeside or wandering through one of our world-class museums, make sure you make the most of the summertime you have left this year.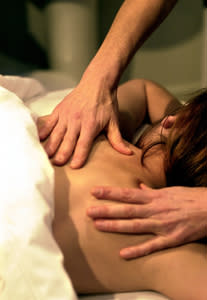 Spa
What better way to do that than to escape completely at Hickory Hill Family Camping Resort? They're making the back-to-school season fun this year with a three-night camping getaway. Book the Back-to-School Special for arrival dates of Sunday, August 26 - Tuesday, August 28, and pay for two nights of camping to receive a third for free. If you decide to stay a total of four nights, you'll earn a 40 percent discount off your total camping fee. The deal includes all campsites and rentals.
What a way to end your summer in Finger Lakes Wine Country. The kids will enjoy the brand new "Spray Ground" splash pad and many pools, as well as the hiking trails, a disc golf course, and laser tag. As for the parents, well, you can also take part in those activities - or treat yourself to a session at the on-site Finger Lakes Wellness Center and Health Spa.
Let's face it. You need a little "you time." Why not indulge in a grape seed herbal body wrap? How about a hot-stone massage, or better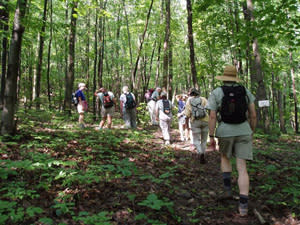 Hiking
yet, share the experience with the one you love and get a two-by-two massage. From facials to nail care, you'll leave the wellness center feeling pampered and ready to take on the new school year.
Make the most of these last few weeks of summer. Get away from it all with the people who mean the most. Visit nearby Corning Museum of Glass and make your own glass flower. Explore the Wild West at the Rockwell Museum of Western Art. Learn about early aviation at the Glenn H. Curtiss Museum in Hammondsport. If it's adventure you seek, rent a boat and ride the day away on the waves of Keuka Lake. And relax back at Hickory Hill for a night of stargazing for the kids and sharing a bottle of your favorite Finger Lakes wine for the parents. What a way to end a great summer vacation. C'mon! Adventure awaits you in Corning & the Finger Lakes!