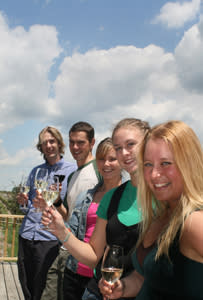 Dr. Frank Vinifera Wine Cellars
Among the many celebrations and anniversaries taking place throughout Corning & the Finger Lakes this summer, there is one that is of particular importance and historical significance. Dr. Frank Vinifera Wine Cellars is turning 50 this summer. As New York State's most award-winning winery since 1962, Dr. Frank's has earned itself quite the revered reputation. This 50th anniversary marks a special milestone for the winery, but more importantly, it signifies the impact its founder had on the Finger Lakes region as a whole.
"50 years is more than just an Anniversary to us. It's a milestone that symbolizes how far we've come as a winery and region," said Dr. Frank's Marketing Manager, Erin Flynn. "Dr. Konstantin Frank's teachings have enabled the Finger Lakes to become a world-renowned wine region. And while it's awe inspiring to see how far we've come in the past 50 years, it's even more exciting to envision the next 50 years for our winery and region."
It was Dr. Konstantin Frank who pioneered the introduction of the European vitis vinifera to the Finger Lakes, forever changing the course of winemaking in the Finger Lakes and Northeastern United States. Prior to this, the only grape varietals planted in the area were native vitis labrusca and French hubrids, explained a press release from the winery. Dr. Frank wondered why growers were not planting European grapes like Riesling and Chardonnay. He was told the winters in the Finger Lakes were far too cold for those varieties to survive, let alone prosper.
Having grown these varieties under much harsher conditions in the Ukraine, Dr. Frank knew he could also grow them in the Finger Lakes. The president of Gold Seal Winery, Charles Fournier, discovered Dr. Frank might be right, and hired him as a consultant. Together they grafted thousands of vinifera vines onto Canadian rootstock over a four-year period. And the rest, as they say, is history.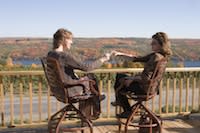 Dr. Frank Vinifera Wine Cellars View
Today, Dr. Frank's legacy lives on. Rated the "#1 Winery in the Northeast" by Wine Report five years in a row, Dr. Frank Vinifera Wine Cellars has become a legend in its own right.
On Sunday, July 1, the winery will officially celebrate its milestone anniversary. Senator Thomas O'Mara and Assemblyman Phillip Palmesano will be presenting a New York State Resolution honoring Dr. Frank Wine Cellars. There will also be a luncheon, a gourmet food and wine pairing, private tours of the cellars at Chateau Frank, exclusive viewings of the never-before-seen documentary of Dr. Konstantin Frank called, "American and His Wine," and much more. Tickets for the event sold out within the first week of sales.
"We invite you to celebrate our 50th Anniversary with us this year," said Flynn. "Although we are sold out for our 50th Anniversary Event on July 1st, you can celebrate with us by visiting our winery any time. Our knowledgeable staff love taking customers on a 'journey' complete with history and our finest wines. During your visit, you can raise a glass to Dr. Konstantin Frank as you overlook some of the oldest vinifera vineyards in the United States!"
For more information visit Dr. Frank Vinifera Wine Cellars.