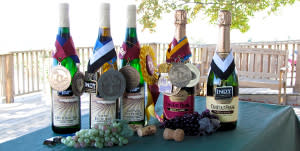 Dr. Frank Awards
While 2012 marked the very special 50th anniversary of Dr. Frank Vinifera Wine Cellars, 2013 has been a remarkable year for recognition and growth for New York State's most award-winning winery. So far this year, Dr. Frank's has won 111 gold medals for its superb wines, an impressive feat for any winery.
"Last year, we won 79 gold medals, which at the time was a record for us," said Erin Flynn, Marketing Manager for Dr. Frank's. "This year's gold medal total speaks volumes not only about the quality of our wines, but shows that New York State wines can compete as well as west coast wines in major international competitions."
If that wasn't enough excitement for one year, winery president Fred Frank's daughter Meaghan joined the winery team this fall, bringing the Frank family legacy into its fourth generation.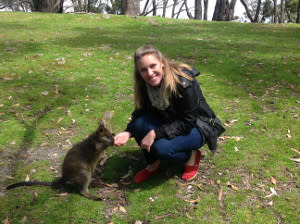 Meaghan Frank
Continuing a legacy that started with her great-grandfather Dr. Konstantin Frank in the early 1960s, Meaghan will be bringing her enthusiasm, passion, and expertise to the family business. Having recently received her MBA from the University of Adelaide in Australia, one of the top wine business programs in the world, Meaghan is excited to bring some new ideas to Dr. Frank's.
But Meaghan wasn't always sure she wanted to join the family business. Although she grew up visiting her grandparents at the winery and overhearing conversations between her parents at the dinner table, her father never pushed her or her siblings to be part of the winery. "... He let us each forage our own paths," Meaghan said.
Meaghan originally wanted to go into research, but all that changed when she took a few winemaking classes during her junior year at Cornell University. "To see how excited my family was at the thought of me entering into the business made me realize that I was so lucky to have this opportunity to continue what three generations before me had worked so hard to achieve."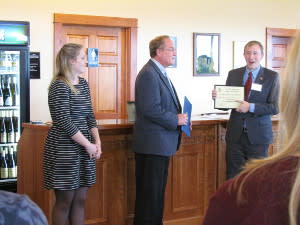 Dr. Frank Awards
Having recently returned from Australia, Meaghan is jumping into her work at the winery headfirst. She is working with many different departments in the company trying to get a feel for the business. "Most importantly, I am working alongside my father to understand his day-to-day duties and his techniques for managing the winery," she said. "I still have a lot to learn, but I am lucky to have my father teaching me the ropes. He is a great mentor and teacher.
"It's very special that I can share this with my father," she continued. "To know that I am continuing what generations before me dedicated their entire lives to gives me a sense of purpose and I feel very humbled."
Although it remains to be seen how Meaghan will add to the success of Dr. Frank's, her father is excited to have her on board.
"Each generation of the Frank family has contributed to the winery's growth and I am sure Meaghan will add her expertise to bring the winery further success," said Fred. 
Meaghan is hoping to enhance the overall tasting experience at Dr. Frank's, she said. "Focusing on giving the consumer an educational and special tasting experience will be important for us in the future with such a competitive industry."
Cheers to Meaghan, and cheers to this and many more successful years for Dr. Frank Vinifera Wine Cellars!