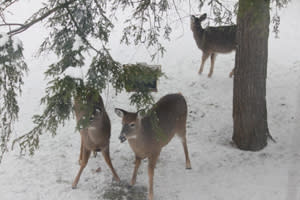 Deer in Winter
What is cross country skiing, exactly?  Also called Nordic skiing, cross country skiing is the sport of moving across snowy terrain on skiis that are attached to you at the toe of your boot, rather than the entire boot as in downhill skiing.  Of course, that's not the only difference between the two.  In downhill skiing the skier is limited to one direction - down.  And quickly, we might add.  But cross country skiing allows the skier to experience the full range of the existing terrain, whether it be uphill, downhill, or straight across the snowy fields.  The skier travels at his own pace, not bound by gravity.
It is a remarkable workout for the body, touted by many exercise physiologists and doctors as the best aerobic fitness exercise in the world.  The skier's arms, legs and core are fully engaged at all times while cross country skiing.  The use of poles adds an extra bit of oomph to the workout.  Studies have shown that an adult who is skiing at a moderate pace will burn more than 500 calories an hour.  Since many skiers spend an entire day exploring the woods and fields, that could add up to quite a calorie burnoff!
Think about this while you are gliding through Spencer Crest Nature Center: cross country skiing originated in Scandanavia narly 5,000 years ago.  Snow- and ice-bound peoples of that frozen wilderness had no other means of transportation.  Getting from one place to another meant attaching pieces of wood to the front of one's feet with strips of leather or fiber, and making the cold trek as quickly as possible.  But not in Corning and the Finger Lakes. Our cross country ski experiences are many and varied...and infinitely more entertaining.  You can glide through silent forests, startling the deer.  You can speed things up with a fast trek through the Pinnacle State Park's fields and color-coded trails.  Hornby Park's 150 acres are a skier's dream, while Mossy Bank and Boyd's Corner Parks have their fans, too.
If you're an experienced skier, you know what's required for comfort on the trails. But a novice may want to chat with the experts at Berger's Ski and Snowboard Shop in Corning's Gaffer District.  They will help outfit you with the proper clothing, outerwear, skiis, boot and other items you'll need in order to make your first trip out a real adventure.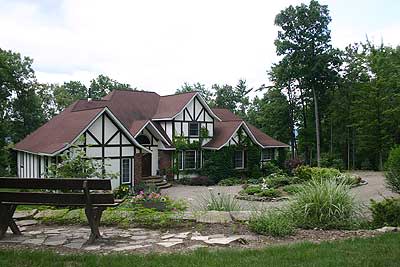 Villa Bernese
Okay, so you went out there, you skied all day, maybe got some great shots of the breathtaking Finger Lakes scenery...now all you want is a hot bath, a good meal and a glass of Finger Lakes wine, maybe a massage, and the rest of the evening in front of a crackling fire.  Finger Lakes B&Bs can make that happen.  Fill the Jacuzzi in your room at Villa Bernese with bubbles and soak those achy muscles.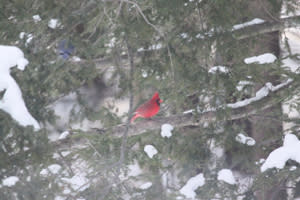 Cardinal in winter
The Inn at the Gaffer Grille, one of Corning's newest B&Bs, offers fireplaces, cushy pillowtop mattresses and flatscreen TVs, all tucked away in a unique inn looking out over Market Street (with fine dining right downstairs). Or opt for a stay at the Black Sheep Inn in Hammondsport, where your hosts will gladly arrange for apres ski massages in their historic octagonal house.
Whatever accommodations you choose in Corning and the Finger Lakes you'll find supremely comfortable surroundings, great food, and the amenities you'd expect in a world-class resort.  That's what this area is, as many a visitor has remarked.  Come find out for yourself this winter.