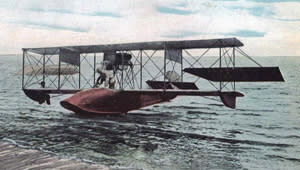 Curtiss Model E - Glenn H Curtiss Museum, Hammondsport
Looking for a way to enjoy a lovely fall afternoon in the Finger Lakes? What better way than to spend it watching seaplanes fly high above your head in America's Coolest Small Town? Hammondsport has a rich aviation history, thanks to its favorite son, Glenn H. Curtiss. In fact, the very first public flight took place on July 4, 1908, right off Keuka Lake - the exact spot where the seaplanes will soar again this fall.
What used to be called the Seaplane Homecoming has been renamed this year to the "Curtiss Flying Boat Centennial Celebration." Held from 9 a.m. - 5 p.m. on September 15, the free outdoor celebration will feature the Glenn Curtiss Salute, a parade of visiting seaplanes around Keuka Lake, and a museum replica taking flight. The Glenn Curtiss Museum's 1912 Model Flying Boat reproduction will take to the skies around 2 p.m., weather permitting.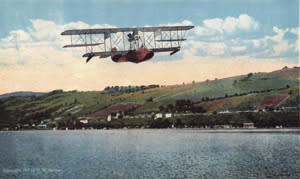 Curtiss Model E - Glenn H Curtiss Museum, Hammondsport
"The Curtiss Model E is considered to be the first successful flying boat," read a press release issued by the Curtiss Museum. "It was the first in a long series of flying boats on which Glenn Curtiss built his fame and fortune." The Model E, or Flying Fish, as it was known, was debuted in January 1912. It became the U.S. Army's first flying boat and was also used by the U.S. Navy. It was primarily used as a training aircraft - a predecessor to the much larger Curtiss flying boats used for anti-submarine patrolling during World War I. These were the only aircrafts of American origin to serve in combat during the conflict, the release noted.
On the day of the celebration, visiting seaplanes from around the region will be on exhibit, including the 93' wingspan Grumman Albatross. The Glenn Curtiss "Salute" will take place at 1 p.m., and is essentially a parade of seaplanes around the lake. They will circle the crowd before heading down the valley toward Bath. Once they reach the Pleasant Valley Cemetery, they will fly past the Glenn Curtiss gravesite before returning to Hammondsport and landing near the depot.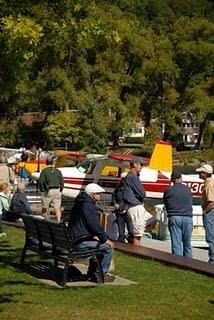 Seaplane Homecoming, Hammondsport
The day will conclude with a steak and Cajun deep fried turkey dinner at 6 p.m. at the Curtiss Museum. Pre-sold tickets are $25, available at the museum and on its website.