The greenest green I've ever seen. That's what I kept thinking as I stared out the window of the tour bus I took from Dublin to the Cliffs of Moher in Ireland. While it was nowhere near Saint Patrick's Day, I couldn't help but search through patches of clover every time the bus stopped. I wanted to find that 4-leafed shamrock - a little piece of what I perceived to be Saint Patty's Day - from the land that started it all!
Commemorating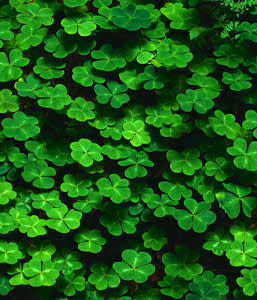 Shamrocks
Saint Patrick (c. AD 387-461), this cultural and religious holiday is celebrated internationally on March 17. This day not only honors the most commonly-recognized patron saint of Ireland, but the arrival of Christianity in Ireland. Although the day has morphed into a secular celebration of Irish culture, in the early 17th Century, Saint Patrick's Day was an official feast day. The original color associated with Saint Patrick was blue, however, green ribbons and shamrocks were worn in celebration as early as the 17th Century. Today, the holiday is perhaps the most celebrated saint day in the world.
When I was in Ireland, I realized that celebratory spirit that people everywhere enjoy so much on March 17 is more than just a day for the Irish - it's a lifestyle. Never have I met such excited, cheery people. They're full of life and pride in their country. No wonder other cultures are so eager to celebrate with them!
Hornell certainly puts on a shindig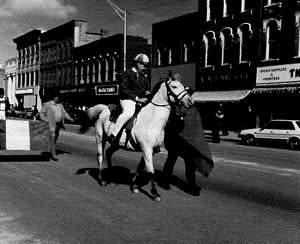 First Parade 1988
that would make the Irish smile! Each year, 5,000 people line Main Street to celebrate by watching a huge parade pass by. It all started with a bet. Bat Lyons, the former owner of WKPQ radio station, bet Mayor Hogan to put together a St. Patrick's Day parade - and if he couldn't, he'd ride a white horse down Main Street. Bat Lyons provided the white horse. Since that first "parade," things snowballed, explained Patty Murray, secretary for Mayor Hogan.
"Bat would also call it the most organized 'unorganized' parade in the history of Hornell," Murray said. "I personally enjoy it because it's the most unbelievable sight to see thousands of people lining the street! The community enjoys it because it's like a 'homecoming' reunion type of gathering."
All local restaurants, pubs, clubs and bars celebrate until the wee hours, explained Murray. The YMCA also puts on a 5K race/walk during the morning to celebrate in a completely different, yet equally as fun way! The 16th Annual Shamrock Run will begin at 9:30 a.m., followed by the parade at 11 a.m. For more information, contact the Hornell Area Chamber of Commerce at 607-324-0310.
If you're looking for something fun to do with your children, head over to The Corning Museum of Glass on Sunday, March 18, where you can explore Ireland. As part of the Families Explore series, this event features arts, crafts, and music for kids and parents alike. Perhaps the highlight of the event that runs from noon to 4 p.m. will be a 2 p.m. performance by the Carle School of Irish Dance. Other activities include making a Celtic knot greeting card, showing Irish spirit with a shamrock headband, and creating an illuminated letter. Learn about the great glassmaking city of Waterford, Ireland, and find Irish cut glass in the galleries. Remember, admission for children and teens 19 and under is FREE!
Make sure you celebrate Saint Patrick's Day in style this year. Although I was a little green with envy when I found out one of my college friends was going to celebrate in Dublin this year, honestly there's no place I'd rather be than right here in Corning & the Finger Lakes. I'd rather celebrate with a glass of Finger Lakes wine than with a pint of Guinness any day. But that's just me.
If you can't quite swing a trip to Ireland this month, do the next best thing and come here to Corning & the Finger Lakes. The spirit of the people you'll find here in the Finger Lakes would be sure to make the Irish proud!