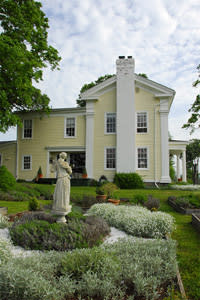 Halcyon Herb Festival
There are certain words you naturally associate with the Finger Lakes. "Wine," "water," and "glass" spring to mind. But there are others that are becoming more and more prevalent in the region: words like "sustainability," "farm-to-table," and "organic." Whether it's the food, the methods of producing wine, or the types of spa treatments available, the Finger Lakes is offering fresh, home-grown products to help you feel revitalized.
This trend is even starting to influence the area's annual events. Take the Halcyon Herb Festival, for example! This annual event "provides an opportunity to view gardens, purchase herb plants from a knowledgeable grower, hear terrific speakers, learn about herbs and their uses, and just have a great day outdoors," said Yvonne Allen, who runs the event and owns Halcyon Place B&B.
Allen realized something was missing in the Finger Lakes after she participated in a festival as an herb grower and attended the Pennsylvania Herb Festival. She listened to many wonderful speakers, attended workshops, and visited vendors - and knew she had to start an herb festival of her own at Halcyon Place.
Allen says it's a great deal of hard work to get the festival organized every year, especially since the gardens have to look their best by May. Prime herb garden time is usually from June into July, Allen said. But in the end, it's all worth it.
"Its spectacular to see so many people looking happy and relaxed as they touch and smell the plants, visit the vendors and the Halcyon Herbals Antique shop, listen to the music, and enjoy the herbal cookies that my mom and I bake," said Allen. As a teacher, Allen loves education, and "it is reaffirming for me when people attend the festival and then become as passionate about herbs as I am," she said.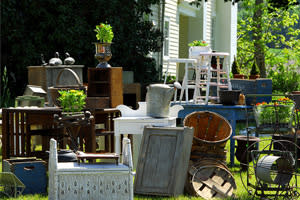 Halcyon Herb Festival
The Halcyon Herb Festival will take place on May 19 from 10 a.m. - 4 p.m. It is open to the public, and Allen encourages people to bring a picnic lunch and enjoy the day at Halcyon Place, as there will be speakers, as well as live music by Crosswinds from 12-2 p.m.
"People enjoy the entire day and return every year," said Allen. "They tell me they have learned so much about herbs and their uses. They think the gardens are beautiful, and they want to go home and start planting!"
For more information about the Halcyon Herb Festival, visit Halcyon Place B&B's website, or "like" them on Facebook.
Debbie Meritsky, co-owner and chef at the Black Sheep Inn in Hammondsport, got involved in the planning stage of the festival this year, as she is extremely dedicated to all things organic and home-grown, as well. The Spa at the Black Sheep Inn is one place you can certainly discover and enjoy the benefits of herbs.
When you partake in one of the "Healing Spa Services" available at the Black Sheep Inn, you'll discover organic relaxation at its finest. Enjoy one of the Inn Signature Herbal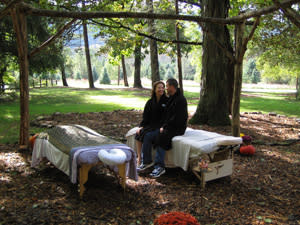 Black Sheep Inn
hand, foot, or facial massages, utilizing fresh-cut herbs from the Inn's kitchen garden. Whether you want an individual, couples, Lomi Lomi, Hot Stone, or a Thai Yoga Massage, you'll be able to enjoy it at the Black Sheep Inn. Be decadent and indulge in the Inn's four-hand massage or Signature StarLight Evening massage. You won't be sorry you did.
"Our guests, where many have lengthy experiences with massage on a regular basis, have spoken about how the treatments received here at the Spa at the Black Sheep Inn have been among the best they have ever had!" said Meritsky. "We take that as high praise and are always working with our therapists to make our massages better along with the services offered!
"When guests book a massage at our Spa, they are treated to cushy robes, warm and fuzzy slippers, handmade oils and some of the best therapists in the region helping our guests to relax, rejuvenate and regain some 'me' time," Meritsky said.
Whether you're indulging in a relaxing spa treatment, or smelling the aroma of fresh herbs at the Halcyon Herb Festival, make sure to take some time to appreciate the beauty and importance of the home-grown products of the Finger Lakes.