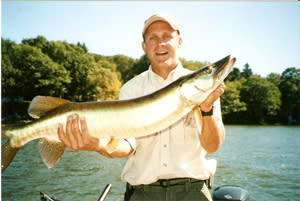 Courtesy Summit To Stream
Alright, folks... it's time to get your feet wet! When you go fishing in the Finger Lakes, it's an experience like no other. Picture this. You set out on Keuka Lake before dawn, the mist surrounds you. You find your spot and stop your boat. You cast your line out, hoping to reel in a big one. Light starts to peek over the horizon, breaking through the early-morning fog. You can make out the outline of the quiet waters parting at the bluff, seemingly bound for different worlds. The unparalleled beauty of this "Y-shapped" wonder is apparent everywhere you look. You can't help but get lost in the serenity of it all. Then, there's a tug on your line.
Yes, fishing in the Finger Lakes isn't simply about the fish you catch. Sure, it's exhilarating to haul in a Lake Trout or even a Largemouth Bass, but imagine doing it surrounded but such immense natural beauty! Fishing in the Finger Lakes is about the whole experience.
No one knows that better than Mark Moskal, President of Summit to Stream Adventures. He has fished in the waters of the Finger Lakes for over 30 years.
"I've been fishing since I was old enough to hold a fishing pole," said Moskal, who started Summit to Stream Adventures ten years ago. "Everyone dreams of having a career in what they love, but very few people get to attain that."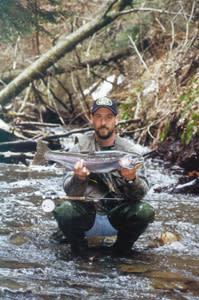 Courtesy of Finger Lakes Guide Service
Summit to Stream Adventures certainly offers outdoor enthusiasts a wide range of possibilities. Whether you want to fly fish or rent a kayak, you can do it with Summit to Stream. Want to charter a boat for a great fishing trip? You can do that too! You can even go on an archery hunt, a hiking trip or a private winery tour - but all that's a different story for a different blog.
Moskal said people often get out on the water and comment about the scenery surrounding them. "The scenic beauty in itself is reason enough to fish here," he said. But what lies beneath the surface is definitely special, too! For those who wish to fish Lake Trout, the Finger Lakes is one of the best locations possible.
"There are not too many Lake Trout south of New York State," said Moskal. "All of the Finger Lakes have Lake Trout in them." Need another reason the Finger Lakes is special? "There are very few places in the country where you can fish multiple species all within a half an hour drive," Moskal said.
Moskal said the biggest fish he's ever caught was a 36-pound, 55-inch Muskie on Waneta Lake.
You could also join Moskal on a fly fishing adventure! When you experience casting your line on the Cohocton River or one of Steuben County's many streams, you'll never forget it. I should know! I tried it last summer! According to the Summit to Stream website, Finger Lakes tributaries are world-famous for their spring and fall runs of rainbows, browns, and salmon. Take a fly fishing class with Moskal and discover a new sport you'll enjoy for the rest of your life.
When you're part of a fishing charter on Keuka Lake, you'll have the chance to catch Lake Trout, Rainbow Trout and landlocked Salmon in the crystal-clear waters. Well-oxygenated at all depths, Keuka Lake has fish in both shallow and deep waters. The warmer waters of Waneta and Lamoka lakes are perfect for Bass and Muskie. "Whether you choose to troll for trout or cast for bass, your day on the water will be memorable," reads the website. "Try to hunt down the 'fish of 10,000 casts' - the Muskie - and experience the thrill when you hook onto a 50" monster!" A full-day charter is $325 for 8 hours, while a half-day is $275 for 5 hours.
Here's a little information from the New York State Department of Environmental Conservation on what you can expect to find when you go fishing on Keuka:
"Historically, Keuka Lake has had excellent Lake Trout and Smallmouth Bass fishing. Of the four salmonids now present, 'lakers' are the most prominent, with their population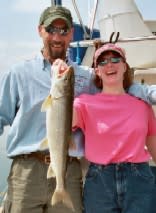 Fish the Finger Lakes
maintained completely by natural reproduction. Rainbows were introduced around the turn of the century and soon became self-sustaining. Landlocked Salmon stocking was initiated in Keuka in 1976 and continues today. Though Brown Trout have occasionally appeared in the Keuka Lake fishery for many years (including a 22lb. 4oz. former state record in 1979), direct stocking of 'browns' by DEC did not begin until 1980. While Smallmouth Bass are the dominant species in Keuka's bass, an occasional Northern Pike and Panfish including Yellow Perch, Bluegills, Pumpkinseed, Rock Bass and Black Crappie are also available. Much of the angling opportunity for these species (except Smallmouth) is associated with the relatively shallow, weedy areas at the north ends of the lake's arm and at the south end.
Moskal said this Finger Lakes fishing season is shaping up to be a good one. In March when the temperatures reached 85 degrees at times, the lake trout were biting furiously! "The weather affected the fishing in a good way," he said. "The warmer the spring, the more aggressive the fish. We'd go out and catch 50 fish, which is unheard of!" Moskal said the average Lake Trout weighs about 10-12 pounds.
Cast your line out and reel in some fun in the Finger Lakes this fishing season!