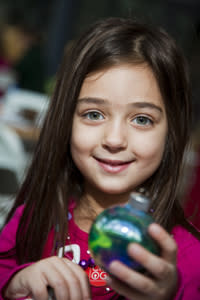 Corning Museum of Glass
If you're a parent, you know that week between Christmas and New Years can be pretty painful. Come on... admit it. I'm not even a parent and I know it to be true. There's nothing like hearing those two dreaded words mere days after receiving brand new toys. "I'm bored!" It's like nails on a chalkboard. But what to do when you've drained your bank account buying your kids the latest and greatest?
Never fear! Here in Corning & the Finger Lakes, there are plenty of activities that will entertain your kids and will absolutely delight you because, well, they're FREE!!! Gloriously free!
Spend a day exploring the Corning Museum of Glass where "Holiday Break" activities last from December 22 - January 5. Kids and teens 17 and under are always free at the museum. You and your children will love watching the master glassworkers blow intricate pieces right before your eyes. Submit a drawing of something you'd like to see come alive in glass. At select Hot Glass Shows throughout the day, glassmakers will choose a drawing and make the piece, and the winning artist will get to keep it! Watch narrated flameworking and glass breaking demonstrations.
Think your kids won't enjoy browsing the galleries? Think again! With that new smartphone or iPad, they'll be able to download the kid-friendly museum mobile app and explore the museum in a fun, easy-to-understand way. If they left their new gadgets at home, rent an iPod Touch at the admissions desk.
Spend the next day at the Rockwell Museum of Western Art.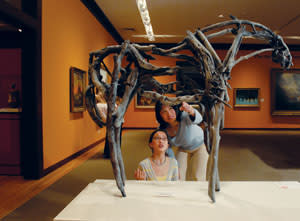 Rockwell Museum of Western Art
Your whole family will love exploring the Treasures Under the Tree Holiday Toy Exhibit. Journey back in time with this selection of vintage toys and memorabilia from the Victorian era. Bob and Hertha Rockwell, the founding collectors of the Rockwell Museum, collected many toys during their lifetimes. While they are no longer on permanent display, there's no better time than the holiday season to bring select objects back out to enjoy!
If you have young children, grab a backpack ArtPack when you arrive to the museum and do activities related to cowboys and Indians, horses, and so much more. Play themed seek and find games in the galleries. At the Rockwell Museum, there's something to delight every age group. As with the glass museum, kids and teens 19 and under are always free at the Rockwell.
If you enjoy your visit to the Rockwell, come back on FunDay Sundays through the month of April. One Sunday per month, the Rockwell Museum will offer art activities in the museum's Education Center. For example, on January 20, you and your family will be able to explore the Wild West, which is home to so many animals. You'll gain inspiration from the National Geographic Exhibition to go wild tearing up construction paper to create your own Wild West animal. FunDay Sunday activities are from 12 - 4 p.m.
The Glenn H. Curtiss Museum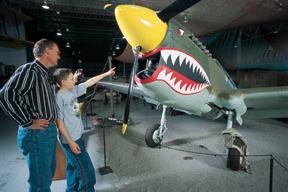 Glenn H. Curtiss Museum
in Hammondsport is another great place to spend part of your holiday break. Your kids learned about the Wright Brothers in school, but now they can learn about a very special pioneer, right here in the "cradle of aviation." Known as the "Father of Naval Aviation," Glenn Curtiss had his hand in almost everything with a motor. Explore the exhibits with everything from motorcycles to giant airplanes Curtiss used to fly right off Keuka Lake. With collections that house everything from classic boats to dollhouses, everyone will find something enjoyable at the Curtiss Museum. Discover aviation history and local history, as well. Student admission (ages 7-18) is $4.50, and kids 6 and under are free. There is a family rate of $20.
There are my suggestions for some fun activities that won't break the bank. When your kids are "bored" during their lengthy holiday break, you'll know exactly what to do. After the excitement of new gifts has worn off, get excited about family fun at these world-class museums this holiday season.