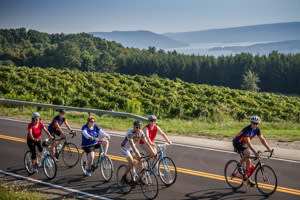 Vistas to Vineyards - Bonnie Gustin
Imagine yourself immersed in the quiet tranquility and scenic beauty of Corning & the Finger Lakes. Two wheels spin rapidly beneath you. You've got sunlight on your face and breeze at your back. There's no better time to go for a ride than during the fall months when the hillsides are draped in rich reds and deep golden hues. There's something to be said for spending time in the great outdoors; getting back to nature, and drinking in life's simplest of pleasures. In our technology-crazed society, we often forget that the connection we make to nature is one of the most profound - one that begs to be explored and enjoyed.
When you embark on the 70-mile, scenic bicycle tour, filled with everything from "Vistas to Vineyards," getting back to nature takes on a whole new meaning. On this guided bike tour, you'll wind your way along twisting pathways through rolling hills draped in the colors of fall. You'll pass by lush farmlands and babbling brooks. Stop at parks, scenic overlooks, and yes, even world-class wineries along the way. This package, offered exclusively through the Black Sheep Inn, includes a three-night stay, breakfast, and picnic lunches set up and waiting for you in remote, scenic locations along the routes. Spend your full first day on your guided bike tour, and day two on a shorte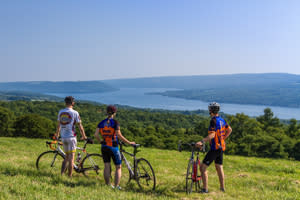 Vistas to Vineyards - Bonnie Gustin
r, morning bike ride through Hammondsport, complete with free time in the afternoon. For more information about the Vistas to Vineyards package, contact Debbie Meritsky at the Black Sheep Inn.
If a 70-mile bicycle ride seems a bit overwhelming, why not try one of our 14 Let's Go Hike and Bike trails all throughout Steuben County? These vary in difficulty and theme, but all offer stunning vistas and the peace that only comes with riding the wind. When you set out on the 22.1-mile bicycle route through Savona and Coopers Plains, you're in for a day of exploring quaint antique shops along charming country roads. You'll find quirky consignment shops nestled in small villages. Stop by Halcyon Herbals and Antiques or spend the night in the beautiful circa 1840 Greek Revival B&B. Also along the route is Camp Bell Campgrounds. A stay at either is sure to make you feel revitalized for the next leg of your journey.
Now, this blog is about biking in Corning & the Finger Lakes - it's about getting back to nature on two wheels. It's been said that four wheels move the body, but two wheels move the soul. And anyone who's been on a motorcycle adventure through the Finger Lakes knows exactly how true that statement really is.
Some riders are quite ambitious, like two men who spent a day with: "Two bikes. Seven Finger Lakes. Eight Hours. 253 miles." But you don't have to take in nearly that much to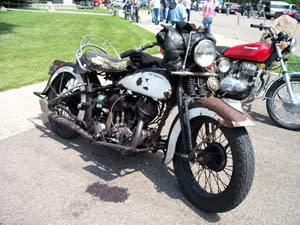 Curtiss Museum Motorcycle
experience the region for all it's worth. A suggested route is "The Beautiful Keuka Lake Road," which spans from Hammondsport to Branchport, a 15-mile journey filled with "one of the best views of wine country in the state," according to the site. It was this road - Route 54A - that was named one of the world's most stunning routes by British Airways magazine, and is absolutely spectacular in the fall.
While in America's Coolest Small Town, Hammondsport, check out the Glenn H. Curtiss Museum, where you'll find an impressive display of Curtiss' classic motorcycles. When Curtiss was a teen, he was obsessed with bicycles and speed. A champion bicycle racer, he began designing and building his own machines, and in 1902, was manufacturing under the name "Hercules." It was on Ormond Beach, Florida, however, that his legacy began. On January 23, 1907, Curtiss' V8-powered motorcycle was officially clocked at 136.3mph, earning him the title of "Fastest Man on Earth," at title he held for four years. He later branched into designing aircrafts, models of which are on display at the Glenn Curtiss Museum.
Whatever you do, wherever you ride, you'll love experiencing the sun glistening on Corning & the Finger Lakes, as well as off the chrome beneath you. If you're feeling ambitious, check out National Geographic's Road Trip for the Finger Lakes!