May is National Bike Month. And since we endured such a long, cold winter, what better way to celebrate warmer weather than to jump on our bikes and ride through the scenic wonderland that is spring in Corning & the Finger Lakes?
You've never been a cyclist? You can begin anytime...it's never too late to savor the fresh air, the sunshine, and the pure enjoyment of riding down country roads and village streets. You might have to start by purchasing a bike, or at least have the old one checked out by a professional. Big box stores always have a large selection of bicycles at reasonable prices. Or visit a local bike shop and get info and assistance from cycling pros.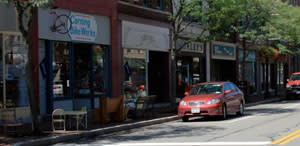 Corning Bike Works
Corning Bike Works at 96 East Market Street in Corning is "the area pro shop for all your cycling needs" and has a complete supply of all the accessories, tools and supplies the novice or experienced biker needs. In Bath you'll find Wheels Unlimited at 34 Liberty Street, where their knowledgeable staff can point you toward any style of bike including children's and adults' tricycles, trail-behind cycles, and unicycles. Wayland BMX in the northwest corner of Steuben County specializes mostly in 20-inch BMX bikes and in addition to sales and service, there is an indoor skatepark with ramps and decks for the intrepid rider.
Most bike shops also feature information for riders looking for a riding partner, a specific road or trail to ride, or a rental. 
Now that you've purchased your bike - or at least pumped up those old tires - you are ready to hit the road. Want to ride your bike for a specific cause? May 17-21 is National Bike to Work Week. Save gas, save money, save wear and tear on your vehicle by biking to work during that week. You may find that it's doable every day!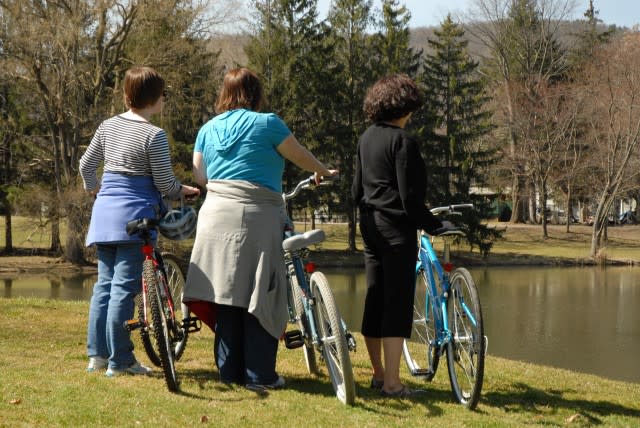 Biking 360
You can make a $75 donation to the American Red Cross in order to provide a bicycle for a volunteer to travel roads unnavigable by auto. These volunteers bike to families in remote areas to educate them about protecting against diseases and disasters. Visit redcross.org to donate.
Other neat biking ideas to consider: go on a family bike ride (having the requisite safety discussion first); organize a group of friends to clean up a local bike trail; donate your old bikes to a nonprofit organization; join a local cycling group and make this healthy activity a daily or weekly goal.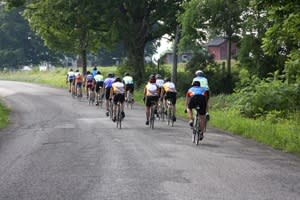 Cyclists
Bicycling became the most popular sport in the nation in the 1880s and 90s. You can learn more about the history of bicycles by visiting the Glenn H. Curtiss Museum in Hammondsport where, in addition to their stellar historical aviation-related collections you can see bicycles from as early as 1860 including the Velocipede or "Boneshaker".
A great way to experience the fun of biking as well as the beautiful Finger Lakes area is to organize a weekend getaway. Getting together with a group of friends for a few days of cycling practically ensures the making of great memories! Imagine a day of riding through the scenic hills and back roads of Steuben County, past vineyards and the pristine waters of Keuka Lake. Stop for Finger Lakes wine tastings at one of the award-winning wineries and savor the bouquets and flavors of the Finger Lakes' finest wines. Pedal through Corning's Gaffer District and engage the senses as you savor the treats offered by the many shops! Pause in your bike ride to museum hop at the Corning Museum of Glass and the Rockwell Museum of Western Art.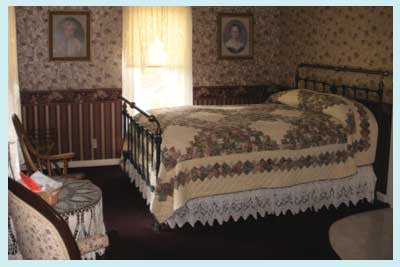 Feather room
A hearty meal at one of the district's diverse restaurants will prepare you for the return ride to your comfortable B&B where, perhaps, a relaxing massage awaits. The Black Sheep Inn in Hammondsport will happily arrange for a massage and other spa treatments while providing you with healthy organic meals made with local fare. Feather Tick 'n Thyme Bed & Breakfast (above) in Prattsburgh encourages guests to sip wine while rocking gently in a hammock, take a moonlit stroll on the beautiful grounds, or relax by the glow and crackle of a bonfire. Corning & the Finger Lakes boasts accommodations for every taste, lifestyle and budget.
Whatever the route or the length of your trip you will experience Finger Lakes friendliness at every turn. Find out what awaits you around the next bend in the road. Call 1-866-WINE FUN (1-866-946-33860 to make your plans for a thrilling, fulfilling bicycle adventure.