It's been said that four wheels move the body, but two wheels move the soul.
Navigating the scenic twists and turns of the Finger Lakes region on a motorcycle, experiencing gorgeous vistas around every bend could be described as nothing other than divine. In addition to unobstructed views, riding the wind allows for seasonal fragrances to bring the senses back to life.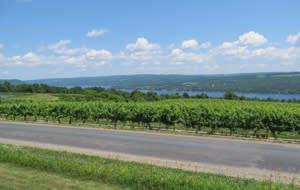 Keuka Lake road
Allow me to paint a picture. Imagine yourself winding through the hills surrounding Keuka Lake. The sunlight is sparkling off the pristine waters below. Lush greenery surrounds you as far as the eye can see. The sweet aroma of grapes wafts toward you through the open air.
Now doesn't that sound like a little slice of heaven?
Some riders are quite ambitious, like two men who spent a day with: "Two bikes. Seven Finger Lakes. Eight Hours. 253 miles." But you don't have to take in nearly that much to experience the region for all it's worth. A suggested route is "The Beautiful Keuka Lake Road," which spans from Hammondsport to Branchport, a 15-mile journey filled with "one of the best views of wine country in the state," according to the site.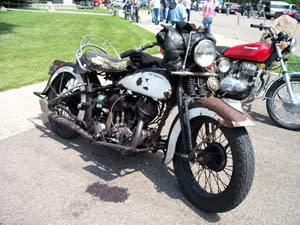 Curtiss Classic Motorcycle Day
But motorcycles and the Finger Lakes doesn't always have to be a serene combination.
Summer revs up on August 6 when more than 400 bikers cruise to the Curtiss Classic Motorcycle Day at the Curtiss Museum in Hammondsport, to celebrate cycles and their history.
Anyone who shows up at the event on a cycle will receive discounted admission to the museum, which features a display of more than 30 classic motorcycles. Some of these are Curtiss's early bikes, made between 1903 and 1910, as well as Harley-Davidsons from the 1930s and 1950s, and a '73 Honda.
In addition to the displays inside the museum, visitors will enjoy an array of motorcycles brought in especially for the event by individual collectors. Demonstrations of vintage engines, both motorcycle and airplane, will be running throughout the day. Each year, the event's coordinators showcase a different type of early engine. This year, they will present a 1930s Henderson motorcycle engine converted for use in airplanes.
"The event is lots of fun," said Trafford Doherty, Curtiss Museum director. "It's a lighthearted, social event for motorcyclists. You come here, visit with your friends, look at their bikes, eat some food, go into the museum, and have a good time."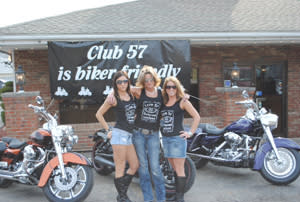 Club 57 motorcycles in Hornell
Also while cruising through the area, make sure to stop and enjoy another great opportunity for bikers!
"Boring old Tuesdays become Rock & Rib Biker Night" at Club 57 in Hornell. Celebrate "Two Wheel Tuesdays" all summer long with specials including $2 bottles of select beers. Even get a bucket of Rolling Rocks for $7. Enjoy the outdoor BBQ while listening to great music from Dave McGrath and Dan Ripley.
You'll love experiencing the sun glistening on Corning & the Finger Lakes, as well as off the chrome beneath you. 
If you're feeling ambitious, check out National Geographic's Road Trip for the Finger Lakes!