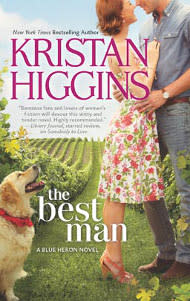 The Best Man Kristan Higgins
It's just about the easiest thing to fall in love with a beautiful place. I live in Finger Lakes Wine Country - believe me, I know! I've traveled a lot in my young life, and I've left pieces of my heart in some of the most extraordinary places. That's exactly what happened when bestselling author, Kristan Higgins, visited the Finger Lakes last year. In fact, it left such an impression on her, she decided to use it as the setting for her first series of books.
Next Friday, Kristan is returning to the Finger Lakes to hold a book signing during GlassFest. She'll be set up at the Radisson Hotel Corning from 4:30 - 7 p.m. during the wine and beer tasting event. Come meet Kristan and learn what persuaded her to write a romance series about a winemaking family in Finger Lakes Wine Country.
"I was so excited at the chance to come back to the Finger Lakes," Kristan said. "Since I'll have three or four books here, I feel almost like I live in the area. The chance to visit during such a gorgeous time of year, as well as during a great event like GlassFest, was impossible to resist!"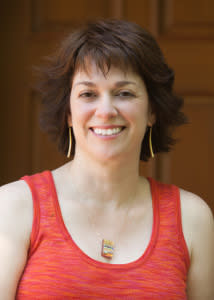 The Best Man Kristan Higgins
Kristan has authored nine titles previously, but the Blue Heron novels will be her first series, and we couldn't be more thrilled. I must make a horrible confession - I'm never one to read for "fun." I'm much more likely to reach for the remote than I am a book. But when I started reading Kristan's latest book, The Best Man, I was hooked immediately. I don't think I've ever read a book quite so quickly!
It was so special to read the book knowing it was about a place that has captured my heart as well: Hammondsport. Here's what Kristan had to say about Hammondsport and the Finger Lakes in her author's note:
"One of the things I wanted to do with this book was to describe a place that would feel like home and also like a vacation, a place you could see as clearly as if you were there," said Kristan. "The Finger Lakes region of New York is one of the most beautiful places I've ever been. The lakes are long and narrow, and very deep, giving them an ethereal, dark blue color. The hills are golden with grapevines, and the autumn foliage is beyond compare. The hills are populated with vineyards and Mennonite farms; it's not at all uncommon to be waiting at a stoplight next to a horse and buggy. Manningsport is based on Hammondsport, and a prettier town I've never seen. Glens and waterfalls are plentiful; the sound of rushing water is never far away, and the sense of community and pride the Finger Lakes residents have for their home is palpable."
For more information on The Best Man as well as Kristan's other novels, visit KristanHiggins.com.
The following is some information about The Best Man:
SOMETIMES THE BEST MAN IS THE ONE YOU LEAST EXPECT...
Faith Holland left her hometown after being jilted at the altar. Now a little older and wiser, she's ready to return to the Blue Heron Winery, her family's vineyard, to confront the ghosts of her past, and maybe enjoy a glass of red. After all, there's some great scenery there....
Like Levi Cooper, the local police chief-and best friend of her former fiancé. There's a lot about Levi that Faith never noticed, and it's not just those deep green eyes. The only catch is she's having a hard time forgetting that he helped ruin her wedding all those years ago. If she can find a minute amidst all her family drama to stop and smell the rosé, she just might find a reason to stay at Blue Heron, and finish that walk down the aisle.