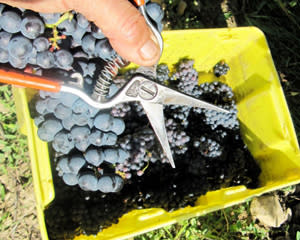 Heron Hill Grape Picking
There's no doubt about it! Everywhere you look, it's evident that harvest time has taken hold in the Finger Lakes Region. Everything is lush against a backdrop of gorgeous autumn colors. The October sun glistening off the lakes is one that provokes us to stare at the beauty of the landscape, rather than enticing us to jump on in. The rolling hillsides that have been such a full, vibrant green for the past few months now dazzle with rusty, golden hues. The grapes in the vineyards are just aching to be plucked. Ah yes, harvest has come to Corning & the Finger Lakes, and there's no better time to partake in the bounty that the region has to offer.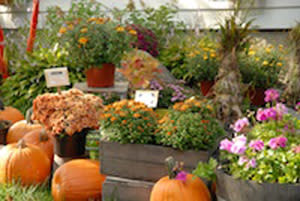 Fall Limeberry
The word "harvest" has great potential to conjure up images of powdered donuts and hot apple cider - at least in my mind, anyway. For my family, harvest always meant purchasing a bag of candy corn and carving pumpkins - one cute, one scary - to put on the front porch to greet trick-or-treaters on Halloween night. But here in the Finger Lakes, harvest is about so much more than decorating with gourds and scarecrows.
When I read Heron Hill owner and grape grower John Ingle's blog in which he described the reason he decided to become a winemaker, it brought the wonder of harvest season to life. Exactly 40 years ago, he and his wife were picking Concord grapes in a neighbor's vineyard when he became inspired. "As I stood on that sun-drenched hillside breathing in the smells of fresh air and ripe grapes, I realized this was satisfying to me," he said. "The rhythm of the work, steady and focused, the rhyme of the workers, chatting and laughing as they worked their way up and down the rows and the thought that it's vinta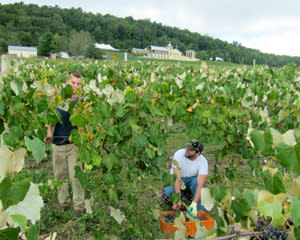 Heron Hill Grape Picking
ge time! 
"People all over the world, Europe, Australia, America, literally everywhere, were doing the same thing, harvesting grapes, to make wine. A sacramental beverage, as old as history, alive and dynamic in so many cultures and lands, it was inspirational to me. I knew that I had found my path..."
John strives to keep that harvest experience alive today. By having people maintain the vines rather than machines, the "personal approach and commitment to quality" can be seen in every aspect of production, tasting, and sales of Heron Hill wines. John often says Heron Hill has "boot prints in its vineyards, not tire tracks."
While winemaking is a unique and integral part of the harvest season in the Finger Lakes, there are many other ways to take part in wonder of the s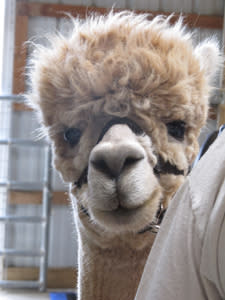 Alpaca
eason. Visit E. H. Lain Cider Mill in Canisteo and watch apples get pressed into cider. Sample a variety of tasty treats from old-fashioned donuts and cider fried cake to apple pie and farm-fresh apples. Relax by the mill pond and feed the swans as you sip Lain's fresh sweet cider. The cider mill is open daily from 9 a.m. - 8 p.m.
Or perhaps you're a fan of the products of a good tapped maple tree? Visit Hager's Maple Products in Arkport to enjoy maple syrup and maple cream. Then swing over to Wayland and select a pumpkin at Hargrave Farm. Take a drive down to Woodhull and visit Golden Age Cheese Co. to pick up a little something to pair with a good Finger Lakes wine. To finish off the day, stop by Heavenly Sunset Farms and make friends with a fuzzy-headed alpaca.
Yes, indeed. Whether you're in the vineyards picking wine grapes, in a pressing room watching apples turn into cider, or standing in straw hugging a soft, furry creature, you'll be amazed by all the wonderful things harvest time has to offer in Corning & the Finger Lakes. You'll see how harvest here is truly a season all its own.
Enjoy a harvest recipe, courtesy of Heron Hill's Blue Heron Café. It was served for this year's Harvest Tour of Food & Wine on the Keuka Lake Wine Trail.