Each month, we've brought you a blog written by our staff, telling you about their favorite things to do in the Finger Lakes, and why they love promoting the region. Check out blogs from Kim and Kevin. Today, meet Erin Cassidy, our eMarketing Manager.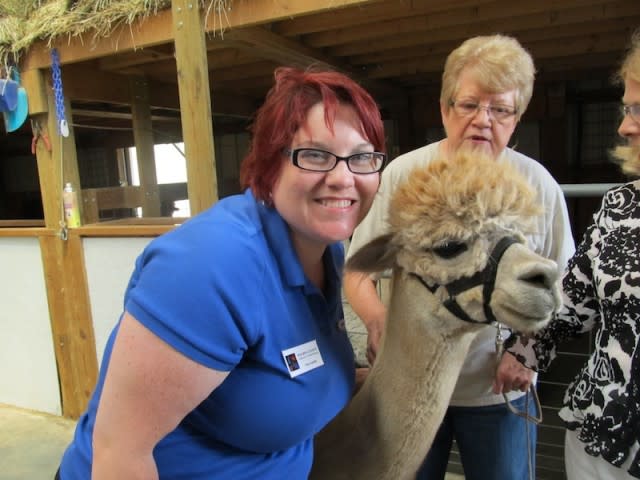 Erin loves our alpaca friends!
Q: How long have you been with the CVB team? What do you do?
A: I have been with the CVB 5 years. I'm the eMarketing Manager meaning I live in the digital universe. I manage CorningFingerLakes.com, the email newsletters, the social media and our digital advertising.
Q: Are you from the Finger Lakes Region? If so, what makes you stay? If not, what drew you here?
A: I was born and raised in the Syracuse area, and grew up to appreciate Upstate New York's beauty - but I can't say I loved all the lake-effect snow that came with it! It was going to school in Ithaca that made me a true believer in the power and allure of the Finger Lakes. Staring at Cayuga Lake from my dorm room, I would get lost for hours. Now that I live in Elmira and work in Corning, I love that I get to enjoy and promote all that Steuben County has to offer. We only get a fraction of the snow, just enough to make things pretty without getting buried.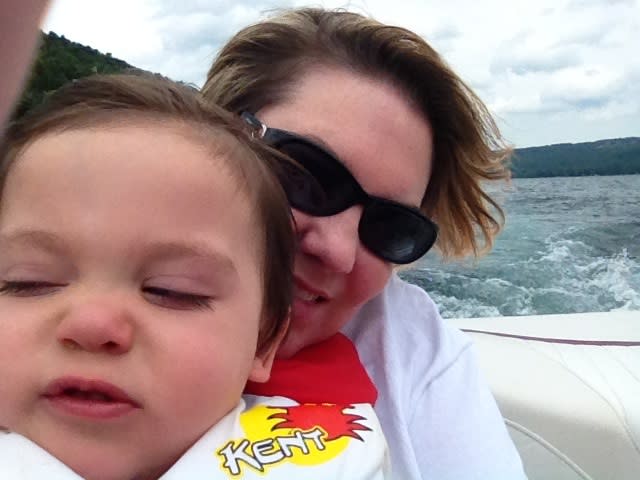 Spending the day on beautiful Keuka Lake
Q: What makes the Finger Lakes special to you, and why do you love telling others about it?
A: Growing up, my family would spend our summers visiting friends on Keuka Lake and I remember thinking it was the best place on Earth. Then it was all about learning to swim, taking boat rides, and enjoying the beautiful scenery. Now that I'm older, I appreciate that the wine is pretty darn good, too! I have even converted my Maryland-native husband into a Finger Lakes wine snob. It's not just the treasure of childhood memories that makes the Finger Lakes special. There's just a magnetic feeling in the air when you meet the people who grow the food and make the wine that makes you relax and use all your senses to take it in. And now that I have a 2-year-old son, I love that my "mom job" is to introduce him to the best place on Earth!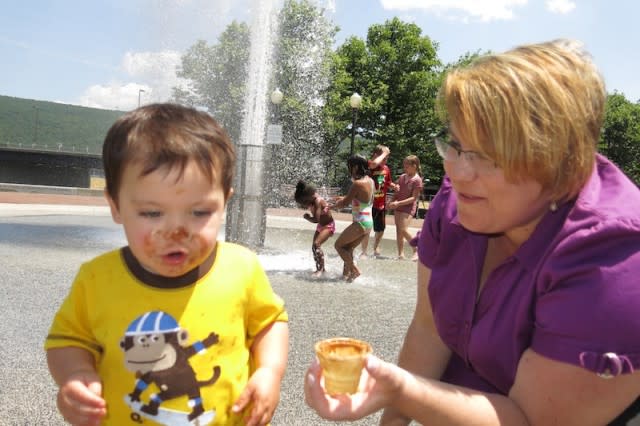 Enjoying a sunny, ice cream-filled day in Corning!
Q: Let's play tourist! Tell me what you'd do with your family or friends on a weekend in the Finger Lakes.
A: Anyone who visits me has to answer one question: "What wine do you like to drink?" I then create a wine tour just for them. No matter what kind of wine they like, I insist on a visit to Frank Vinifera Wine Cellars because I think the history of Konstantin Frank is fascinating and provides a good base to understand and appreciate all the 100+ thriving wineries in the Finger Lakes. Visits usually include a trip to The Corning Museum of Glass but I also love to surprise my guests with the awesomeness that is the Glenn H. Curtiss Museum. The history is astounding and Baby J likes to play with the interactive kids display, he looks adorable in aviator glasses.
Baby J hammin' it up at the Curtiss Museum!
Q: If there's one thing you wished everyone knew about the Finger Lakes, what would it be?
A: I wish everyone was more familiar with the history of Glenn Curtiss and his contribution to aviation history. He may not have gotten his plane up "first" but his involvement with the US Navy and advancing the technology of making planes fly faster and better is worth noting in more history books. His museum has a lot going on because Glenn Curtiss was a man who had a lot going on. From motorcycle speed records to planes to RVs, Curtiss never stood still for long and neither did his brain.