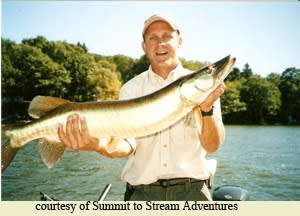 Waneta Lake
Fishing is one of those pastimes that allows people to reconnect with nature (on many levels) and, as a result, to reconnect with themselves. It's a sport that can be quite adventuresome, one that requires patience, endurance, and often times cunning (and not just from the fish). But it's also an activity that can offer a sense of peacefulness and solitude. Watch a fly-fisherman for just a short while and you'll realize fishing's an art form, as well as an alternative form of meditation. Sometimes fishing is less about the fish and more about just getting away for awhile, unplugging from the hectic day to day routine, being outside, and recharging your positive energy. Of course, most of the time, the fish are pretty important too.
With over two dozen lakes, four rivers, and countless creeks, you'll find a wonderful selection of fish (including largemouth and smallmouth bass, brown trout, rainbow trout, lake trout, landlocked salmon, and more) in Corning & the Finger Lakes, as well as a variety of prime spots to catch them.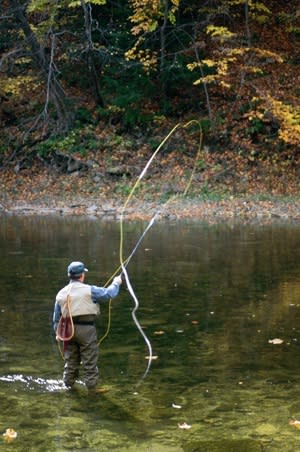 fly fishing
As a boy, I spent a few weeks each summer at the lake fishing with my dad. I still remember getting up in the dark and smelling the coffee he made just for us. It was our time. We'd go out to the end of the dock and the fog was so thick we could barely see the water just a few feet below. We'd cast our lines and wait. Or sometimes we'd go out in the boat, away from land, away from any lights and any noise and he'd shut off the motor and we'd drift out there in silence, broken more times than he probably wanted by my incessant curiosity. Yet he always smiled and answered whatever questions I had. I can still hear the soothing sound of the water against the hull of the boat. And somewhere down the lake, out of sight, we'd listen to the sound of another boat trolling. What other reasons might a person have to look forward to getting up at 4am on his day off?
There are myriad fishing terms, several different methods of catching fish, as well as an assortment of baits and lures. They make special rods and lines to offer you the best chance to reel in a particular type of fish. Did you know that there are apparently over 24,000 different kinds of fish? You may not find that many in Corning & the Finger Lakes, but you will find quite a few, not to mention plenty of challenges, if that's what you're looking for, and plenty of ideal spots to just relax if that's more your style.