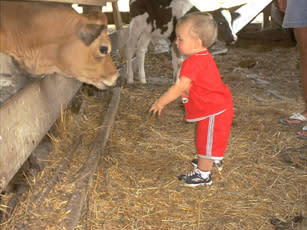 Steuben County Fair
Whenever I think of the county fair, I'm suddenly a kid again, walking along the dirt path between old wooden buildings, zigzagging around the many booths set up with games of chance and skill and strength, passing the midway and all those whizzing rolling speeding rides (I never had the stomach for those, but they sure looked fun), making my way toward the center of everything, toward the smell of hot sausage and funnel cakes and the other aromatic scents of the food booths.
The Steuben County Fair, which is the longest continuously-running fair in the country, has a variety of fun-filled activities like tractor pulls and live entertainment and demolition derbies and watermelon eating contests and racing pigs (that's right), as well as special days like wristband day and senior citizen day and family day. But the Steuben County Fair also carries on the tradition of being more than a gathering place for light-hearted fun. It's also a showcase for the many agricultural achievements in the area.
The Cornell Cooperative Extension of Steuben County espouses the motto "put knowledge to work" and they have several interesting exhibits that help make the Steuben County Fair stand apart (although racing pigs is already pretty darn cool).
In the 4-H Building you'll find youth projects on display and there are contests, such as vegetable art, creative place setting, flower arranging, and giant cookie decorating. 4-H Public presentations are given and the Dairy Princesses sell milk and promote dairy products. Of course, throughout the fairgrounds there are dog shows, horse shows and various livestock shows.
In the Agriculture Building, there are horticulture workshops like one on how to feed a family of four from a garden and another on rain-barrel gardens. There's information available on farm businesses, local foods, and Farm City Days.
And under the grandstand, you'll find food demonstrations and a host of information on the Go Green theme including use of Steuben County grasslands to create burnable grass pellets, biodegradable household products, understanding carbon footprints and more. Of course the popular Virtual-Hunting Simulator offers youth and adults the chance to learn a little more about hunting safety.
The Steuben County Fair is an annual event where you can learn about farming and see where your food comes from. But it's also a place where people let down their hair and have fun. There are rides, games, concerts, and more. And after 191 years, it's safe to say the Steuben County Fair's been around long enough to know how to do it right.
For more information about the Steuben County Fair and other fun events call the SCCVB toll free at 1-866-WINE-FUN.