If you like to put in a little work before drinking a cold brew, the Southern Fingers Lakes is the place for you. Whether you want to go for a walk in the woods or spend your day paddling around the coves tucked away in Keuka Lake, we've paired five outdoor adventures with local breweries, cideries, and distilleries that are sure to hit the spot.
1. Keuka Lake Outlet Trail & Climbing Bines Hop Farm and Craft Ale Company
Seneca Mill Falls has three sections. Ted Sakshaug
There's no better way to get a taste of what the Southern Finger Lakes have to offer than by hitting the Keuka Lake Outlet Trail. Loved among locals, this one is perfect if you want to take in both the beauty and the history of the area. Described as "A Journey through the History of the Finger Lakes" the easy, 6.6-mile trail starts just outside of Penn Yan. Look for remnants of a century-old abandoned railway line and a mill used by the early settlers of the area, and you can't miss the stunning Seneca Mill Falls, tumbling about 40 feet over three ledges.
Once you get back to Penn Yan, take a seat at the bar at Climbing Bines Hop Farm and Craft Ale Company. Proudly continuing as one of New York States first farm breweries, they specialize in small batch, hand crafted brews using estate grown hops and locally harvested barley. Sit back, relax, and enjoy the house ales including an IPA, Amber, Pale, Blonde, and Hefeweizen.
2. Urbana State Forest & Keuka Brewing Co.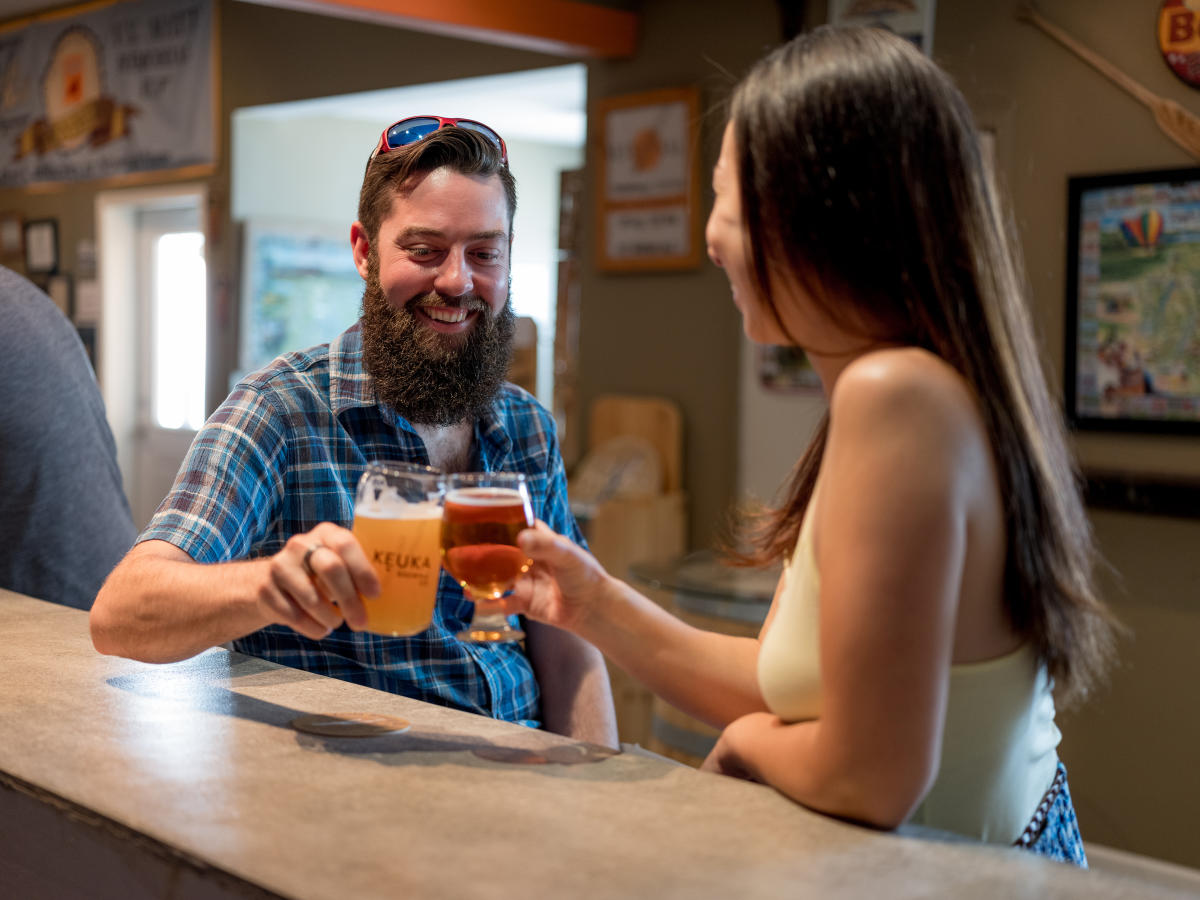 Keuka Brewing Company courtesy of Cagwin Photography
Just a few miles north of Hammondsport lies the lush and lovely Urbana State Forest. The forest hasn't been fully developed, but does have a few designated trails worth exploring.
The popular Urbana Bog Nature Trail Loop is an ideal hike for those looking for a moderate, 4.3-mile trek. Depending on the time of year you visit, you will find blooming wildflowers bursting into color and hear the sounds of songbirds in the trees. Look carefully and you might find some wild blueberry and raspberry bushes, too. The Huckleberry Bog is a must-see and features an observation deck and boardwalks—just be sure to pack the bug spray if you visit in the summer months.
After your adventure, reward yourself with a frosty beer at Keuka Brewing Co. This family-run company was the first to open in Hammondsport, and it's only about 15 minutes away from the forest. Keuka Brewing Company was named the Best Craft Brewery in New York State at the TAP New York Craft Beer and Food Festival in 2014, and you're sure to find something to love among the plentiful varieties of IPAs, lagers, and stouts. If you want to blend in with the locals, order a 607 Lager. Created in response to the Keuka Brewing Co. regulars who wanted an easy-to-drink and flavorful "everyday" beer, the 607 is made with Vienna malt to give the drink a toasted flavor and a burnt orange color, but subtle fruit flavors are added to balance it out.
3. Keuka Lake & The Brewery of Broken Dreams
Put your hiking shoes aside and get out on the water at Keuka Lake. Photo courtesy of Corning and the Southern Finger Lakes
No visit to the Finger Lakes would be complete without getting onto the water, so put your hiking boots aside and grab a kayak or paddleboard. Keuka Lake, in particular, is a fun one to explore thanks to its unique Y-shape, fairly calm water, and panoramic views. The lake stretches on for nearly 20 miles, so whether you want a workout or prefer to stick near the shore, Keuka is a great place to spend the day. If you don't have your own kayak, it's easy to rent what you need at a local water sports shop. To see the lake from above, book a seaplane ride at Harbor Lights Marina and get the full tour from Penn Yan to Hammondsport.
Once you've explored Keuka Lake, visit The Brewery of Broken Dreams in Hammondsport. The New York State Farm Brewery provides a wide selection of handcrafted beers on 12 taps, often incuding specialty and seasonal brews. One thing is for sure at The Brewery of Broken Dreams, you won't forget the clever names of their superb brews with offerings like Unfinished Buisness, Crying Loon, So You're Wild, and Old Antics.
4. Stony Brook State Park & Cider Creek Hard Cider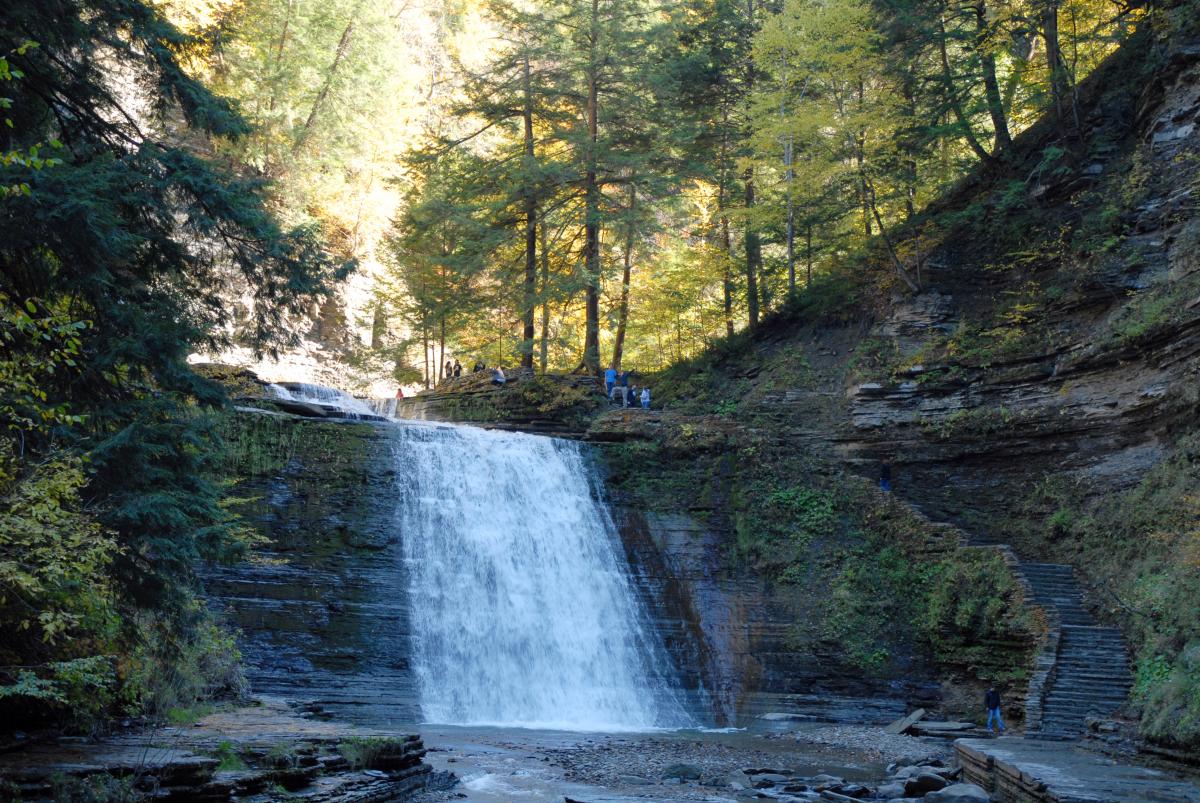 In a region filled with postcard-worthy landscapes, it's hard to narrow it down to one spot that stands out among the rest, but the East Rim and Gorge Trails in Stony Brook State Park are certainly at the top of the list. The East Rim and Gorge Trail form an easygoing loop that has everything you could ask for: three waterfalls, bridges, thick woodlands, and a deep gorge with interesting rock formations that add to the secluded ambiance of the area. The loop is about 2.25 miles, but there are other options in the park if you want to add on more mileage.
About 30 minutes south from Stony Brook in Canisteo is an option for those who might not be big on beer: Cider Creek Hard Cider. The Southern Finger Lakes climate is the ideal spot to harvest apples, and because you won't find any added water, sugar, artificial flavors, or sweeteners in the ciders, you'll get a pure, refreshing taste. But don't take our word for it—sip for yourself at the Cider Creek tasting room. There are a variety of ciders available, including rotating seasonal options like the spirit-warming Winter's Cinn, which features a touch of cinnamon and other spices. They also serve fresh-to-order artisan pizzas in the tasting room.
5. Spencer Crest Nature Center & Liquid Shoes Brewing
Liquid Shoes courtesy of Cagwin Photography
If you're a wildlife lover or traveling with kids, you won't want to miss the Spencer Crest Nature Center. Part of Corning Community College, the nature center offers a variety of nature programs and displays that are designed to engage children in the great outdoors. There are seven miles of trails spread throughout its 250 acres, including a short wheelchair-accessible boardwalk, two ponds filled with turtles, an apiary, and a babbling stream.
From here, take a short drive into Corning and onto Market Street where you'll find Liquid Shoes Brewing. They offer a diverse collection of beers with IPA's, Ale's, and their Shoe's Stout. Catch "Hoppy Hour", or one of their Beer and Bingo or Trivia Nights.
This is just a sampling of all the outdoor adventures in the Corning and the Southern Finger Lakes. You can find even more activities for your next trip to our corner of New York right here.
Originally written by RootsRated for Steuben County.