Spectacular, dazzling, magnificent—these are just a few of the many adjectives used describe autumn in Upstate New York. As the resplendent reds of sugar maples appear early in the season and give way to shocking yellows and vibrant oranges, it's no wonder that the Corning and Southern Finger Lakes region is lauded as one the best places in the world to see this fall display. And what better way to soak up all the color than with a hike in heart of it? In an area well-known for its world-class wineries and picturesque vineyards, Corning is the perfect base camp for a brilliant weekend of hiking and exploring this glacier-carved region. We've rounded up a handful of some of the best leaf peeping and fall hiking opportunities for all abilities and levels to enjoy.
1. Gorge and Rim Trails in Stony Brook State Park, Dansville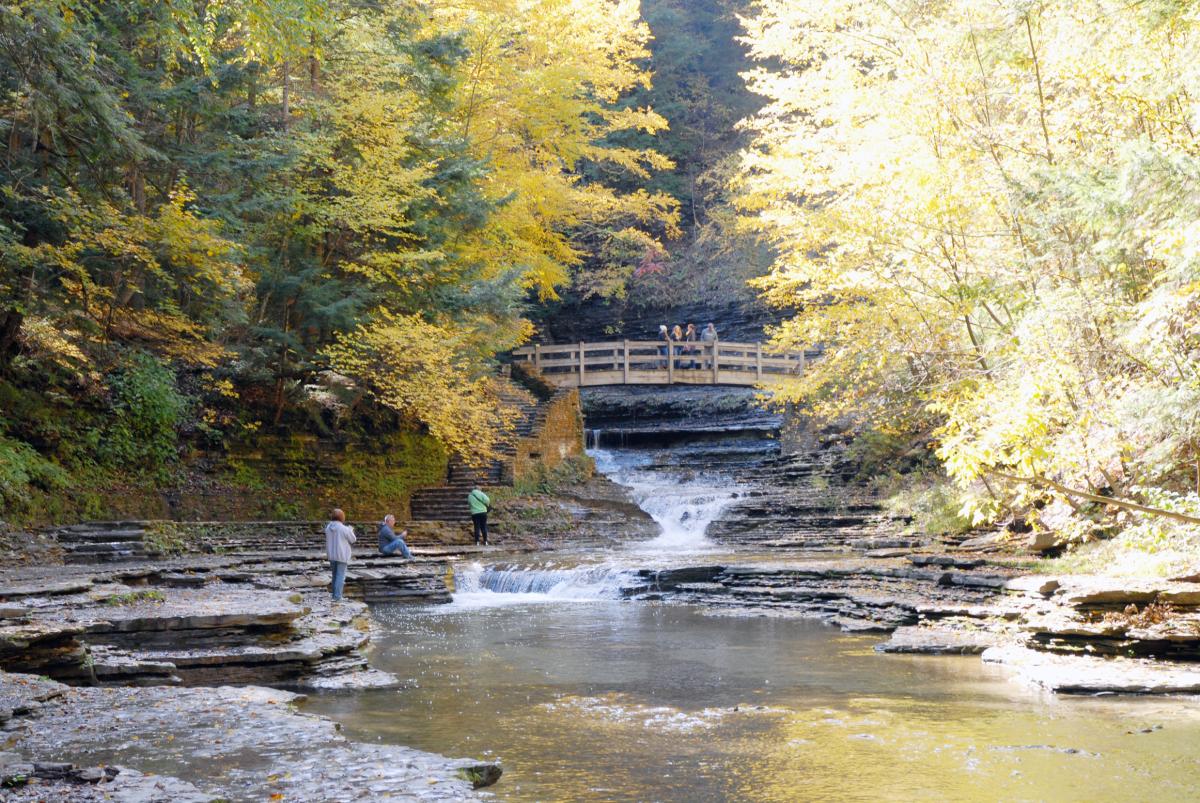 Waterfall chasers and shutterbugs take note—this is the hike for everyone! The Gorge and East Rim Trails in Stony Brook State Park make up the go-to loop for spectacular fall foliage, charming bridges, and dramatic waterfalls. Start on the lightly trafficked East Rim Trail for sweeping views of the rugged gorge and then cross over the bridge (there is one at each end) to reach the highlight of the park: the Gorge Trail. From here, you'll follow along the Stony Brook Creek, for which the park is named, and wind past picturesque rock formations and not one, not two, but three waterfalls. The total distance you'll cover on this one is 2.25 miles.
2. Otter Slide and Bear Trail in McCarthy Hill State Forest, Addison
This hike has a primordial vibe and you'll feel like you've stepped back in time as you travel through thick forests, rugged gullies, and shady ponds. There are about eight miles of trails here to choose from, but if you're looking for a challenge, make your way to the east end of the McCarthy Hill State Forest** **and get on the Otter Slide and Bear Trails. The trail system makes it possible to tour the entire forest in a big loop, which allows you to maximize your leaf peeping!
3. Mitchellsville Gorge on the Finger Lakes Trail, Hammondsport
Mitchellsville Gorge is a wonderful fall hike with many waterfalls. Andy Arthur
The Finger Lakes region is known around the country for its wine scene and on this trail, you'll get the unique opportunity to walk right through a vineyard at the time of year that the vines will be bursting with fruit. This moderate trail only has about a 500 feet of elevation gain, but there are long sections traversing steep gullies so this one might not be the best choice if you have young children. Besides the vineyard, highlights include many waterfalls, a heavenly scented pine and hemlock forest, and a few interesting land formations. The hike is 2.5 miles one-way and can be done either as an out-and-back for a total of five miles, or as a shuttle with parking available at each end. It does travel through private property, so always stay on the marked trail.
4. The Forest Loop in Urbana State Forest, Hammondsport
This popular 5.4-mile moderate loop in Urbana State Forest includes the Huckleberry Bog and wildlife spotting opportunities from the observation deck as well as a walk past the historic Covell Cemetery. The forest is also home to the 'hugging trees'—two trees whose trunks intertwined as they grew up towards the sky. There is an interpretive nature guide book available to help you enjoy this trail, and if you go early enough in the season, it's possible to forage for raspberries in some areas. Another bonus for making this one an autumn hike is that the mosquitoes that can sometimes be a nuisance in this marshy area should have cleared out. This hike starts at the Finger Lakes Trail (FLT) Parking Area on Bean Station Road.
5.Spencer Crest Nature Center, Corning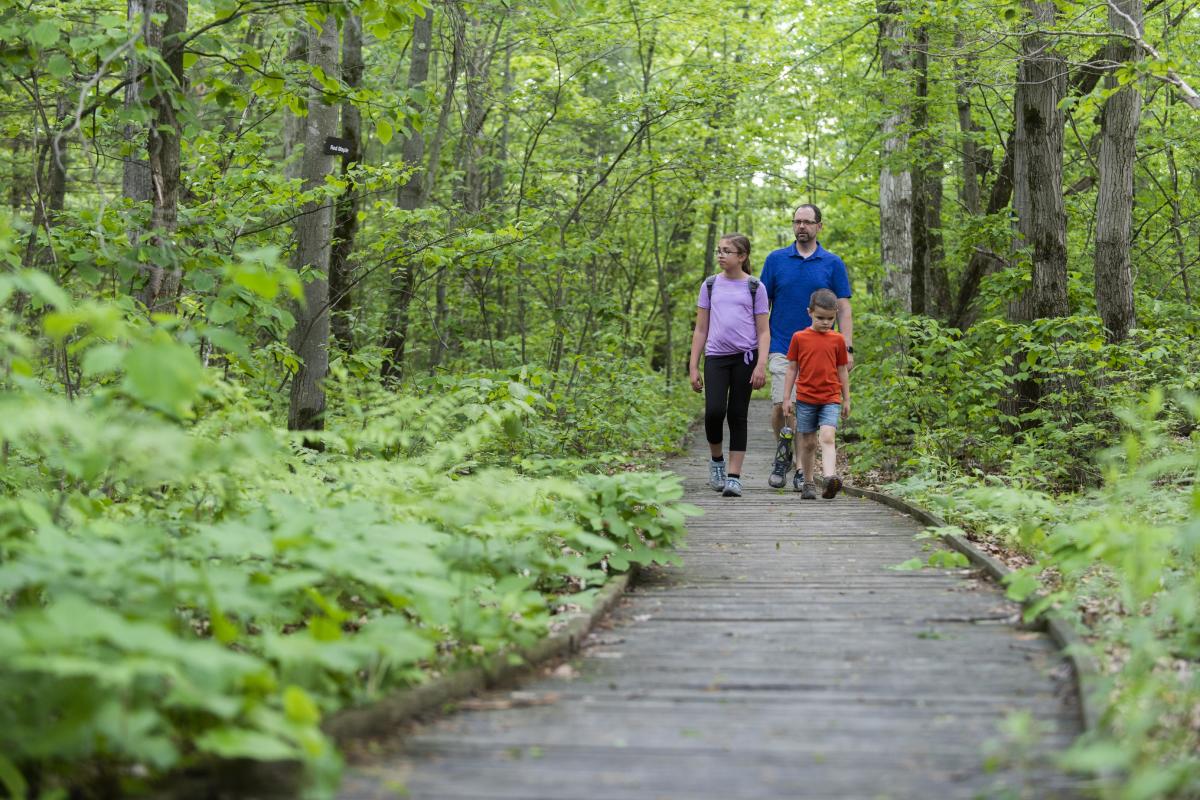 Families looking for fun on a crisp fall day should definitely plan a trip to the Spencer Crest Nature Center. With something for everyone, hiking options range from the .3-mile wheelchair-accessible wooden Sensitivity Trail to seven more miles of other footpaths that twist and loop around the property. Trails crisscross the site and pass the Amelia and Turtle Ponds, a lookout tower, and some of prettiest views around. Special programs are offered year round and the trails are pet-friendly.
6. Great Eastern Trail in Pinnacle State Park, Addison
For a great hike in the woods under splendid autumn colors, check out this 6.3-mile (one-way) section of the Great Eastern Trail that runs through Pinnacle State Park and McCarthy Hill State Forest. Look forward to breathtaking vistas of the Canisteo River Valley, Harris Hill, and the charming Levi Pond (where anglers are welcome to drop a line!). At times the path will even follow along the edges of the rolling 9-hole golf course for which the park is known for.
7. Birdseye Hollow State Forest Trail, Savona
Go for a peaceful hike around the lake in Birdseye Hollow State Forest. Seabamirum
This quiet spot is perfect for a short, scenic day hike with colorful lake views. The Lake Trail and a section of the Finger Lakes Trail that run through Birdseye Hollow State Forest form a lovely 2-mile loop trail. Bring a picnic and make a day out of it with a paddle on the lake after your hike or try out the fishing platform. The trail is also open for cross-country skiing and snowshoeing during the winter.
8. Hornby Park Trails, Hornby
Some crisp autumn days are just too pretty to be inside, but it can be tough to get out with little ones in tow. Try the family-friendly trails at Hornby Park, where you'll find two miles of easy, wooded hiking, a covered pavilion with grilling facilities, restrooms and a playground making for a perfect family outing in the woods under a colorful canopy.
9. Bristol Hills Branch of the Finger Lakes Trail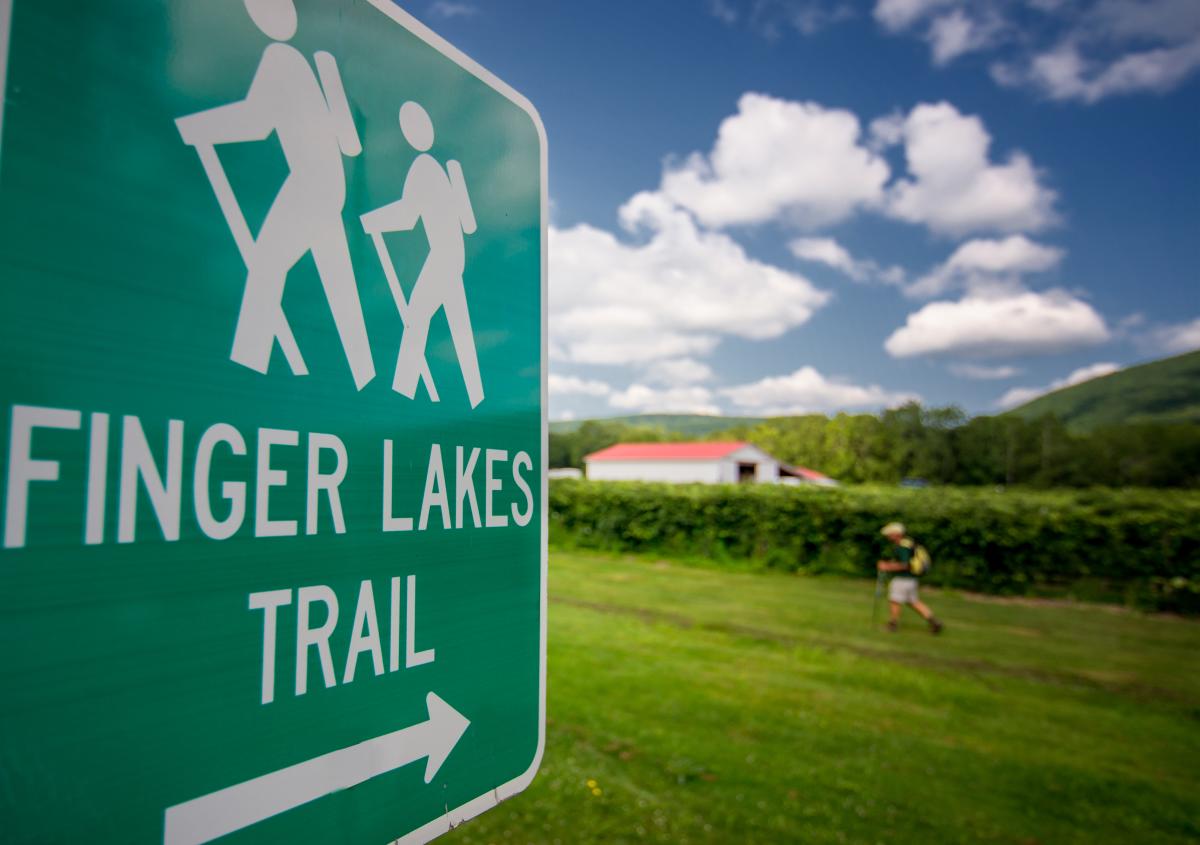 Want to get immersed in the woods for a long weekend? Then look no further than the Bristol Hills Branch of the long distance Finger Lakes Trail. Covering more than 50 miles, this moderate to strenuous hike can be done as a full point-to-point shuttled trip or in various segments as day hikes. A large portion of the trail passes through Steuben County and parallels Keuka Lake on the west side. The northern entry point is at Ontario County Park near Naples and the southern entry point is at the main Finger Lakes/North Country Trail near Mitchellsville. This trail is known for its well-maintained trail and is well-marked most of the way.
10. Crystal Hills Trail at Erwin Wildlife Management Area, Corning
You may be familiar with the Finger Lakes Trail, but have you heard about the Crystal Hills Trail (CHT)? It's fairly new to the long-distance hiking scene and is officially a part of the Great Eastern Trail, which is a north-south trail stretching all the way from New York to Alabama. Only a short section of the trails within the Erwin Wildlife Management Area is part of the CHT, but this thickly-wooded, wildlife rich area is a perfect introduction if you're considering a thru-hike.
With options ranging from quick jaunts at the park to backpacking a long-distance trail, Steuben County is home to hikes for every ability level. There are plenty of campgrounds near the trails if you want to spend even more time in nature or stay in one of the unique B&Bs in the area. --
Originally written by RootsRated for Steuben County.