That's just the beginning of why Steuben sparkles for the holidays.
A Crystal City Christmas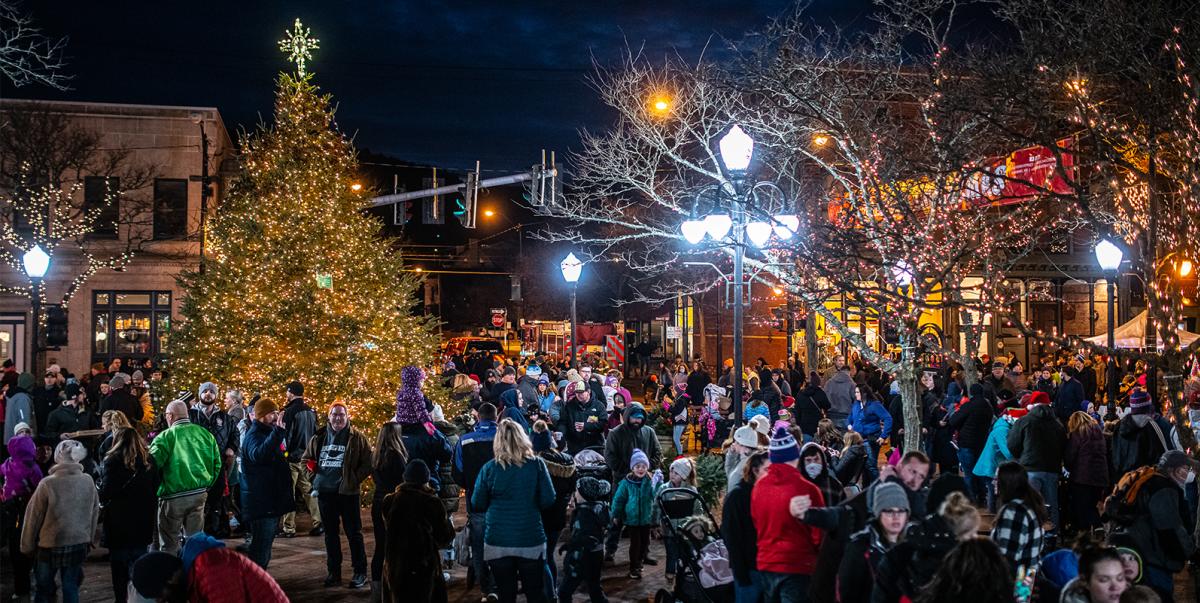 Christmas Tree Lighting, Centerway Square - Courtesy Lee Speary

Parade of Lights - Courtesy Lee Speary
A spectacular holiday tree is just one of the reasons Corning, "America's Crystal City," is the place to be for the holidays! A Crystal City Christmas kicks off the Saturday after Thanksgiving with the arrival of Santa and Mrs.Claus (during the holiday season you can visit with Santa every Friday, Saturday and Sunday at his glass house located in Centerway Square which was named one of the 15 Most Beautiful Town Squares in America by Travel + Leisure magazine). You can find Santa's Glass House Schedule here.
The evening's festivities also include the annual Parade of Lights. Cars, people, even pets bedazzled in colorful lights turn Corning's Historic Market Street into a spectacle of holiday illumination. 
---
A Holiday Tree Like No Other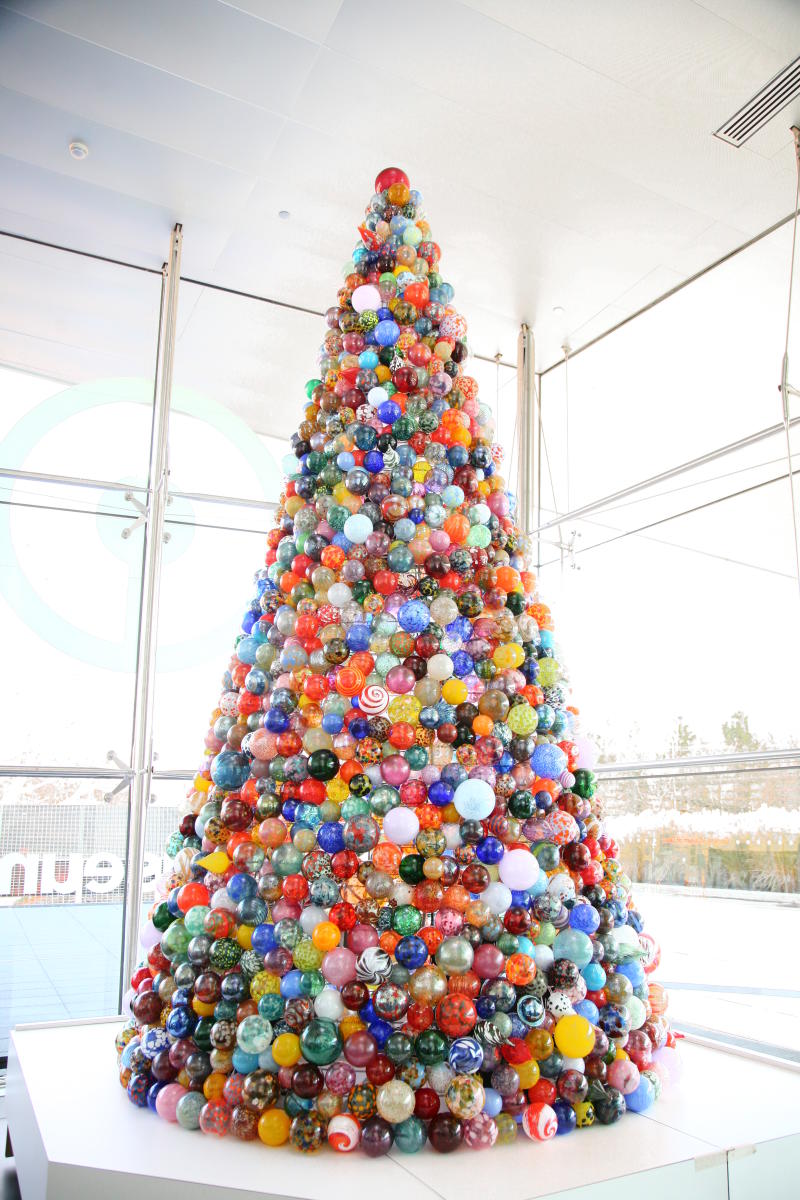 Glass Ornament Tree - Courtesy The Corning Museum of Glass
It's hard to beat a one-of-a-kind glass Christmas tree made of 2,000 handblown ornaments at the world's largest museum devoted to glass art and artifacts when it comes to adding some sparkle to your holiday season. Visit The Corning Museum of Glass throughout the holiday season and enjoy the beauty of the tree in person! BONUS GIFT: Did you know the museum has free admission for kids 17 and under every day? Talk about a great way to make memories with the fam and keep it affordable at the same time. We call that a win win!
"Since 2008, the world-renowned museum . . . has been drawing thousands of visitors each winter to marvel at its sparkling tree. There's no other holiday tree like it in the world, and no two of the tree's ornaments, which are created by a team of resident glassmakers, are the same. The tree is so elaborate that it takes several days to install inside the museum's glass-walled lobby. Once the final sphere has been hung, lights from within the tree illuminate it from the inside, making it glow like a giant, festive lightbulb." - Jennifer Nalewicki, Smithsonian Magazine 
Create Your Own Holiday Ornament
Start a new family tradition blowing your own glass ornaments at The Studio found at the The Corning Museum of Glass. Or, for what Country Living calls "a more personalized, family friendly experience," anyone age two and up can bow an ornament at Hands-on Glass Studio. These beautiful creations make great memory keepsakes as well as wonderful gifts for family and friends!
---
Sparkle
On the very next weekend, Corning continues the holiday celebration with the hugely popular "Sparkle," an annual event nearly half-a-century old featuring horse-and-wagon rides, special shopping and dining promotions, outdoor entertainment, and more. 
Dating back as far as 1974, Sparkle has been a highlight of the holiday season for folks living near and far. Begun by the Market Street Restoration Group as a way to inspire people to shop local and to get excited about the Holiday season, the annual event has become a not-to-be-missed sensation, as Market Street is transformed into the perfect place to shop, explore, taste, and truly capture the holiday spirit.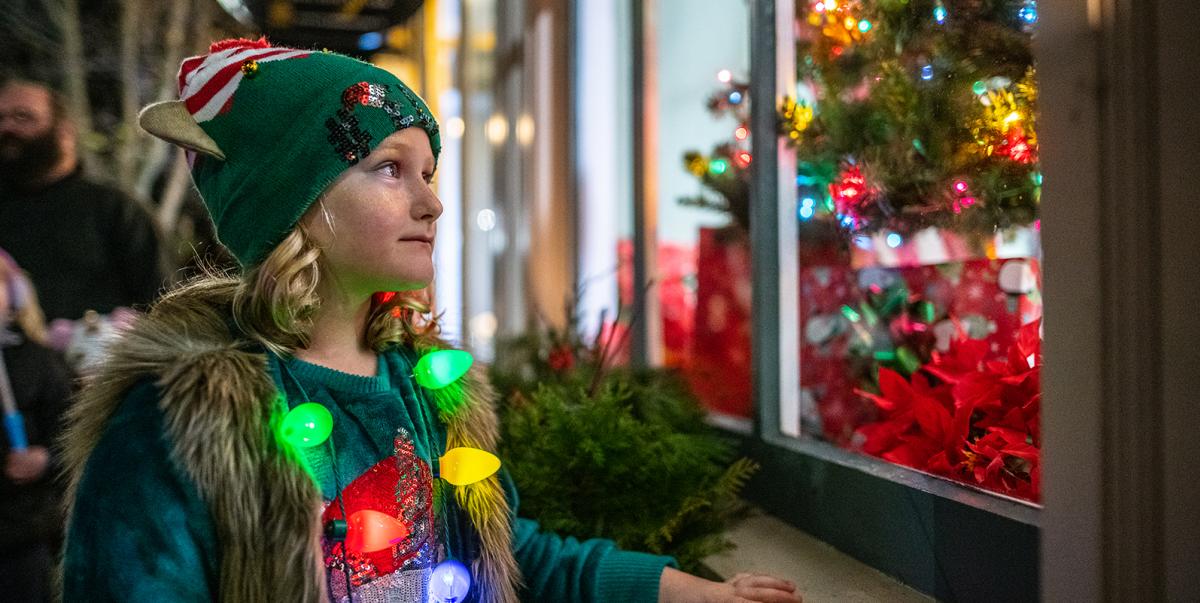 Feeling Elvish - Courtesy Lee Speary 

---
Holiday Shopping
With about 100 boutiques, galleries, studios and restaurants, Corning's Gaffer District is the perfect place to satisfy your holiday shopping fix.
What better way to get into the holiday spirit than by visiting Vitrix Hot Glass Studio located on historic Market Street? 
Known around the world for their wonderful glass art, during the holidays one of Vitrix's specialties is the colorful and playful glass snowmen made in the studio. You can watch the glassblowers create theses delightful pieces while you shop.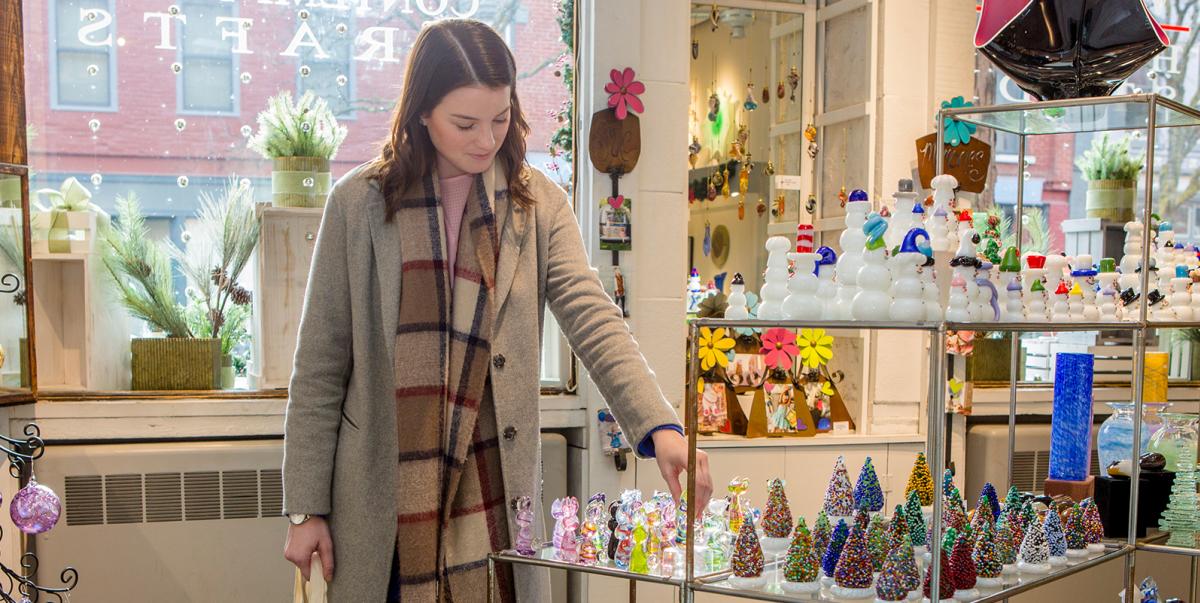 Holiday Shopping at Vitrix - Courtesy Cagwin Photography
Whether you're shopping for just the right item or craving tradition with extraordinary events that bring back the spirit of days-gone-by, you'll find the holidays are a magical time in Steuben County.
---
Small Town Charm and Holiday Traditions
Hammondport, New York
In nearby Hammondsport (a town of only about 600 residents, named "Coolest Small Town in America" by readers of Budget Travel), enjoy an old-fashioned holiday celebration with the annual Christmas in the Park which officially gets underway with breakfast with Santa. Featuring live music, food and craft vendors, Santa Claus, caroling, horse and wagon rides, reindeer, and more in and around the picturesque Village Square.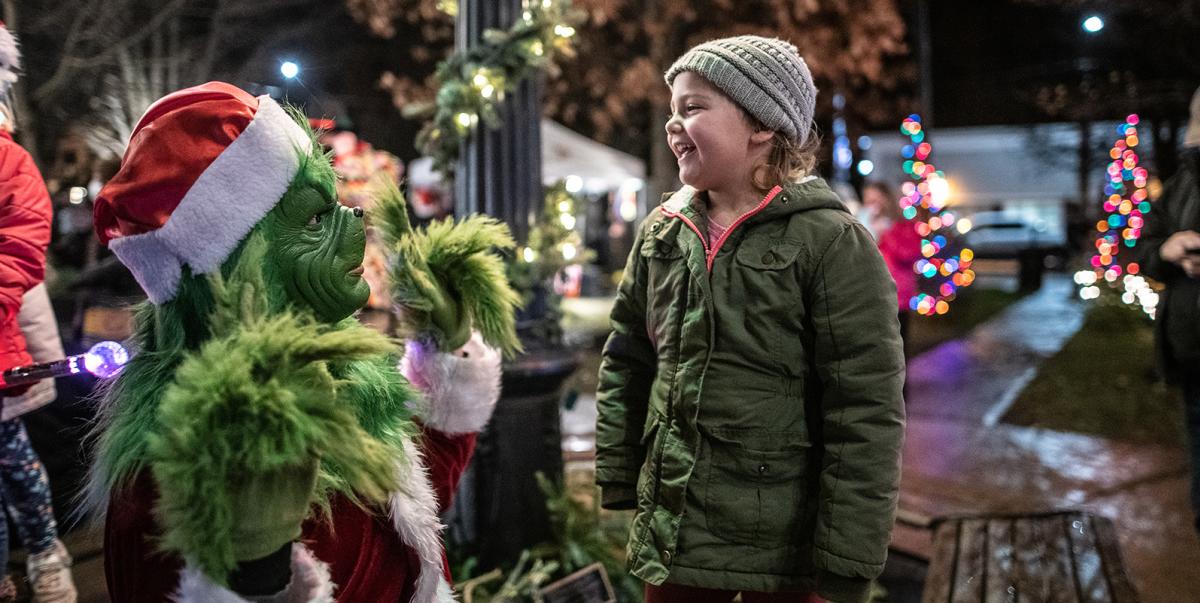 Grinch Santa and Child Christmas in the Park Hammondsport - Courtesy Lee Speary


Christmas in the Park Hammondsport - Courtesy Lee Speary
"Historic Hammondsport, New York, is a tiny village with a big reputation."
- Jeanine Consoli, Play Stay Eat Magazine
---
Bath and Hornell
With a tree lighting, horse and wagon rides, dancing Elves, a small parade followed by an appearance by Santa, a DJ spinning holiday tunes in the park, a chili cook-off, various vendors and more, other small towns like Bath love to celebrate The Spirit of Christmas.
While out west, folks say, "there is no place like Hornell for the Holidays!" The annual festivities include a parade, tree lighting, music, food and craft vendors, photo-ops with Santa in his cottage, and a chance to be speed-sketched by international award-winning live party caricaturist Adam Pate, as Hornell brings Christmas to life.

Santa at Spirit of Christmas Bath- Courtesy Lee Speary

Spirit of Christmas Bath- Courtesy Lee Speary
Check out the great holiday events happening throughout Steuben below.
For other events visit here.
---
When planning your trip, make sure to check out some the fun things to do, delicious places to eat and wonderful accommodations that make Steuben a great place to visit!