Stroll along brick sidewalks and explore this charming downtown. With over 100 boutiques, antique stores, speciality shops, art galleries, glass studios, and restaurants there's a lot to discover in Corning's Gaffer District.
The site of several popular events, including GlassFest which has been called one of the Top 100 Events in North America multiple times by the American Bus Association, the historic district in this town of less than 11,000 people is always pulsing with activity.
See for yourself why Market Street was named one of the "Great Streets in 2013" by the American Planning Association and why it has been emulated by cities and towns across the country as a model for downtown revitalization.
In a Huffington Post article, F. Kaid Benfield wrote: "While some Main Streets seem well past their prime, others – like Corning's – remain thriving to this day.  Why?  A lot of it has to do with the towns and cities in which they are located, of course " Enfield mentions that "Main Streets are for walking, browsing, lingering" and he goes on to identify several key elements that can help a main street thrive and he alludes to Corning a few times as an example of his points.
"In a shopping district," he states, "a little bit of nature can go a long way. Some urbanist designers I know are fond of pointing to historic districts internationally (Florence, for instance), that have almost no greenery downtown. Ah, but look closely and one will see window boxes; hanging baskets of flowers; trees here and there. Our innate biophilic instinct is so strong that humans will find a way to add nature to even the most man-made of places. I maintain that cities need visible and functional nature, and Corning incorporates it beautifully in its street trees.  Without them Market Street would not feel nearly so pleasant and alive. Corning also has a small square and park at the heart of the shopping strip."
Corning, New York has been called one of the nation's most impressive and architecturally diverse cities of its size. There's a "Building's Alive!" Architectural and Historic Walking Tour App to help showcase the fascinating and diverse architectural styles of 19 historic or architecturally significant sites found along the five short blocks that make up Market Street.
With a chocolate trail, as well as a variety of culinary options and cuisines from which to choose, including delicious meals at award-winning restaurants, the Gaffer District has also recently been gaining recognition as a foodie destination. Art, food, shopping, unique events, the Gaffer District is a destination in and of itself.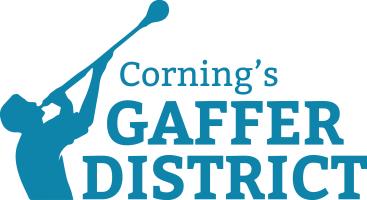 #CorningFLX #explorecorning
Share Your Gaffer District Memories With Us!