Getting Just The Right Mix
Jesse Perlmutter and Matt Lull : Pantomime Mixtures
Lambic. Flanders. Gose. Berliner Weisse. American wild ale. While you are likely to encounter such beer styles more frequently these days, chances are those are not the names you grew up hearing when it came to beer. Though they very well might be the reason you can call yourself a lover of beer today. After all, sours like those mentioned above often appeal to diehard beer enthusiasts as well as to folks who are traditionally non-beer lovers.
Sours might be a more recent beer trend, but according to VinePair magazine "Sour beer is the oldest type of beer in history. Nearly all beer used to be at least somewhat sour before pasteurization and sterilization was entirely understood." Now most "familiar beers are made in sterile environments with specific yeast strains."
While it seems the sourness of those early brews was in part, at least, due to a lack of understanding with regards to pasteurization, the latest trend in crafting those particular styles is one being done with deliberate intention. Brewers who are interested in challenging themselves using wild yeast and bacteria are doing so because they love the flavors those styles produce.
Although the appearance of sours has been growing in frequency in all sorts of breweries across the country, a few years ago twenty-somethings Jesse Perlmutter and Matt Lull, chief tastemakers at Pantomoine Mixtures, were the first to focus solely on bringing this style of beer to the guests.
Originally from Long Island and New Jersey, respectively, Jesse and Matt went to college in Colorado where they first met. And it was there that their shared passion for drinking and eventually for brewing beer began. 
Not a bad place to get a taste for craft beer (literally and metaphorically). 
But why make sours? Turns out, they grew up loving sour candies. Jesse's first reaction to a sour was that it reminded him of Warheads and Sour Patch Kids. "When they're done well, fruited sours are even more like sour candies."
They were also getting a bit burned out on domestic beer and both like stepping out of their comfort zones and trying new things to challenge themselves. They started drinking Belgian beers like Lambic and Gose and got very excited about those.
One of the incentives behind opening a brewery, aside from turning an activity (and experience) they enjoyed doing into a full-time career, was their shared interest in creating something they were both proud of.
Matt had his own expectations. He wanted to turn something into a labor of love and have an "I made this" feeling. According to him, his father started his own insurance company and made it into something pretty cool. As a result, Matt was inspired to make his own cool thing (doing something that called to him).
For Jesse, the sense of being creative also plays an important part, as he feels he has found the one thing he can be creative in. "The combination of science and art makes sense to me," he says. "It fits."
For both Matt and Jesse, brewing gives them an opportunity to make something that people get excited about. Of course, they also brew because they "really love beer!"
While they were in Colorado, Jesse got a chance to work at Upslope Brewing which afforded him a unique learning experience as he was able to shadow lab technicians after his shift was over. He was impressed by their process and attention to detail and learned things he wouldn't have been able to do online or in brewing school. The experience also helped him gain confidence and inspired them to stop joking about wanting to open a brewery and make it happen. So they put their pitch together and got funding.
However, when it came time to pursue their passion for brewing and start their own business, the two friends decided that Colorado seemed to be getting oversaturated with breweries. So they looked in the direction of home and discovered the Finger Lakes.
At one time, Matt had thought about attending Ithaca College and did research on the area, so he was familiar with the Finger Lakes. He and Jesse also saw similarities in the demographics here to those in Colorado.
"It's hard to think of another place we could have done this," they say. "We're here in Hector and so much of our growth is because of the town. Our concept of word-of-mouth marketing works so well here because everybody wants to support each other and the community."
In addition to being well received by locals and visitors who have discovered them in the middle of a vineyard on what the locals used to call Tickle Hill (the brewery is located where Tickle Hill Winery once stood), Matt and Jesse find themselves in an ideal location. If they need wine barrels, for example, they can get them thanks to the abundance of nearby wineries and the friendships they're forming. They also have access to a variety of locally-grown fruits and other ingredients, though part of their plans include gradually converting some of the vineyard into crops for their own brewing.
They've also been quite successful doing collaborations with other popular breweries in the area (nine different breweries and counting) and they intend on continuing to create those experimental brews.
Both young men are very excited by the potential of the region and of the growing interest in sours.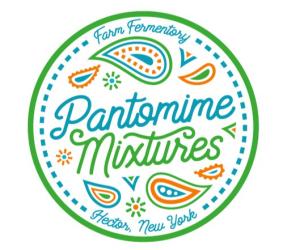 Before venturing over to Pantomime Mixtures check with their website and facebook pages or give them a call to make sure they have re-opened. As of July 4th, 2020, they were currently only doing online orders for Curbside Pickup or Shipping within NY. As of that date, they had not re-opened up their taproom quite yet.